By Claus Hetting, Wi-Fi NOW CEO & Chairman
Still worried about when to upgrade to Wi-Fi 6E? Well – now you can lay your worries to rest after Cambium Networks last week released two Wi-Fi 6E-capable software-defined enterprise access points. The two new APs boast no less than five industry firsts, says Cambium Networks' VP of Enterprise Marketing, Bruce Miller. Both new APs are powered by Qualcomm's Networking Pro platforms.
One of the most dreaded of consequences for vendors and enterprises alike when two new Wi-Fi standards – in this case Wi-Fi 6 and Wi-Fi 6E – arrive in quick succession is the decision freeze: Delaying a network upgrade decision (to Wi-Fi 6) so as to await broad market uptake of the next standard (Wi-Fi 6E).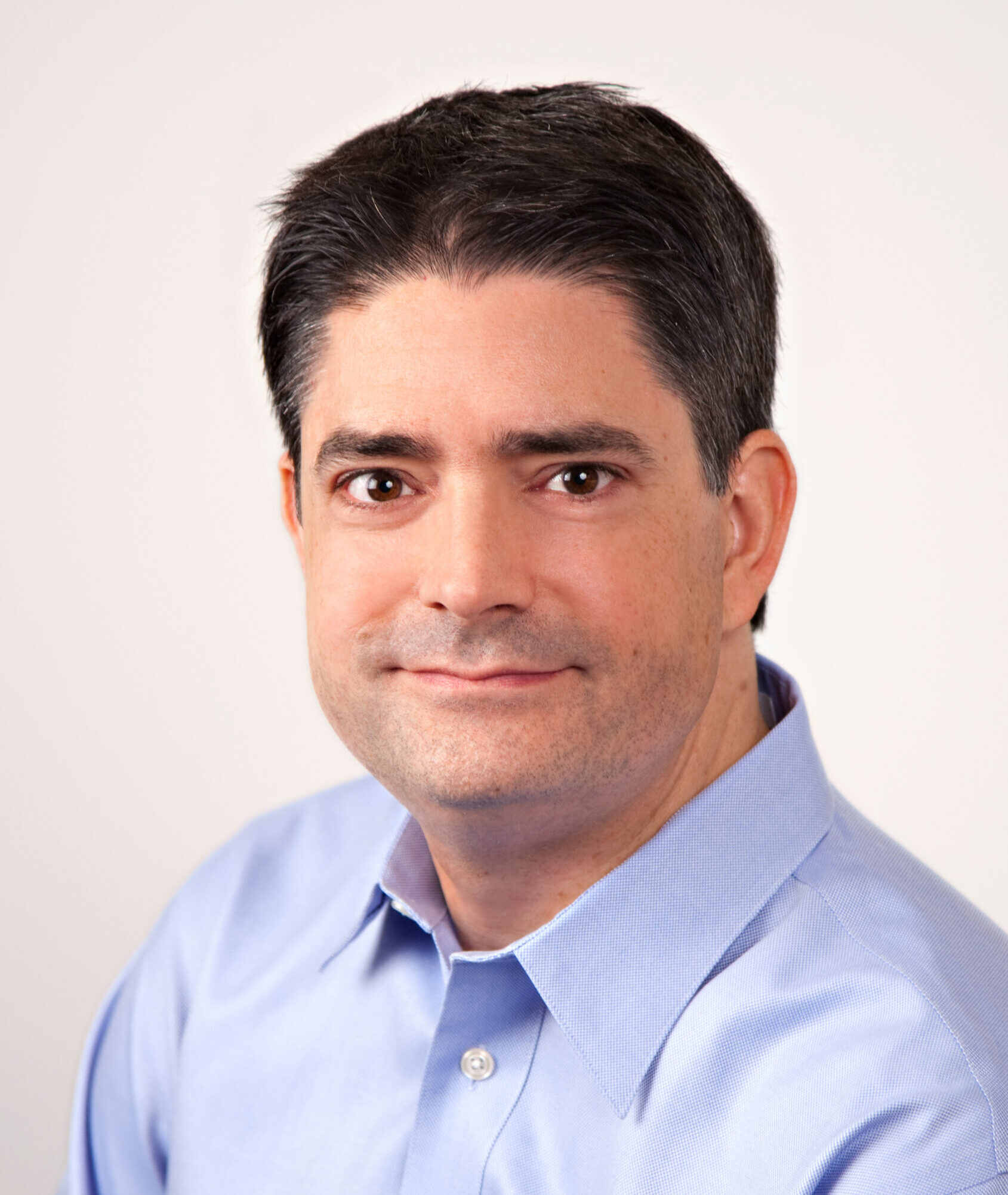 Thankfully, you now no longer have to wait for anything. Cambium Network's two new Wi-Fi 6/6E APs allow you to configure your three or five radios to the exact Wi-Fi bands and 'modes' you want. The system will even advise you when to switch. Altogether the two new APs boast five industry firsts, Cambium says.
"We believe we've struck the bullseye with our two new APs in terms of flexibility of migrating to Wi-Fi 6E as the market evolves – in particular with respect to the adoption of Wi-Fi 6E end-user devices. We're also offering outstanding performance and Wi-Fi 6E capabilities without a premium price while featuring a long list industry-firsts. Our new APs will immediately benefit our enterprise customers today operating in the traditional Wi-Fi bands in 5 GHz and 2.4 GHz, then be software configured when ready to add 6 GHz support," says Bruce Miller, VP Enterprise Marketing at Cambium Networks.
In addition to the XE3-4 (three radios with up to 4 x 4 MIMO) and XE5-8 (five radios with up to 8 x 8 MIMO) units being the first Wi-Fi 6E solution with 5 GHz or 6 GHz configuration options per radio, these are also the first APs offering 'migration assistance'. This means the system keeps track of device population capabilities and recommends when you should reconfigure (change mode) to support 6 GHz.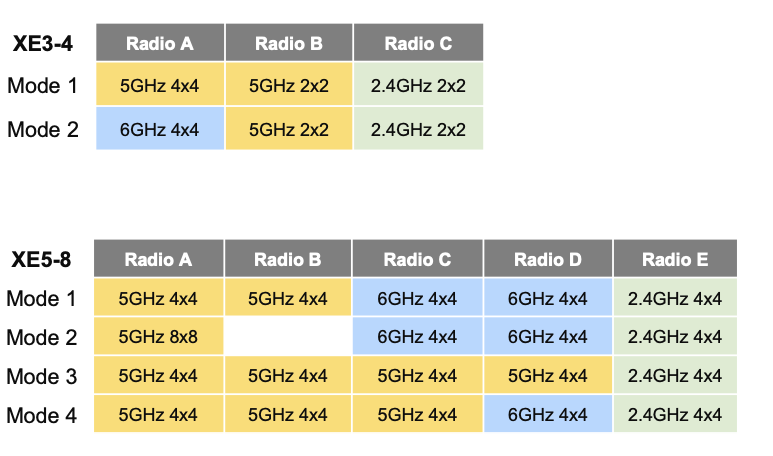 Add to this that the XE5-8 is the world's first ultra-high density Wi-Fi 6E AP featuring five user-servicing Wi-Fi radios, Bruce Miller explains.
"This is our multi-radio heritage shining through from Xirrus. We now have single AP with five radios that can replace multiple APs and hence save substantially on total cost of ownership and deployment costs. In one example of an auditorium the network was reduced from 12 two-radio APs to just four high density XE5-8 units," Bruce Miller says. The ultra-high density AP experts of Xirrus were acquired by Cambium Networks in August of 2019.
The XE3-4 supports two modes (see the mode chart above) – with and without one radio configured to 6 GHz – and is designed to support the bulk of the enterprise market including hospitality and education segments at a cost of only US$895 per AP (MSRP). The high-density XE5-8 supports four modes with one or two (of five radios in total) configured to 6 GHz and will sell at US$2195 per unit (MSRP).
The XE5-8 is designed to deliver ultra high-density performance for dense use cases such as auditoriums and lecture halls in education, convention centres, sports venues and more, Bruce Miller says. The XE3-4 is available 1Q and the XE5-8 in 2Q this year, Cambium says.
Enjoying this story?
Leave your email here and we'll get you all the latest Wi-Fi news.
Both new APs support meshing such that for example one Wi-Fi 6E radio can be configured to deliver bi-direction backhaul on the 6 GHz band using channels of up to 160 MHz, Cambium says. Mesh backhaul with Wi-Fi 6E is highly useful as long as the number of Wi-Fi 6E-capable end-user devices deployed into the market is limited, the company says.
For more about the XE3-4 see here and for more about the XE5-8 see here. The two units are powered by the Qualcomm Networking Pro 810 and Qualcomm Networking Pro 1610 platforms, respectively. Both Cambium Networks and Qualcomm are Wi-Fi NOW Partners.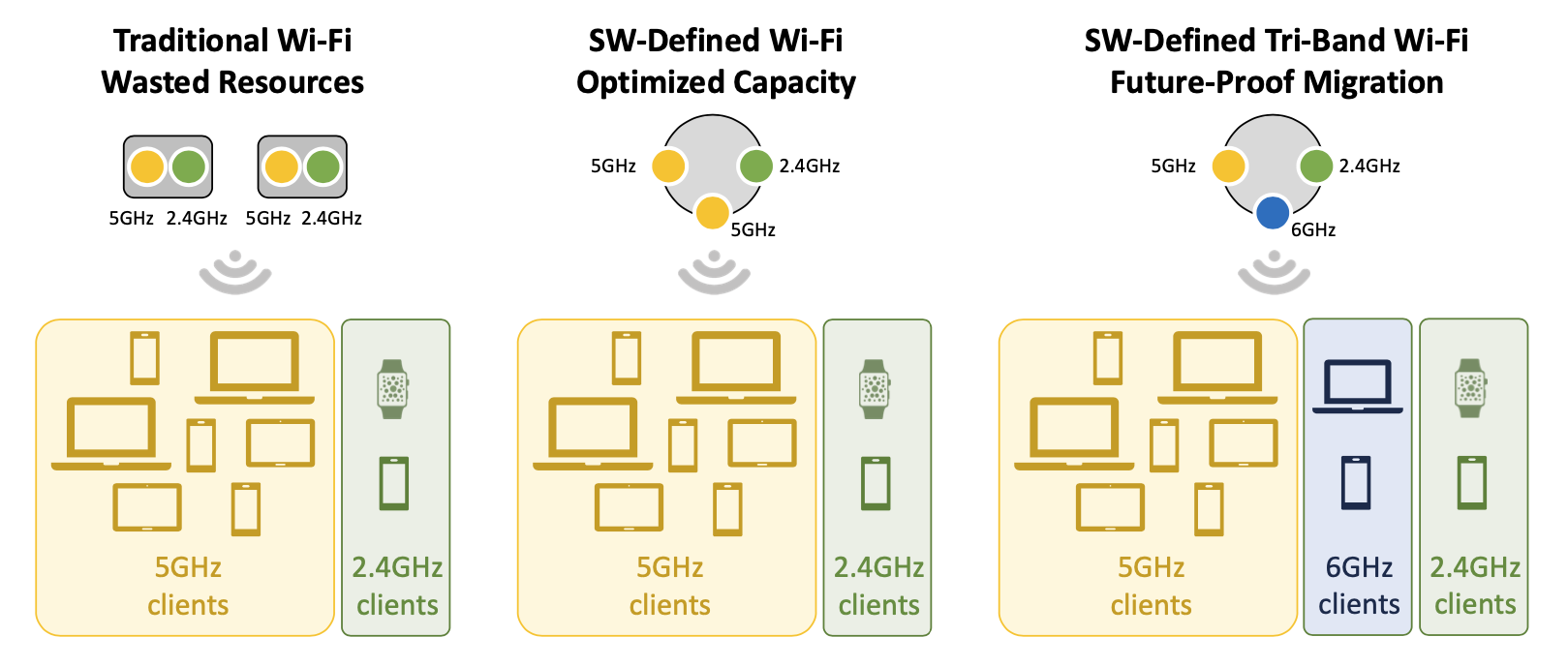 /Claus.