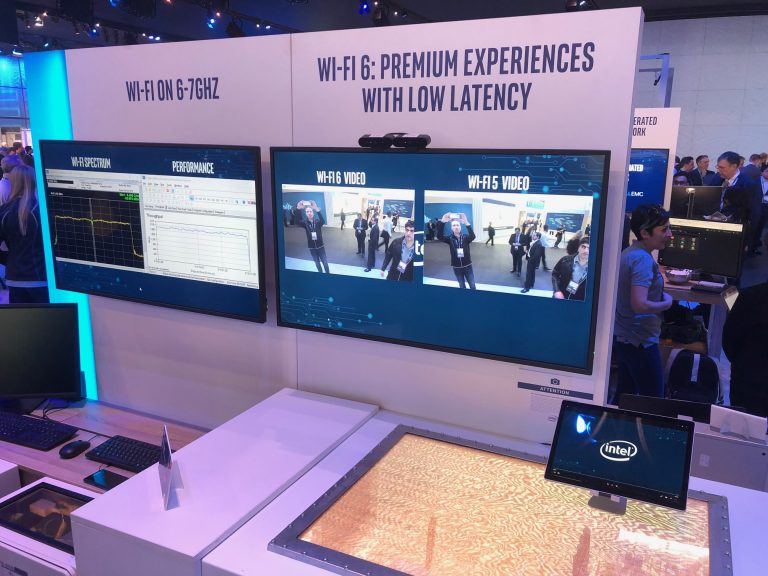 Above photo courtesy Intel
By Claus Hetting, Wi-Fi NOW CEO & Chairman
Nearly nobody at MWC – except Intel itself in this blog and then nearly as an aside – caught the quiet spectrum revolution happening at Intel's stand at Mobile World Congress in Barcelona this week: As far as we know the company pulled off the world's first public 6 GHz Wi-Fi demonstration. 
So why is that important? Simply because 6 GHz Wi-Fi is likely the biggest opportunity in Wi-Fi in a generation – and because Intel's demo shows that Wi-Fi chipset vendors are ready to pounce on it. The demonstration was a part of Intel's elaborate Wi-Fi 6 (802.11ax) demonstration set at MWC.
"When this enhancement [meaning 6 GHz spectrum] to Wi-Fi 6 rolls out in the next couple of years, it has the potential to more than double the Wi-Fi spectrum with up to 4x more 160 MHz channel deployment options," said Doron Tal, Intel's General Manager Wireless Infrastructure Group, in his blog here. Doron Tal emphasises that the prospect of including 6 GHz bands in Wi-Fi for the time being realistically only applies to the US market.
Intel also says that a growing number of currently available PCs already support 160 MHz channels, making them capable of operating at gigabit Wi-Fi speeds. This means that consumers will get 'a pleasant surprise' in terms of speed if they invest in a Wi-Fi 6 home router already now, Intel says.
It may however take a while before US regulator FCC finally rules on allowing Wi-Fi to operate in the 6 GHz bands. Right now the FCC is reviewing dozens of response submissions following the issuing of the NPRM for unlicensed 6 GHz operation – and they will likely have their hands full for months while answering a litany of questions as to prospective new 6 GHz spectrum rules.
Also an important part of the 6 GHz story is the fact that the IEEE only weeks ago decided that – as far as the 802.11 standards are concerned – only Wi-Fi 6 (802.11ax) will be specified to operate in the 6 GHz band. That means 6 GHz will be pristine legacy-free territory for Wi-Fi 6 devices.
/Claus.