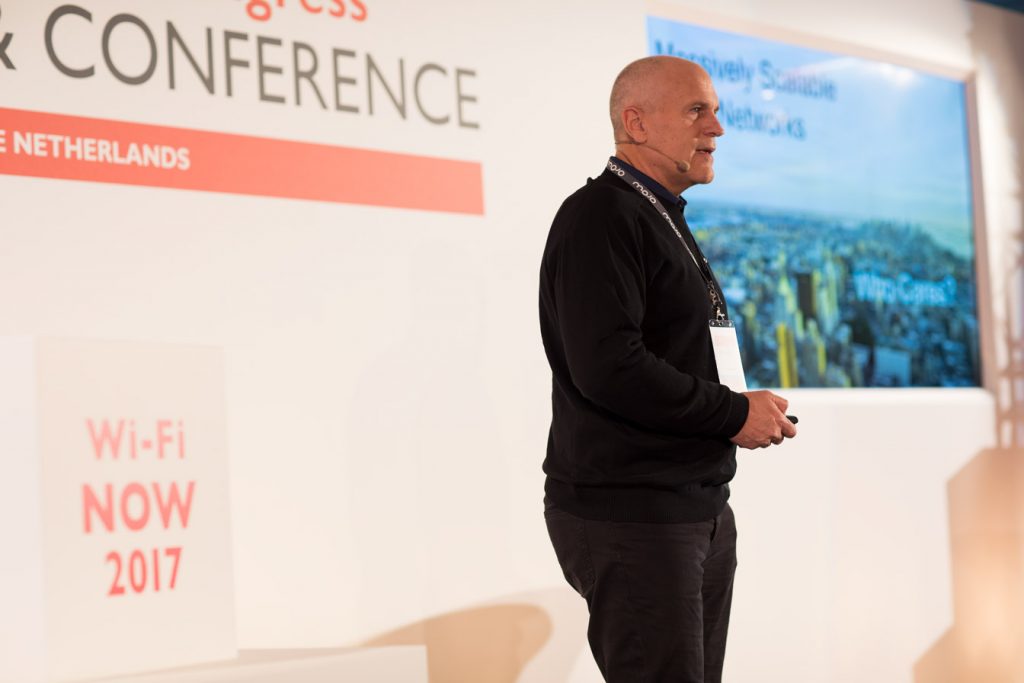 By STEPHANIE KINCH, Wi-Fi NOW Staff Writer
Massively scalable Wi-Fi Networks can bring the Internet to areas that could never access it and people who could never afford it.
That's the vision behind Mojo Networks, a Silicon-Valley based company that works to simplify cloud-managed Wi-Fi to create massively scalable and self-optimised Wi-Fi services. Mojo Networks CEO Rick Wilmer spoke about how such massive networks can serve the world's underserved at the Wi-Fi NOW Congress in The Hague.
"These are networks that are much, much bigger than things we have historically been used to in this industry," he said.  "To operate them, we will need to be able to identify performance issues quickly and get to the root of problems fast – and that's what Mojo is all about."
Wilmer says that massive networks will also be useful for campuses and smart cities, which need to accommodate many people and devices at a time. One current use case is prisons, where the technology is used to serve up Wi-Fi to tablets for educational purposes. Prisons are difficult connectivity spaces because of the reinforced concrete walls and multiple layers of security. Current WLAN controllers can't do the job in prisons – nor in networks that are bigger than that.
"We need a new Wi-Fi architecture – and a new business model," he says.
Mojo has developed that architecture in The Cloud with a fully virtualised AI-Powered Wi-Fi. The Cloud and Mojo's new open architecture approach allows for disaggregation, separating commodity Wi-Fi access point hardware from the software driving the network. For use cases like mss market Wi-Fi for emerging countries, this separation is critical solving affordability issues, says Wilmer.
Mojo Networks is already working closely with Reliance Jio in India to deploy tens of thousands of Wi-Fi hotspots across the country in what is slated to become the world's largest carrier Wi-Fi deployment ever – read more about Reliance Jio's Wi-Fi plans here.
The future according to Mojo
What does the future look like according to Wilmer?
Open standards-based hardware
Hardware available from multiple vendors
Commodity priced hardware
Hardware sold without software
No vendor lock-in for improved customer choice
"This is going to be a long and exciting journey," he says. "The world is changing and we need to embrace it."
/Stephanie