By Claus Hetting, Wi-Fi NOW CEO &  Chairman
At today's virtual launch event, Cisco – the world's largest provider of enterprise Wi-Fi solutions by far – announced five new Wi-Fi 6 APs, a new campus switch, and not least a new OpenRoaming initiative for Wi-Fi. The company is positioning itself in the sweet spot of wireless where Wi-Fi 6 and 5G converge – but Cisco also says that Wi-Fi 6 is for now, while 5G comes later.
Not sure where Cisco stands on Wi-Fi 6? Well – you would be forgiven for being unsure about that because the networking giant has been conspicuously quiet on the subject for a while. All of that came to an abrupt end today during Cisco's "Wired for Wireless" virtual product launch event.
Cisco launched a slew a Wi-Fi 6 products including five new Wi-Fi 6 access points, a switch for campus networks, as well as a new Wi-Fi roaming initiative, OpenRoaming – altogether a formidable package indicative of a company bent on consolidating its leadership in enterprise wireless.
The transition to Wi-Fi 6 is for now – 5G comes later
A core message at the launch event today: Wi-Fi 6 will be the preferred wireless access technology for the enterprise – with 5G mostly relegated to outdoor coverage but with some overlap to indoor applications. Cisco expects 'massive proliferation' of Wi-Fi 6 clients already by early 2020, while 'massive mainstream 5G NR' is expected in late 2022.
"Enterprise Wi-Fi networks will have transitioned to Wi-Fi 6 long before 5G becomes mainstream," said Bill Rubino, Cisco Product Marketing Manager for Mobility. Cisco also said that the number of business-only mobile devices will reach 12 billion by 2022 growing at a remarkable 12% CAGR. Add to this that enterprise CIOs should expect seven-fold more mobile traffic towards 2022 making the transition to Wi-Fi 6 imperative, Cisco said.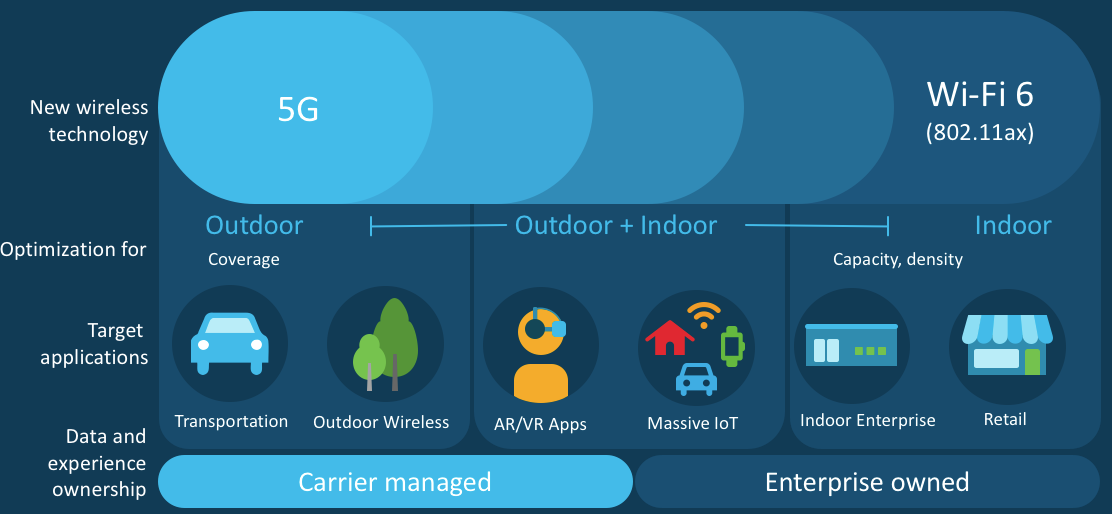 Above: Illustration courtesy Cisco
Wi-Fi 6 performance is ready for 'massive IoT'
The company also presented a strong case for linking Wi-Fi 6 to a developing mass market for IoT. 'Massive IoT' is for Cisco still solidly positioned in the Wi-Fi 6 camp (see illustration above). Cisco pointed out that 5G IoT is at least a couple of years out given that 5G IoT technology will need both new standards and new hardware. In the meantime – or perhaps permanently – Wi-Fi 6 will be nicely matched to serve – for example – a wide swath of industrial IoT use cases.
The technical reasons for adopting Wi-Fi 6 should be mostly well known although Cisco added some useful rule-of-thumb specs: Expect up to 67% longer device battery life, four times higher aggregate throughput performance, and four times more devices supported – all of this of course compared to existing Wi-Fi 5 (802.11ac Wave 2) APs and devices.
All of this presents a pretty solid case for applying Wi-Fi 6 mass market IoT as well as long list of new indoor enterprise use cases. Add to this that Wi-Fi 6's OFDMA-based radio for the first time in Wi-Fi history will make Wi-Fi services predictable – or 'deterministic' – and SLA-capable. And that's a big deal.
The hardware: Five new Cisco Wi-Fi 6 APs
To make all of this happen in the real world Cisco launched five new APs including three under the Catalyst brand plus two new Meraki APs. Cisco's Wi-Fi branding has been updated so that new Cisco APs are now called 'Catalyst' – a change first enacted for Cisco Wi-Fi controllers last year. Cisco Meraki APs will of course keep their Meraki designation.
And Cisco is adding new features beyond simply supporting the new Wi-Fi 6 standard: All of the new APs are 'multi-lingual' meaning they 'speak' BLE, Zigbee, and Thread. The top-of-the-line Catalyst 9120 AP incorporates a customised ASIC to run Cisco's CleanAir optimisation software.
On the core network side Cisco's launch included a new Catalyst 9600-series switch specifically designed for campus networks. And last but not least there is the new OpenRoaming initiative which aims to fundamentally change how consumers connect to Wi-Fi at venues. We will have a lot more to say about that a bit later this week. For more details on all of the new products also see Cisco's main press release for today's launch here.
Don't miss Cisco's thought-leading executives Matt MacPherson and Anand Oswal at Wi-Fi NOW USA in Washington DC this May 14-16. For more information & registration see here.
/Claus.