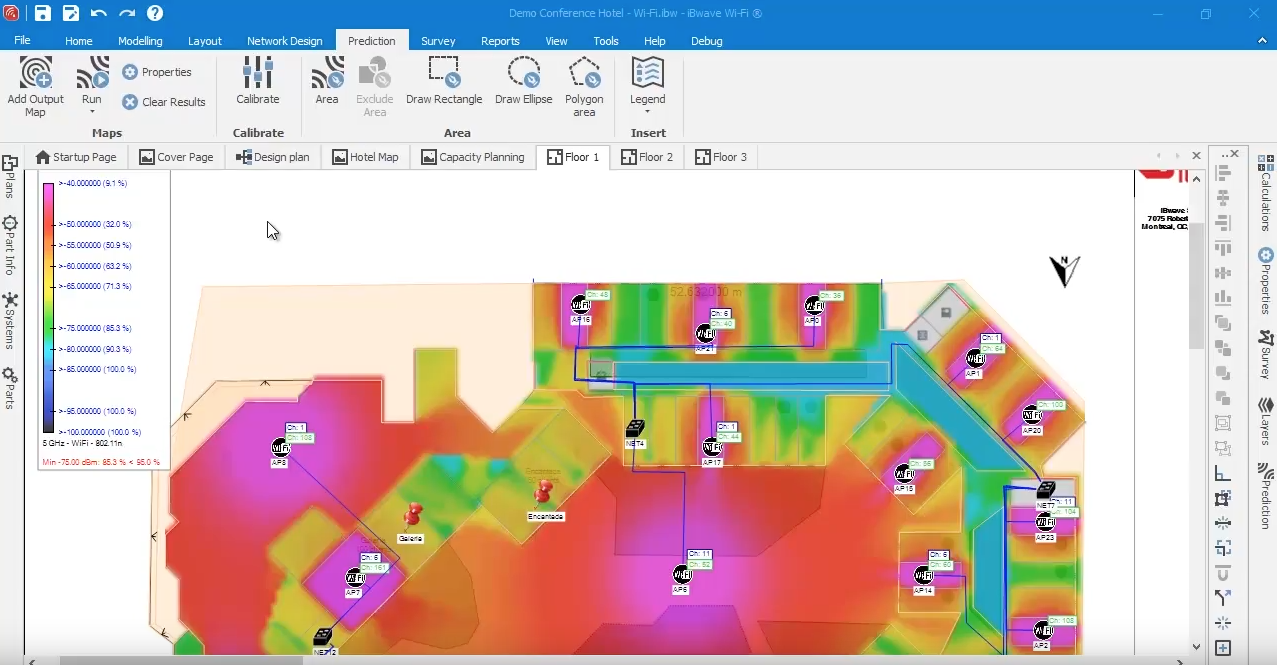 By Claus Hetting, Wi-Fi NOW CEO & Chairman
With the continued proliferation of Wi-Fi-connected devices, getting high-density Wi-Fi right everywhere is the next big challenge across the industry. The newest release of iBwave Wi-Fi  is serving up the solution to take on exactly that challenge.
It used to be that the biggest challenge for Wi-Fi design engineers was designing stadium Wi-Fi: Getting tens of thousands of Wi-Fi devices to connect reliably to Wi-Fi within a confined area is no menial task. Today, similar high-density scenarios are emerging everywhere: According to Qualcomm, the number Wi-Fi-capable devices per person will double towards 2022. That of course includes Wi-Fi-capable 'things'.
Designing with multi-radio APs is key
Building reliable high-density Wi-Fi today involves deploying APs that support multiple radios, with some single AP units housing up to 16 radios. "Using multi-radio APs is clearly an established industry trend, as more Wi-Fi radios will be needed to address the high-density challenge," says Ziad Akl-Chedid, technical product manager at iBwave.
"From a planning point of view, the trick is to smoothly incorporate multi-radio APs into the design & verification process," says Ziad.
And that's exactly what the company has done in iBwave Wi-Fi Release 9. This planning and prediction solution – which already boasts a library with more than 25,000 network components – now supports multi-radio APs from Xirrus, Aerohive, Cisco, and more. Add to that a slew of other improvements aimed at making the Wi-Fi design process faster, easier, and more accurate.
Speeding up the design process
Also new in iBwave Wi-Fi Release 9 are a slew of features and improvements aimed at making the Wi-Fi design process faster and more accurate. Two new features for doing exactly that are smart antenna contouring and automatic cable alignment.
With smart antenna contouring designers can view signal strength predictions live on screen as they are positioning APs. This saves a lot of time as the number of times Wi-Fi designers need to run predictions will be fewer.
Cable design in half the time
With automatic cable alignment designers can now model cable trays in either the mobile app or the PC version of iBwave Wi-Fi. The system will snap cable routing automatically to the route.
"Modelling cable trays and routing cables for a Wi-Fi design could take hours depending on the complexity of the project. With the new cable alignment automation feature, the time savings is up to 50% for an average venue – or even more for more complex venues," says Ziad.
"In the end this means you have more time to do the things that you're best at – like applying your experience and intelligence to the task at hand," says Ziad Akl-Chedid.
For all the details on what's new iBwave Wi-Fi Release 9 read more here. Also don't miss iBwave's webinar on all the new Release 9 features by registering here.
/Claus.