Need for Wi-Fi spectrum projected to surge
A new study commissioned by the Wi-Fi Alliance projects that at least 500 MHz of additional spectrum is will be needed by 2025 to satisfy the explosion in Wi-Fi-capable devices and the continued surge in traffic. The study was produced by UK-based Quotient Associates and is co-authored by William Webb.
The upper bound of the study suggest that as much as 1.3 – 1.6 GHz of spectrum may be needed if growth rates exceed current expectations.
According to the Wi-Fi Alliance's press release, the global installed base of Wi-Fi devices today stands at 8 billion. This number is expected to grow to nearly 12 billion by 2025, the Wi-Fi Alliance says. The study also highlights the need for contiguous spectrum so that consumers & enterprise can reap the full benefit of the wider 160 MHz channels.
To download a copy of the spectrum needs report, go to this link.
So what about LTE in unlicensed bands?
The study was released hot on the heels of the FCC's decision to allow US mobile carriers to use contentious LTE-U technology to deliver 4G services in the 5 GHz 'Wi-Fi' band.
The LTE-U controversy pitting US mobile carriers and cellular vendors against the Wi-Fi community has been raging since last year, but for the time being appears to have ended following new FCC Chairman Ajit Pai's decision to give LTE-U the thumbs up.
T-Mobile immediately announced their plans to offer an LTE-U based service to consumers by this spring. All of Google, CableLabs, and Microsoft last year voiced concerns about the potential negative impact of LTE-U on Wi-Fi services.
The controversy resulted in the Wi-Fi Alliance & the parties supporting LTE-U agreeing on a co-existence test plan for LTE-U & Wi-Fi. The FCC in its decision said that "we understand that the LTE-U devices were evaluated successfully under the co-existence test plan. However, this is not an FCC requirement" – read the full FCC statement here.
At Wi-Fi NOW we've been openly critical of the LTE-U standard's encroachment on the unlicensed spectrum bands that today serve millions of Wi-Fi users. We also recently asked T-Mobile's CTO Neville Ray in a Tweet why T-Mobile has chosen LTE-U instead of the LAA version of unlicensed LTE technology, since both appear to be available from the vendors. We haven't received an answer yet (see the tweet stream below).
LAA is widely recognized as the more 'polite' and Wi-Fi-friendly version of unlicensed LTE because it applies listen-before-talk (LBT). Regulators in Europe & Japan mandate the use of LAA for unlicensed LTE.
@HettingClaus @TMobile Next up Claus…

— Neville (@NevilleRay) February 25, 2017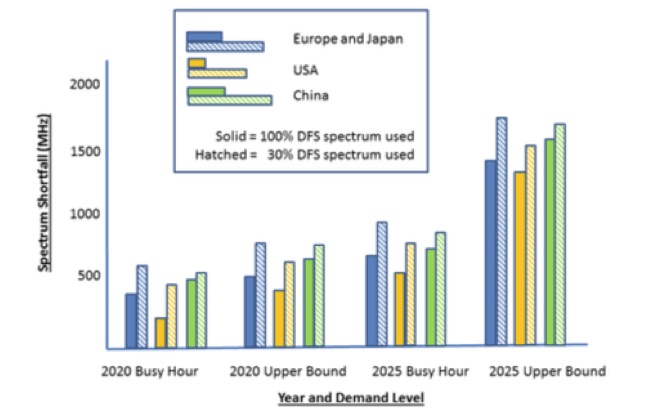 Above: Wi-Fi spectrum needs prediction. Source: Wi-Fi Spectrum Needs Study, Quotient Associates Limited, March 2017.