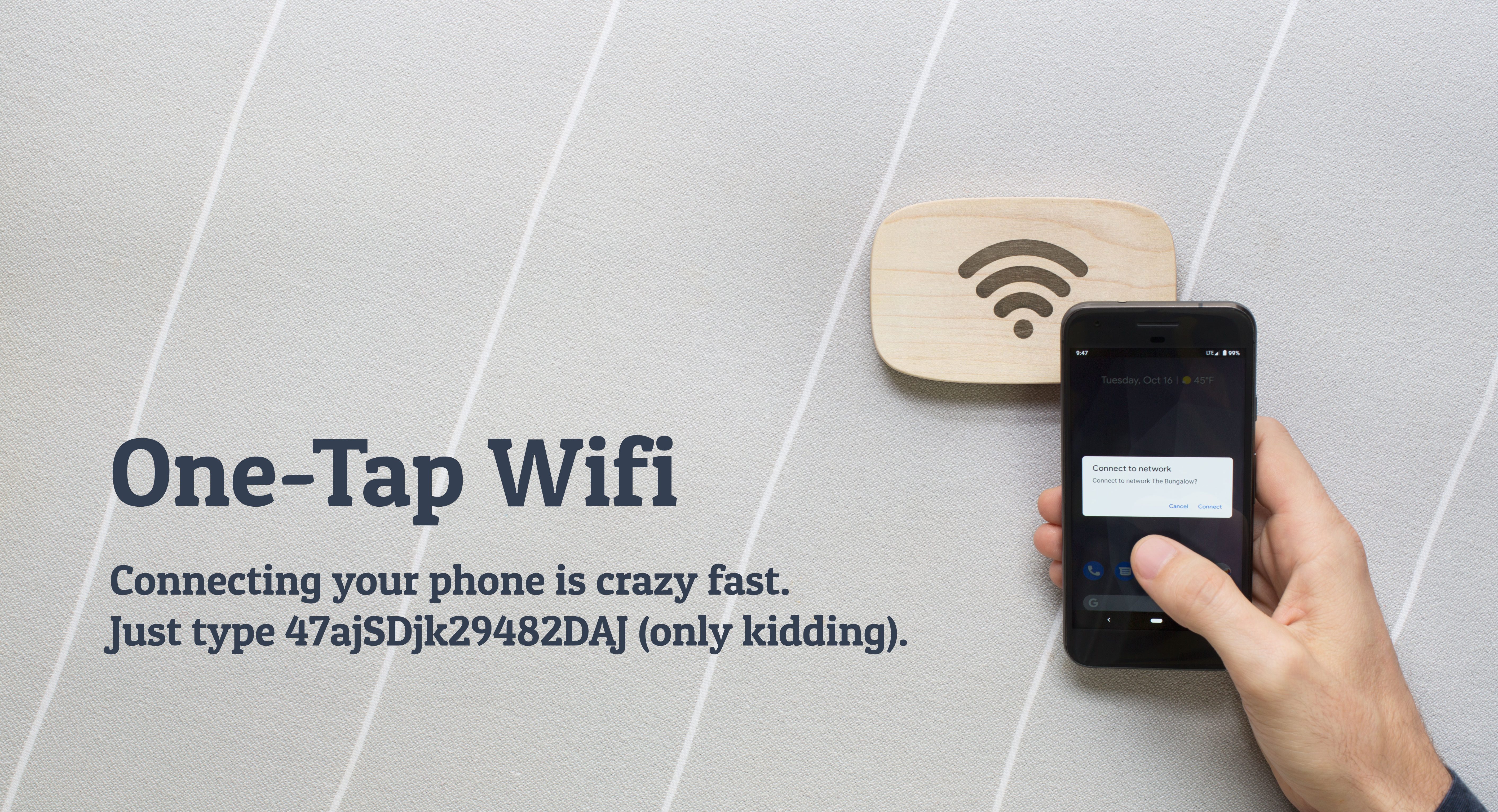 By Martynas Tovarovas, Wi-Fi NOW Staff Writer
New York-based company promises easier access to Wi-Fi services through the Wifi Porter. It's a puck-sized block of wood that uses NFC technology to securely connect you to a Wi-Fi network without looking up an SSID or asking for a password. And that is a convenient fix to a tedious and recurring practical problem.
Imagine throwing a party at your house – and then having your guests constantly ask for the Wi-Fi password. Now you can do away with that inconvenience altogether with the Wifi Porter: One tap with our smartphone against the wooden puck – and voilà – you're instantly connected to Wi-Fi.
Ten One Design's innovation could also simplify and speed up the often annoying process of getting connected in coffee shops, hotels, at meetings, or even at rented accommodations such as Airbnb. The inspiration for the solution came from an employee's own exasperating experience when attempting to connect to a Wi-Fi service.
"Wifi Porter started its life as three consecutive failures to type a password correctly.  This is not an unfamiliar story – I think it has happened to everyone. This time it happened to one of our employees who had the foresight to bring it up when we were discussing usability pain points for cafés and other types of public venues," says Peter Skinner, co-founder of Ten One Design.
The idea of using NFC technology for connecting to Wi-Fi is not new but the sleek wooden puck is the first to be able to connect without a pre-installed app. This is a big step up in convenience.
Network owners will however need an app to set up the Wifi Porter: The first tap will download the app while the second tap lets you choose from a list of recently used Wi-Fi networks. Finally you tap your phone against the puck to confirm settings or else print a QR code from the app in order to enable easy Wi-Fi access for older iPhone models. 
"Each Wifi Porter is programmed once with network credentials and can then be used to connect smartphones and tablets.  Most phones tap on the Wifi Porter and get a prompt to connect. Network credentials are delivered using NFC. Older iOS devices can connect by scanning the QR code with their cameras.  Both methods are quick and require no typing. Laptops are important too so we display the Wi-Fi SSID and password clearly on the bottom of the Wifi Porter," says Peter Skinner.
Both iPhone and Android phones are supported but iPhones released before 2018 will not be able to use the NFC function and instead need to scan the QR code printed on the back of the Wifi Porter.
Ten One Design has a reputation for designing convenient phone accessories but the Wi-Fi Porter is probably one of their more ambitious projects, Peter Skinner says. Although it is still uncharted territory for the company, Peter and his team are already considering developing a new version of the product specifically designed for easy Wi-Fi access at public venues. 
/Martynas.