By Claus Hetting, Wi-Fi NOW CEO & Chairman
A new research report by Counterpoint Research (commissioned by Qualcomm) expounds the need for more innovative integrated RF front ends (RFFEs) supporting a wide range of bands for both 5G and Wi-Fi 7 concurrently. Sophisticated new RFFEs also represent a sizeable market opportunity: A whopping seven billion 5G + Wi-Fi 7 devices are expected to be shipped between now and 2027, the report says.
The advent of multiple bands both for 5G and Wi-Fi 7 has not made smartphone RF design any easier – in fact, effective 5G and Wi-Fi 7 radio coexistence requires the utmost in sophisticated RF front ends. Fortunately, the market opportunity is also large, with an estimated 7.3 billion cumulative shipments of 5G + Wi-Fi 7 devices expected to hit the markets by 2027.
A new report by Counterpoint Research says there are numerous challenges in incorporating this expanding array of technologies and frequency bands into devices: Many of the bands are in close proximity to each other – which means the right filter technology is required. Add to this the use of multiple links, wider channels, and higher order QAM modulation schemes.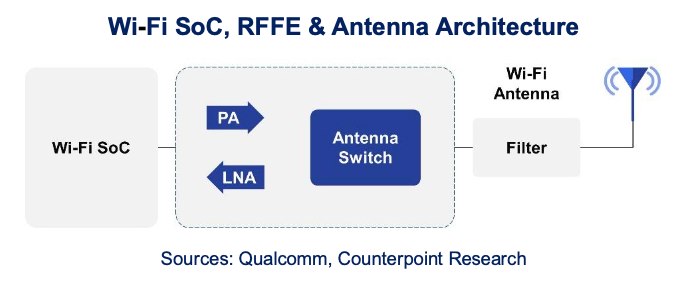 The solution to the challenge is end-to-end integration of techniques and features from SoC to front-end modules to power trackers, the report says. Qualcomm is one company capable of delivering the end-to-end integrated RFFE solution across the entire 5G+Wi-Fi 7 ecosystem, Counterpoint Research says. Qualcomm integrates power amplifier, low-noise amplifier, and antenna switch into a single package and delivers the 'UltraBAW' filters to maintain concurrency of 5G & Wi-Fi 7 signals.
The right RFFE technology is critical for supporting Wi-Fi 7 marquee features such as multi-link operation (MLO) and interference puncturing. Qualcomm's implementation of Wi-Fi 7 MLO includes both alternating multilink as well as High Band Simultaneous (HBS) Multilink, which will boost Wi-Fi 7 performance in regions with and without 6 GHz unlicensed spectrum allocation.
For all the details make sure to access the full Counterpoint Research report here: "Growing 5G+Wi-Fi RF Complexity Demands Innovative, Advanced & Tightly Integrated RFFE Solutions".
/Claus.