By Claus Hetting, Wi-Fi NOW CEO & Chairman
Pennsylvania Convention Center selects HPE Aruba Networking's Wi-Fi 6E
HPE Aruba Network's Wi-Fi 6E technology has once again been selected to deliver Wi-Fi services to a very large public venue – in this case the two million square foot (about 185,000 square metres) Pennsylvania Convention Center (PCC), the fourteenth largest convention facility in the US. The PCC hosts more than 250 national and international events per year including anything from medical conferences to rock concerts and the largest flower show in the country.

"It was critical for our Wi-Fi to support everything from checking email and hybrid conference sessions with live streaming to enabling hundreds of different POS systems to operate simultaneously," says Tony Hodgins, General manager for the PCC's operational partner, ASM Global. HPE Aruba Networking already supplies the Wi-Fi 6E network at Chase Center – home of the NBA's Golden State Warriors – as well as for University of Michigan. The latter is probably the US' largest Wi-Fi 6E network with some 16,000 Wi-Fi 6E APs installed.
NETGEAR introduces its first Wi-Fi 7 product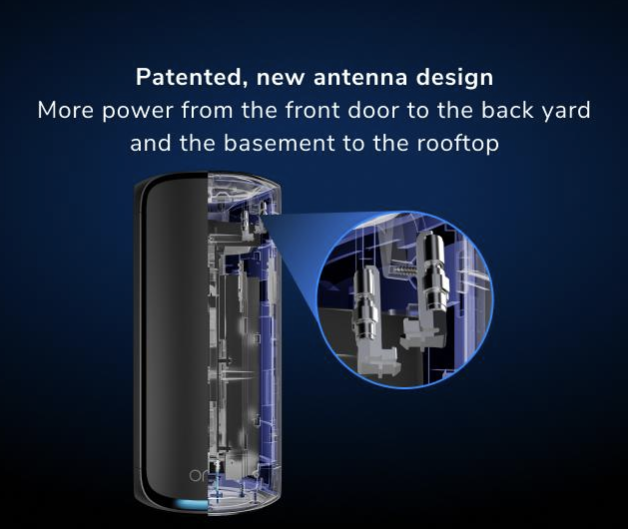 NETGEAR has introduced its first Wi-Fi 7 product, which is none other than the quad-band NETGEAR Orbi 970. The unit is substantially redesigned from the previous version and at first glance looks a little like an elegant smart speaker. The company says the unit can deliver up to 27 Gbps of peak theoretical speak and NETGEAR also lists the full range of Wi-Fi 7 capabilities as key features including 320 MHz channels, 4kQAM, multi-link operation, preamble puncturing, and more.
Interestingly, NETGEAR says the Orbi 970 includes a patented new antenna design for better coverage and uses MLO "to create Enhanced Dedicated Backhaul which combines a dedicated 5 GHz band with a 6 GHz band to double the connection speed between the router and satellites and achieve 10 Gig wireless backhaul for reduced latency."
Another new feature is a 10 Gbps Ethernet port as well as a 10 Gbps Internet (WAN) port plus four 2.5 Gbps Ethernet ports. The product looks incredibly slick but you also have to dish out nearly US$2300 for a three-pack and US$1700 for a two-pack. The release follows hot on the heels of competitor eero (Amazon) who released a Wi-Fi 7 mesh product with a similar price tag a couple of weeks ago.
Wi-Fi HaLow momentum continues with AsiaRF & Morse Micro
Taiwan-based AsiaRF continues to introduce new Wi-Fi HaLow devices:  last week they released all of five new Wi-Fi HaLow products including the Wi-Fi HaLow IoT Gateway: [ARFHL-AP], the Wi-Fi HaLow Wearable Gateway (ARFHL-UM), the Wi-Fi HaLow Outdoor Gateway (ARFHL-OD), Wi-Fi HaLow Outdoor Relay (ARFHL-ODR) and the Wi-Fi HaLow DIY Kit (ARFHL-575).
AsiaRF says all of the products are powered by Morse Micro's MM610X-series chipsets for 15 Mbps or 32.5 Mbps peak data rates. The Wi-Fi HaLow standard was created in 2016 by the Wi-Fi Alliance specifically for IoT use cases. The technology uses sub-GHz unlicensed bands to connect devices across more than 1 kilometre of range. The standard allows a single Wi-Fi HaLow AP to serve up to 8000 clients. More information here. 

/Claus.