By Claus Hetting, Wi-Fi NOW CEO & Chairman
Wi-Fi Alliance successfully tests standard power 6 GHz Wi-Fi & AFC
Last week the Wi-Fi Alliance conducted what we believe is the industry's first test event designed validate the readiness of the standard power 6 GHz ecosystem including the use of AFC. Broadcom, Cisco, Qualcomm, MediaTek, Extreme Networks, and CommScope/Ruckus all participated in the event.
"The event successfully demonstrated compliance of all devices with the Wi-Fi Alliance System to Device Interface (SDI) specification and their readiness to effectively operate under the control of an AFC system," the Wi-Fi Alliance says in their statement here. The Wi-Fi Alliance's 'AFC DUT Test Harness' simulates the behaviour of a real AFC. For more about AFC see here.
Apple announces multi-billion dollar deal with Broadcom
Last week Apple announced inking a multi-year, multi-billion dollar components deal with Wi-Fi chipset leader Broadcom. Although Wi-Fi is not specifically mentioned in the announcement, we're guessing Apple continues to turn to Broadcom also for Wi-Fi technology. The announcement mostly referenced RF components for 5G that are developed and manufactured in the US. The full announcement can be found here. It continues to be rumoured that Apple has in-sourced a small part of their Wi-Fi development including the Wi-Fi tech incorporated in the Apple Watch.
South Africa releases lower 6 GHz band to Wi-Fi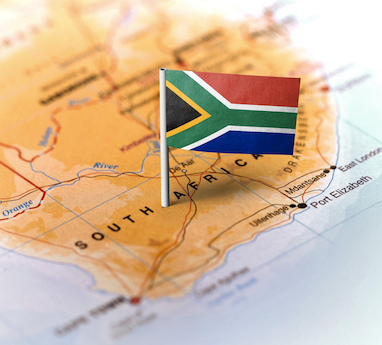 South African telecom regulator ICASA last week released the lower 6 GHz band to Wi-Fi, becoming only the second sub-Saharan African country to do so following Kenya. Credit for the decision goes to not only ICASA – for recognising the importance of the 6 GHz band for unlicensed use – but also the South African Wireless Access Providers Association (WAPA) including executive Paul Colmer. WAPA has been instrumental in lobbying the government for the additional spectrum including at its yearly event in Johannesburg last year October. For an updated list of countries and regions supporting 6 GHz Wi-Fi see here.
Latest from Plume IQ: No. of neighbouring Wi-Fi networks increases by 11%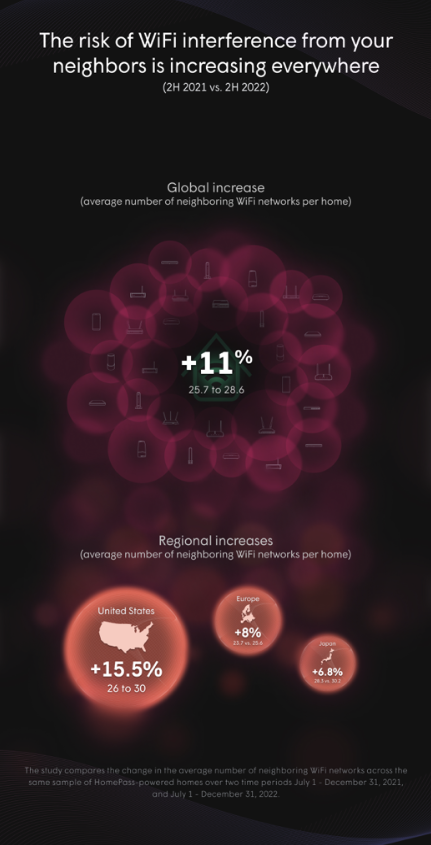 New insights from the data analytics arm of smart home platform provider Plume – Plume IQ – shows that the number of neighbouring Wi-Fi networks increased by 11% year-on-year (from 2H2021 to 2H2022). The number of neighbouring Wi-Fi networks is the number of other networks that a home Wi-Fi network can 'see' and could be affected by through interference.
What is even more remarkable is that the total number of Wi-Fi networks (SSIDs) that a home network on average can 'see' is a staggering 29. Plume IQ says the need for proactively managing home Wi-Fi is more pronounced than ever – and they are right of course – but beyond that the data also demonstrates a dire need for more spectrum. The insights show US numbers substantially ahead of Europe with Japan in third place.
Plume IQ insights are extracted from managing more than 48 million locations and 2.5 billion devices, Plume IQ says.
/Claus.