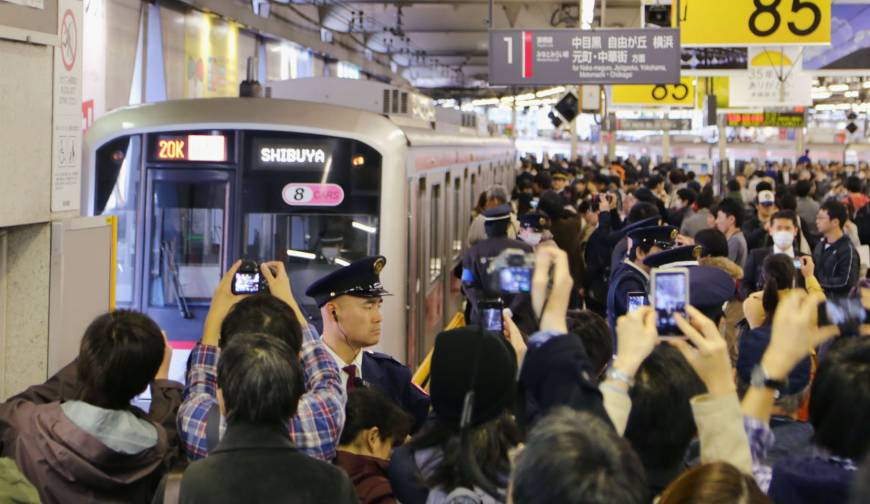 By Claus Hetting, Wi-Fi NOW CEO & Chairman
Shibuya Station in Tokyo, Japan is the world's second-busiest train station and hence the perfect place to test new high-density carrier Wi-Fi technology. And that's exactly what Ruckus Wireless, Qualcomm, and Japanese carrier KDDI did successfully last week.
The three companies report (read the Qualcomm press release here) the successfull testing of a set of features belonging to the Wi-Fi Alliance's Wi-Fi CERTIFIED Vantage program. And the results are impressive: Up to 10 times faster connection setup times as well as 30% more efficient use of network resources. The test was conducted on KDDI's public Wi-Fi network at Shibuya Station using Qualcomm-powered devices and Ruckus Wireless access points.
The test was particularly focused on verifying so-called 'Vantage 2' features – officially known by the Wi-Fi Alliance as 'Wi-Fi Optimized Connectivity' – that include the 802.11ai and 802.11k Wi-Fi enhancement standards. 802.11ai is also known as 'Fast Initial Link Setup' (or FILS), while 802.11k enhances Wi-Fi radio resource management with tools to discover the best available access point. Qualcomm says it's the first vendor to make the new features available commercially.
For more on mobility enhancement features see our interview with Broadcom's principal scientist Thomas Derham here and find out here how 802.11ai will be a big boost to the Wi-Fi user experience.
Independently, the Wi-Fi Alliance last week announced availability of the new Wi-Fi CERTIFIED Wi-Fi Optimized Connectivity certification program, a new component of the wider Wi-Fi Vantage certification suite. Read here for details on all parts of the Wi-Fi Vantage program.
/Claus.