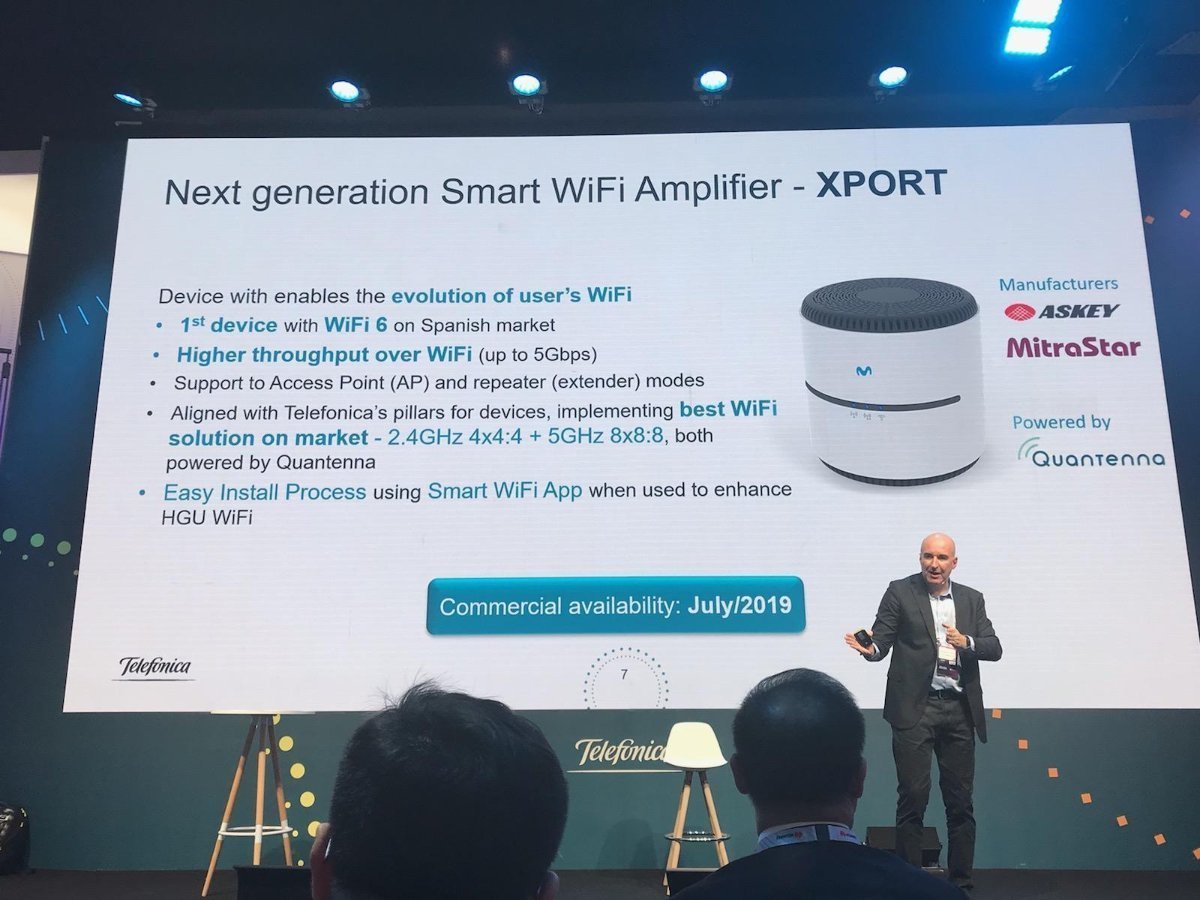 Above: A Telefonica executive speaking at Mobile World Congress Barcelona on February 28, 2019. Photo courtesy Quantenna.
By Claus Hetting, Wi-Fi NOW Chairman & CEO
An excellent piece of Wi-Fi news for Europe that was important but also easy to miss at the Mobile World Congress in Barcelona: Spanish telco giant Telefonica this week launched what we believe could be Europe's first announced Wi-Fi 6 gateway and repeater. The repeater is powered by Wi-Fi chipset leader Quantenna.
While several telcos and cablecos in the US and Asia have already announced availability of Wi-Fi 6 gateways, Spain's Telefonica is – as far as we know – the first European telco to launch a Wi-Fi 6 gateway thus far. The announcement came at this year's Mobile World Congress taking place this past week in Barcelona, Spain – an event normally dedicated to the mobile industry. This year it was replete with fixed wireless announcement.
Telefonica's new Wi-Fi 6 platform has been given the rather consumer unfriendly name of xHGU and is said to be able to deliver 10 Gbps. The unit is part of a new 'Open Access' and 'converged' network architecture that Telefonica says will apply multiple access technologies (including fibre and 5G) at the customer's premises and allow for much more flexibility, choice, and performance.
Telefonica also released a repeater (or 'amplifier') – called XPORT – as part of the new platform. Both XPORT and the xHGU itself are powered by Quantenna (see photo above with thanks to Quantenna for providing it). Notably the xHGU unit features 8×8 MIMO – a configuration that Quantenna says is increasingly popular among their router and gateway clients.
Telefonica says their Wi-Fi 6 platform will be made commercially available by July 2019.
/Claus.