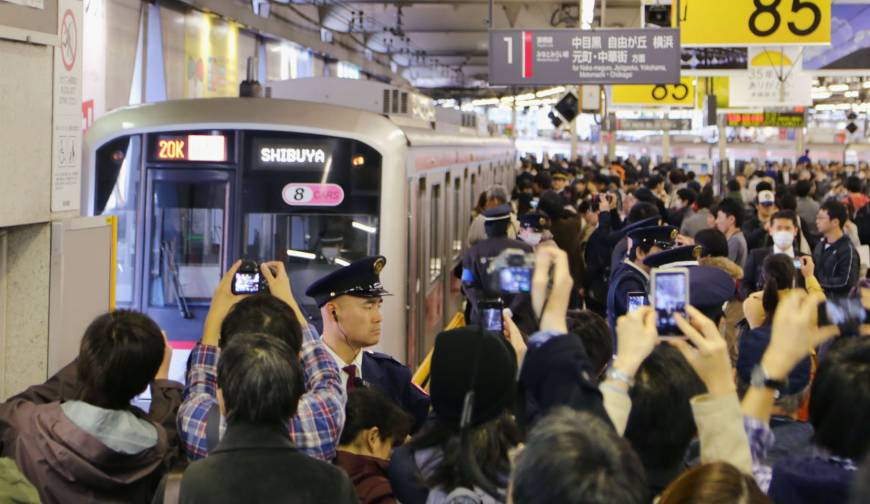 Above: Tokyo's Shibuya station, the site of Vantage 2.0 feature testing earlier this year.
By Claus Hetting, Wi-Fi NOW CEO & Chairman
The imminent opening of CES 2019 is not stopping a litany of Wi-Fi companies from announcing their latest and greatest Wi-Fi achievements already this week. Here's what we've picked up on as the highlights.
Quantenna extends winning streak with new Telefonica deal
Pure-play Wi-Fi chipset vendor Quantenna landed another major operator deal this week extending its partnership with Spanish telco giant Telefonica. Quantenna will be powering Telefonica's 'new portfolio of high-end fibre gateways and repeaters' with the 8×8 QSR10GU-AX Wi-Fi 6 chipset, says this Quantenna press release from December 12.
Among the solution's technical capabilities Quantenna cites 'Always-On DFS' for the continuous monitoring of radar signals in turn presumably opening up for the use of DFS-protected 5 GHz bands by Telefonica gateways and repeaters. Quantenna has this year landed numerous other strategic operator and partnership deals. In 2016 the company was the first to release a Wi-Fi 6 capable chipset based on an early draft release of the standard.
Ruckus Networks APs first to receive 'Vantage 2.0' designation
Ruckus Networks has for years been pioneering new service provider Wi-Fi technology to the market and this week the company launched another first in the category: Two Ruckus APs became the first to receive the Wi-Fi Alliance's 'Certified Wi-Fi Vantage 2.0' designation.
The Wi-Fi Alliance's Vantage 2.0 program includes a fairly lengthy list of enhancement features aimed at boosting the usability and performance of service-provider managed Wi-Fi particularly in environments with a high density of users. Earlier this year, Ruckus Networks conducted Vantage 2.0 testing at one of the world's busiest train stations in Tokyo in partnership with Japanese telco giant KDDI and Wi-Fi chipset leader Qualcomm.
Ruckus Networks said that service providers have been asking for the features also "because they allow them to offload clients to Wi-Fi to free up the cellular spectrum." The four categories of features in Vantage 2.0 include Wi-Fi CERTIFIED ac™, Wi-Fi CERTIFIED Passpoint®, Wi-Fi Agile Multiband and Wi-Fi Optimized Connectivity, said Ruckus Networks.
The company also said that "Wi-Fi Vantage can be thought of as a quality of service (QoS) certification, analogous to the automotive world's introduction of the automatic transmission, to make Wi-Fi network infrastructure easy to manage," in this blog on the Wi-Fi Alliance's website.
Wi-Fi sensing to go mainstream as Cognitive enters four-way partnership
This week Canada-based Wi-Fi sensing leader Cognitive Systems announced a new four-way partnership designed to introduce its remarkable Wi-Fi sensing technology into the mass market for home and enterprise security. The partnership includes security solutions provider Stanley Black & Decker, chipset vendor Qualcomm, and intelligent home Wi-Fi software vendor Plume.
"The result is a self-install security and motion detection system that alerts end users to motion in and around their homes and businesses without the privacy risks, set-up hassles or high costs that come with security cameras and sensors," Cognitive Systems says.
Earlier this year, Cognitive Systems won Wi-Fi NOW Awards for Best In-Home Wi-Fi Solution and Best Wi-Fi Innovation at Wi-Fi NOW Europe in Berlin. For more about Cognitive Systems pioneering work in passive Wi-Fi sensing, read here.
/Claus.