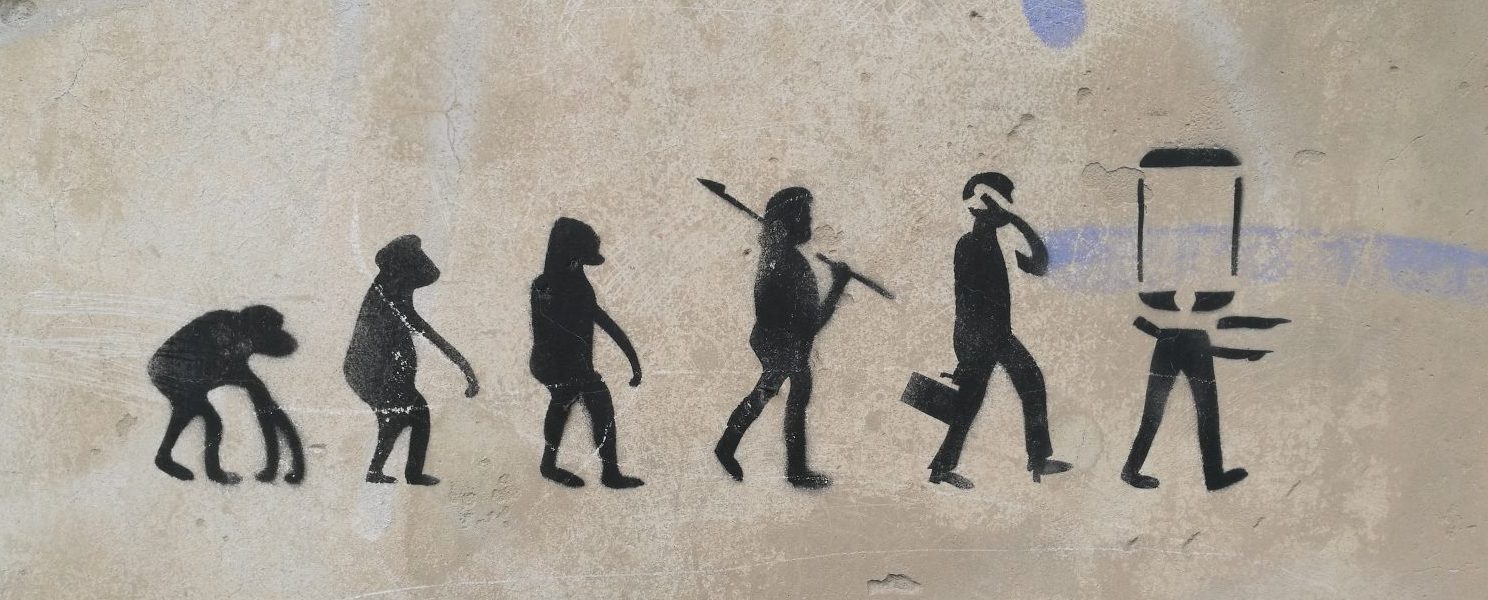 By Claus Hetting, Wi-Fi NOW  CEO & Chairman
The world of Wi-Fi never stands still and hardly have the first Wi-Fi 6 devices hit the markets before the IEEE is preparing the standard for the next version of Wi-Fi. Yes, it's very, very early days. But now at least Wi-Fi 6's successor has an official name: 802.11be. That name will of course likely evolve into Wi-Fi 7. The details of 802.11be are naturally sketchy at this point but this is what we know. 
What's next in Wi-Fi after Wi-Fi 6? It used to be called 'EHT' – for 'Extremely High Throughput' – but in May of this year, it was finally given it's official 802.11 name: 802.11be. Not particularly exciting as far as naming is concerned but we do largely expect the name to eventually (with the help of the Wi-Fi Alliance) morph into the much more sonorous Wi-Fi 7.
So what's Wi-Fi 7 (aka 802.11be) all about? Carol Ansley, Senior Counsel at CommScope (previously ARRIS) and dedicated expert on the next Wi-Fi standard – says Wi-Fi 7 will be all about boosting speeds. "Wi-Fi 6 is really all about efficiency and quality. With 802.11be we're back focusing on significant growth in throughput," Carol Ansley says.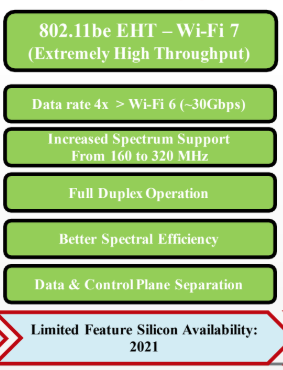 For starters Wi-Fi 7 will support 320 MHz channels as well as 'more efficient utilisation of non-contiguous spectrum,' the IEEE documents say. In regular English that roughly means Wi-Fi 7 should be better at operating on many separate bands at the same time. Analyst Phil Solis of IDC – who spoke at Wi-Fi NOW USA in Washington DC in May – says this means the use of 'any spectrum between zero and 7 GHz' including of course 900 MHz, 2.4 GHz, 5 GHz, and now also 6 GHz (see slide below).
Other high-level goals include 16 spatial streams and multi-AP coordination – meaning coordinated and joint transmissions from many access points at the same time. The Wi-Fi 7 group will have its work cut out for it also because of the introduction of 6 GHz into the mix with regulatory rulings on 6 GHz outstanding and likely to vary across global markets.
According to Craig Cowden, SVP Wireless Technology at Charter – who also spoke at Wi-Fi NOW USA in May – Wi-Fi 7 speeds will reach as high as four times Wi-Fi 6 or around 30 Gbps and the first Wi-Fi 7 chipset will likely be made available for testing in 2021.
Enjoying this story?
Leave your email here and we'll get you all the latest Wi-Fi news.
Meanwhile the IEEE 802.11 group has set tentative target dates for the release of the standard: "Current proposals estimate about 2 years for the first 802.11be draft to be released.  The proposed target for the whole 802.11be release is 5 years," Carol Ansley says. For documents and updates from the new 802.11be group, see this link.
/Claus.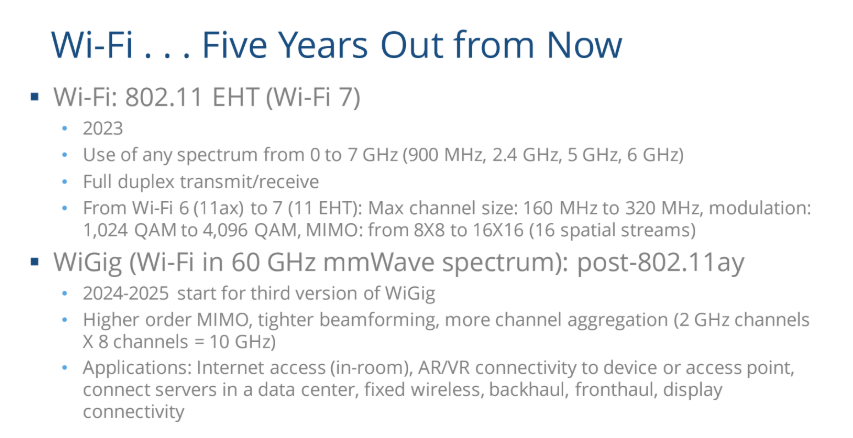 Above: Source IDC Research, Phil Solis.