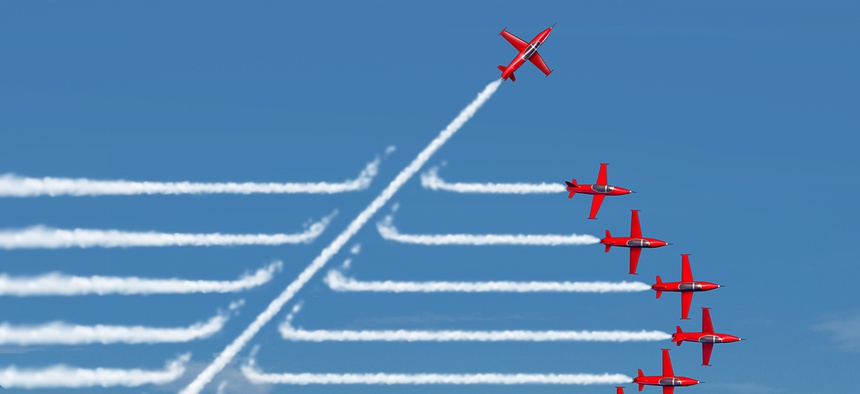 By Claus Hetting, Wi-Fi NOW CEO & Chairman
A new report by ABI Research says more than 1 billion Wi-Fi 6 chipsets will be shipped annually by 2022 – only three years after the first client devices are expected to be released. In comparison yearly shipments of 5G devices are expected to reach 1 billion six years after first commercial 5G launch, the report says.
For those of us who have been following the parallel worlds of cellular and Wi-Fi for decades it has always been fairly obvious that Wi-Fi technology – including introduction of faster and better standards – moves a lot faster than its 3GPP-based brethren. Now ABI Research is confirming this in a new research report forecasting the adoption trajectory of Wi-Fi 6.
Wi-Fi will retain 'connectivity crown'
The report says 'Wi-Fi will retain its connectivity crown in the 5G era' breaking the 1 billion annual shipments barrier by 2022. Commercial adoption of the Wi-Fi 6 standard will begin next year but significant adoption is not expected to happen until 2020, once the standard is fully ratified and 'becomes increasingly leveraged in flagship devices from key smartphone vendors', ABI says.
ABI Research's senior analyst Andrew Zignani cites 'enormous growth in Wi-Fi-enabled devices' and 'Wi-Fi 6's ability to enhance performance in dense environments' as key drivers for Wi-Fi 6 adoption. Zignani also referenced the FCC's recent vote in favour of releasing up to 1.2 GHz more spectrum to Wi-Fi noting that 'many stakeholders anticipate that most of the station and AP devices going forward will have tri-band capabilities that support 2.4GHz, 5GHz, and 6GHz.'
Zignani also applauded the Wi-Fi Alliance's recent adoption of the new naming convention for Wi-Fi generations as Wi-Fi 5, Wi-Fi 6, etc. "The greater awareness of Wi-Fi devices strengths and limitations could also drive competition and greater incentivization in the market," Zignani said.
Bullish Wi-Fi 6 forecasts by Cisco
A forecast presented by Cisco at Wi-Fi NOW Europe in Berlin suggests that 11% of new devices will be Wi-Fi 6 capable already by next year. That number is expected to grow to 56% in 2022, Cisco's Matt MacPherson said. Cisco also said that "every new Wi-Fi standard is adopted faster than the prior ones," rebutting frequent public criticism that the evolution towards Wi-Fi 6 has been too slow.
The Wi-Fi Alliance says that the current installed base of Wi-Fi devices exceeds 9 billion with upwards of 3 billion devices shipped every year.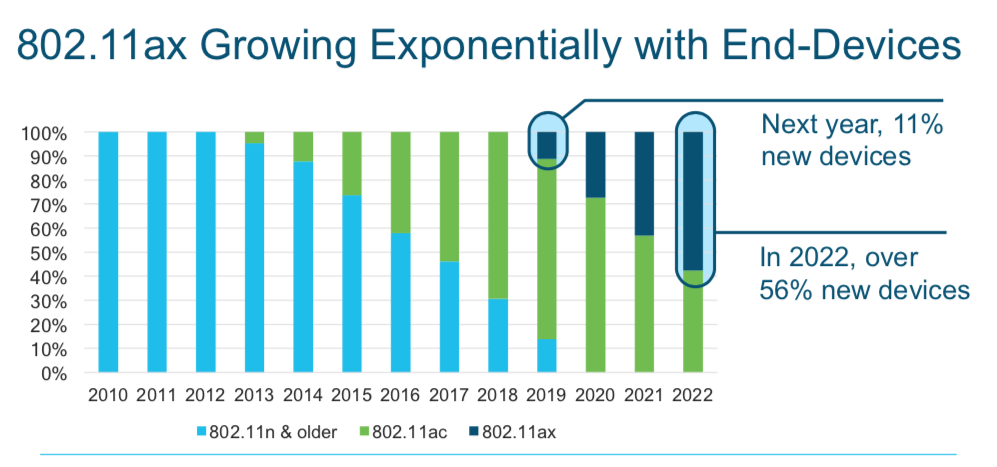 Above source: Cisco
/Claus.