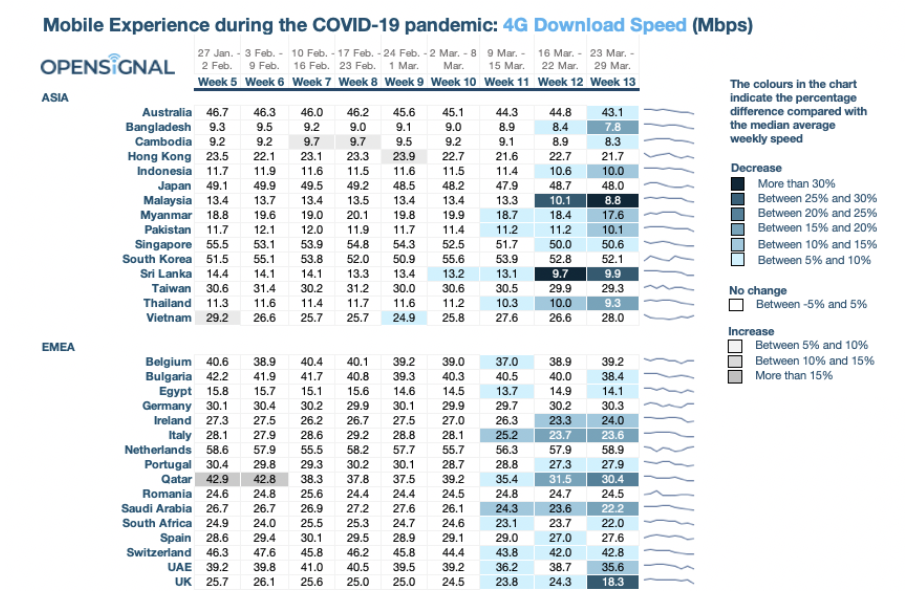 By Claus Hetting, Wi-Fi NOW CEO & Chairman
A mobile analytics report issued early this month by OpenSignal (above) suggests that in particular Asian and some European 4G services are buckling under the load of increased traffic during the lockdown period. The likely reason is that home Wi-Fi services across a wide array countries are simply not good enough to deliver the broadband capacity needed for working from home, says analyst.
A comprehensive mobile analytics report released by OpenSignal earlier this month shows that 4G networks across an array of Asian and some European countries are experiencing mobile traffic congestion as a result of  working from home during the lockdown.
In Asia those experiencing the worst mobile congestion – with 4G speed reductions of up to 30% – are Malaysia, Indonesia, Thailand, Myanmar, and Pakistan. Many other Asian countries are experiencing a 5-10% drop in 4G speeds since the lockdown. Mobile networks in Japan, Korea, and Taiwan meanwhile appear unaffected by the lockdown, the study indicates.
In Europe mobile broadband speeds in the UK have dropped by 20% while 4G networks in Italy and Ireland also appear to be congesting. Meanwhile North American mobile speeds for now do not appear to be suffering from mobile traffic congestion due to the lockdown even as home Wi-Fi network traffic surges. Read more about North American home Wi-Fi traffic here and here.
At least part of the reason for the 4G congestion in Asia is that home Wi-Fi networks in some Asian countries are not up to scratch, says Clayton Check, telecoms analyst and Wi-Fi NOW Business Development Manager for APAC. He says there are a number of specific reasons why this is the case.
"The Wi-Fi coverage in the home may not be good enough for professional home networking and ISPs may not be providing their subscribers with the right, high-quality Wi-Fi router hardware. In some cases people choose 4G as their sole home Internet connection. Finally, in some Asian markets our governments have simply not promoted Wi-Fi enough," says Clayton Check.
/Claus.