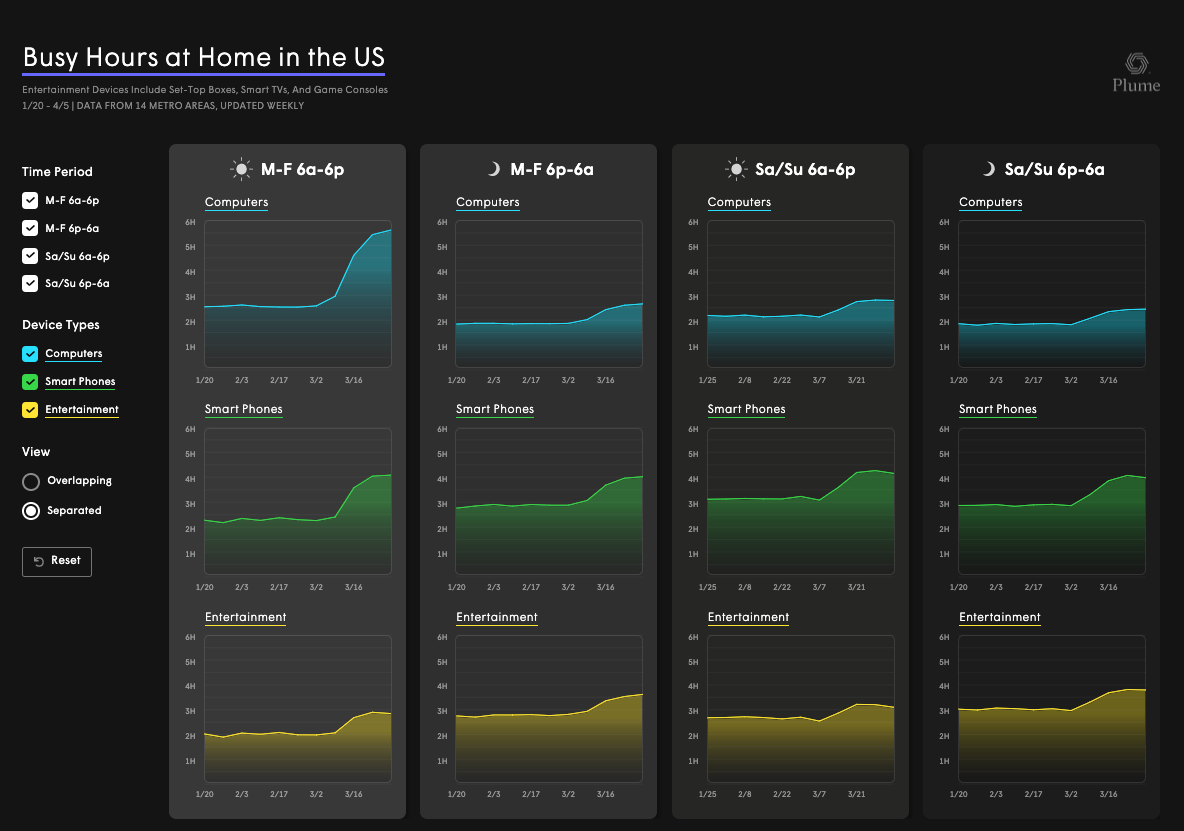 By Claus Hetting, Wi-Fi NOW CEO & Chairman
A lot of news stories have already been written about how home Wi-Fi networks are being tested to their limits during the lockdown. But now there's a new way of getting a birds-eye view of the impact: Cloud-managed home services and middleware leader Plume has wasted no time in making data from over 700 million Wi-Fi devices available to the public. Here's what the data says.
Need a birds-eye view of how the lockdown is effecting home Wi-Fi networking? Well – it is no surprise that the surge in data usage, devices, and traffic profiles is staggering. But now you can get access to all the data on a new 'work from home' dashboard developed by Plume, one of the leaders in home Wi-Fi optimisation and services. You can view the full dashboard here.
The dashboard updates daily and presents data from hundreds of millions of Wi-Fi devices and home networks in the US, Europe, and Canada. For example: The number of people active at home during the work day has jumped by more than 100% in the US and Canada as a result of the lockdown. The use of computers at home over Wi-Fi has jumped from 2.5 hours to close to 6 hours, and smartphone usage in the home has nearly doubled, too.
The use of Wi-Fi for entertainment has also gone up significantly during weekday daylight hours, the Plume data says. "One question we asked is whether people are working from home – or watching from home. As it turns out it's both, and we also have to remember that schoolkids are now also at home during weekdays," says Plume CEO and Co-founder, Fahri Diner.
Fahri Diner also says that sales of Plume hardware and services direct to consumers – including security, motion detection, and optimised Wi-Fi –   has gone up during the lockdown, although by far most of Plume's services are delivered through service providers. Plume's services reach more than 15 million homes and 700 million devices in the US, Europe, Canada, and in Japan, the company says.
/Claus.