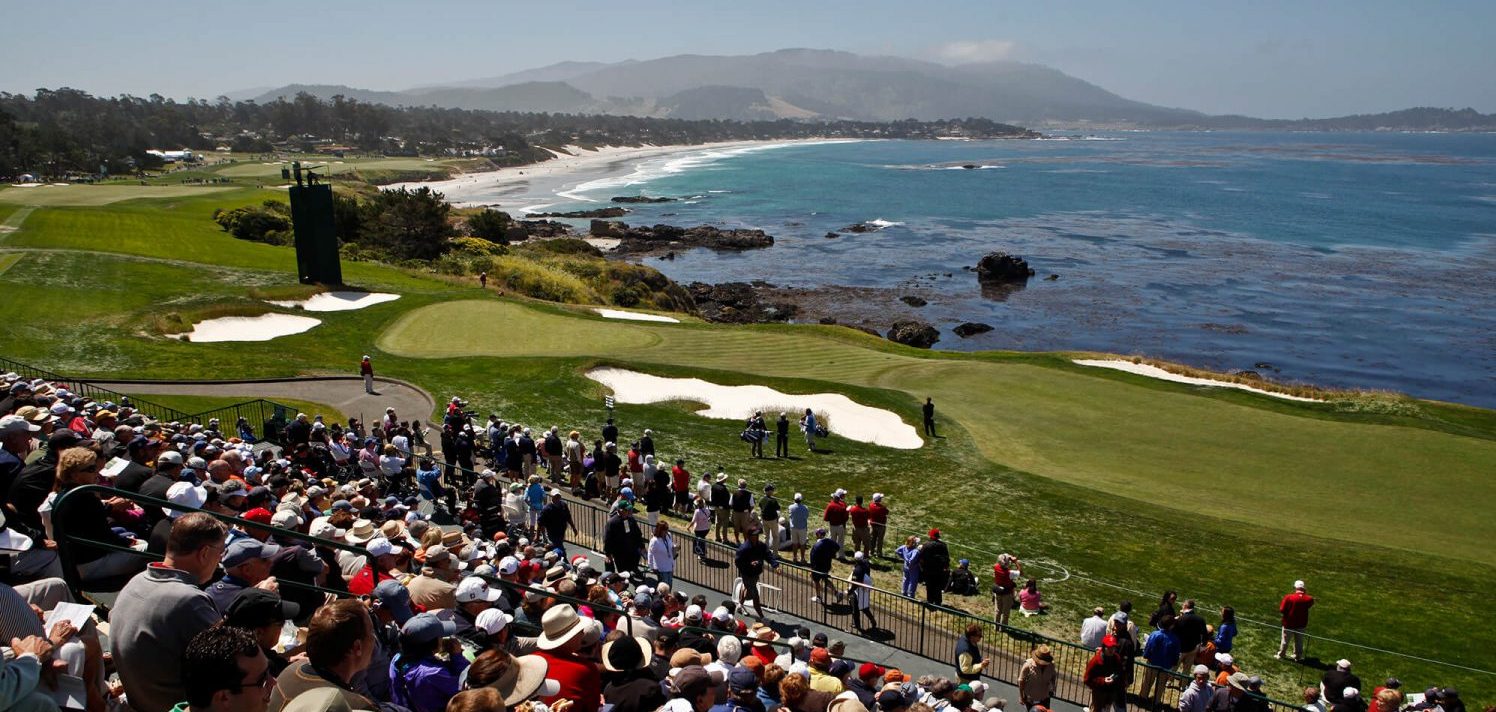 By Claus Hetting, Wi-Fi NOW CEO & Chairman
This week Cisco and the USGA are conducting the world's first large-scale trial of Wi-Fi 6 services: The live Wi-Fi 6-capable network has been deployed at the Pebble Beach Golf Links in Monterey, California and is expected to deliver 'a blanket' of Wi-Fi connectivity for thousands of fans and staff the the 119th US Open golf championship. So will Wi-Fi 6 prevail? Here's the inside story.
It is one of the core use cases that Wi-Fi 6 was designed for: Thousands of sports fans crowding into grandstands around the final holes of a major golf tournament. Golf is one of many high-density sports and entertainment applications where the new Wi-Fi 6 standard is expected to deliver outstanding connectivity performance. The US Open is a chance to prove just that.
Enjoying this story?
Leave your email here and we'll get you all the latest Wi-Fi news.
It is still early days for the proliferation of Wi-Fi 6-capable devices so Cisco and the US Golf Association (USGA) still won't know for sure how Wi-Fi 6 performs when fully loaded. But they will be the first to extract live Wi-Fi 6 performance data from thousands of Wi-Fi users at a major sporting event – and that's big deal.
Tens of thousands of connections per day
At Pebble Beach some 350 Cisco APs will be deployed to create a 'blanket' of Wi-Fi covering the entire championship grounds, says the USGA and Cisco in this press release. Wi-Fi 6 capability will be reserved to a 'dedicated portion' of the network using Cisco Meraki Wi-Fi 6 equipment, the press release says. The event is expected to attract some 250,000 visitors to the Monterey Peninsula, which means the Wi-Fi service may well need to support tens of thousands of connections per day.
Cisco cites higher speeds and much improved high-density performance (including 400% greater capacity) as well as only one quarter of the battery power required for Wi-Fi 6 services when compared to legacy Wi-Fi 5 technology. At Wi-Fi NOW USA in Washington DC in May Cisco's Senior VP of Engineering Anand Oswal highlighted perhaps the most important aggregate function of Wi-Fi 6: Delivering deterministic – meaning predictable and SLA-capable – Wi-Fi services (see graphic below).
In theory Wi-Fi 6 also offers much longer range and hence better coverage although it is not known whether Cisco will be testing this feature of Wi-Fi 6 at Pebble Beach (arguably it seems an obvious feature to test for 7,000+ yards of golf course Wi-Fi coverage).
From 'no phones allowed' to Wi-Fi, apps, and OTT video
The Wi-Fi connectivity layer forms the crux of what Cisco and the USGA call the Connected Course concept: A new way for golf fans to engage with the tournament by watching and sharing content. The concept includes a US Open app for wayfinding, tracking your favourite players, live streaming, etc. as well as even a live and free US Open 2019 OTT video streaming service available on AppleTV, Roku, and other platforms, the USGA says.
The new initiative stands in stark contrast to the USGA's policies of only two years ago when mobile phones were banned at golf championships and could even be confiscated by tournament officials if pulled out of pockets by unsuspecting fans, explains Cisco's General Manager Ken Martin in this TechRepublic news report. Last year the USGA and Cisco finally entered into a multiyear partnership in order to – among other things – enhance the fan experience and create new opportunities for content distribution, the USGA says.
Exactly how Cisco and the USGA have gone about deploying a 'Wi-Fi blanket' for spectating grandstands as well as more than 7,000 yards of world class golf course and surrounds is indeed the million-dollar question. That is no simple planning and deployment feat. On that topic we hope to make more information available later this month.
/Claus.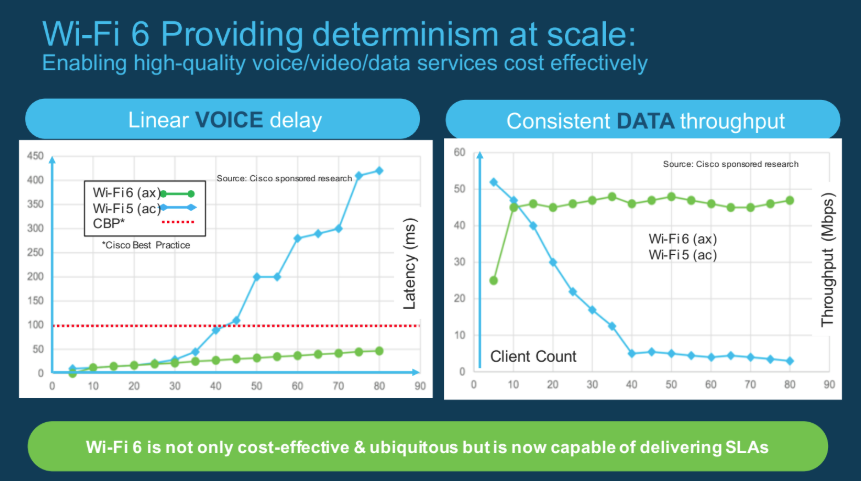 Above: Perhaps the most important new quality of Wi-Fi 6: Delivering deterministic (predictable) services capable of delivering SLAs. Source: Cisco.