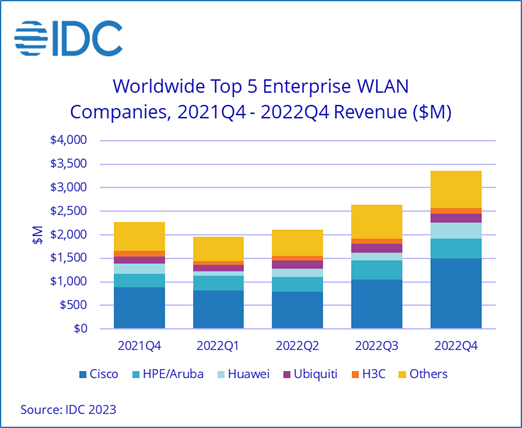 By Claus Hetting, Wi-Fi NOW CEO & Chairman
The enterprise Wi-Fi market continues to grow at an impressive pace and individual vendors continue to post very high growth figures for the segment, says IDC. 
The enterprise Wi-Fi market continues to grow at a record-setting pace, according to the latest market figures released by the IDC. IDC's 'World Wide Quarterly WLAN Tracker' says the total enterprise Wi-Fi market reached a value of US$10 billion in 2022 with fourth quarter growing 47.9% year-on-year to post a record US$3.35 billion in sales. Wi-Fi 6 now makes up more than 80% of all AP sales while Wi-Fi 6E represented 7.2% of the total market in 4Q22, IDC says.
Regional figures were similarly impressive: The US enterprise Wi-Fi market grew 56% for 4Q22 (year-over-year) while for Europe the figure was a whopping 77% . In Latin America the growth rate for 4Q22 exceeded 100%, IDC says. For more details also see here. Among the vendors Cisco's Wi-Fi sales grew 68.8% while Aruba Networks sales grew 49.6% for the quarter, IDC says.
Meanwhile the consumer Wi-Fi segment grew 4% in fourth quarter 2022 (year-on-year) and held virtually flat at 0.2% for the full year.
/Claus.