By Claus Hetting, Wi-Fi NOW CEO & Chairman
They won't tell you in so many words – but Qualcomm knows: We're living in a Wi-Fi first world. Qualcomm's Wi-Fi 7 day for analyst in San Diego last week was a technological tour-de-force reinforcing the company's pole position in shaping the present and future of Wi-Fi connectivity. Here's the lowdown on what's in the pipeline as Qualcomm and the world prepares for the journey towards better and faster Wi-Fi everywhere – with Wi-Fi 7, of course.
Writer and philosopher Buckminster Fuller famously said: You never change things by fighting existing reality. To change something, build a model that makes the existing model obsolete. And there was a lot of that at Qualcomm's Wi-Fi 7 analyst day held in San Diego last week. "Wi-Fi is no longer just about connectivity – it's about selling the experience," said Qualcomm's SVP & GM Rahul Patel in his opening keynote. But instead of just saying that – and a lot of companies will tell you the exact same thing – Qualcomm is now launching the technology to actually make it happen.
'Qualcomm Service Defined Wi-Fi': From connectivity platform to service delivery
The event was packed with loads of news and information but here's probably the most important item: Qualcomm is introducing a new '10G Fiber Gateway Platform'. The platform delivers multi-gigabit Wi-Fi 7 connectivity combined with 10G passive optical networking (XGS-PON) as well as something entirely new called Qualcomm Service Defined Wi-Fi. The platform is sampling now and Qualcomm says it will be made available commercially available to customers early summer 2024.
Conceptually, Service Defined Wi-Fi is a new architectural approach to service delivery that aims to make Wi-Fi connectivity within the home as good or better than wired connections direct to devices.
Service Defined Wi-Fi represents – as far as we know – the first time operators and vendors will be able to make use of an expansive range of programmable tools for delivering a fully managed end-to-end connectivity experience. Many operators battle with Wi-Fi quality inside the home because there has only ever existed at most a handful of tools capable of addressing parts of the Wi-Fi quality challenge. Now there's a new and extensive toolbox that allows you to resolve all of it, Qualcomm says.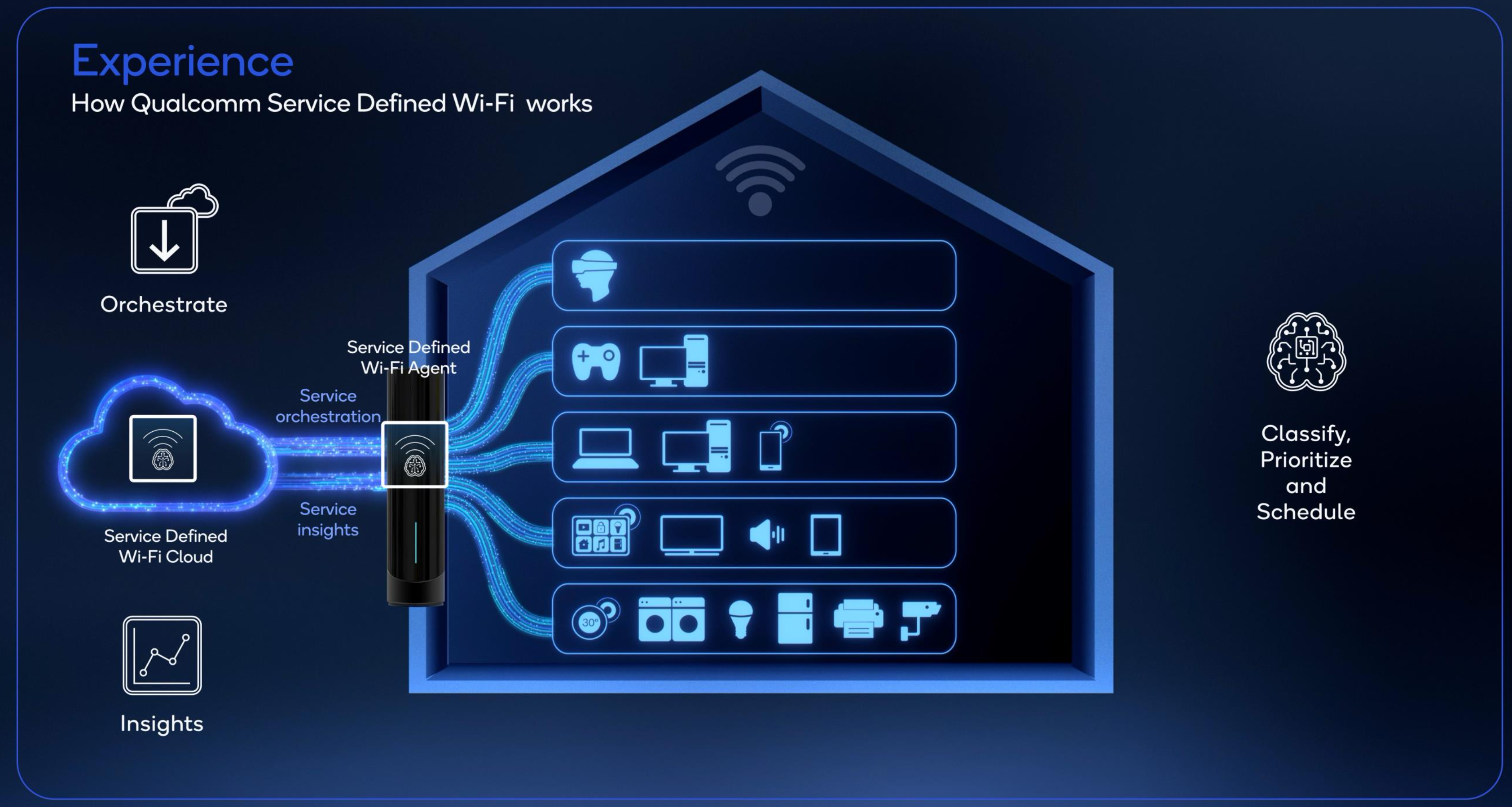 Qualcomm says Service Defined Wi-Fi offers "a unified data flow management architecture from Cloud to device" and delivers "orchestration, classification, scheduling, and insights that help ensure subscriber performance expectations for 10G fibre are met." Read more about Service Defined Wi-Fi here.
The new solution delivers Wi-Fi QoE by first classifying traffic according to application type then applying policies and orchestration to allow prioritisation and scheduling of data streams to each device. Arguably this may be as close to the Holy Grail of residential Wi-Fi QoE management as we have ever been. Service Defined Wi-Fi is the first time Wi-Fi delivery infrastructure has actually become service-aware.
Our take on the impact is this: If the new service-defined platform delivers everything that Qualcomm says it will – and we have no reason to believe otherwise – this will usher in a new paradigm in residential Wi-Fi service delivery. On its way the new approach may well disrupt a handful of other solutions currently out there. But in the long run it will no doubt add huge value to residential Wi-Fi services and its supporting ecosystem. Add to this the performance of the Wi-Fi 7 standard itself – including multi-link operation – and this solution is breaking entirely new ground.
Each of Charter & EE team up with Qualcomm for Wi-Fi 7 gateways
Two further announcements from Qualcomm and partners this week include US cable giant Charter (Spectrum) and the UK's EE (part of BT Group) teaming up with Qualcomm for Wi-Fi 7-capable advanced Wi-Fi routers and gateways, respectively. Both operators cite 4kQAM modulation, 320 MHz channels, multi-link operation, and preamble puncturing for interference avoidance as signature Wi-Fi 7 features.
The new Wi-Fi 7 routers are expected to be made available to Spectrum and EE customers – respectively – in 2024. EE says its customers will be among the first in the world with access to Wi-Fi 7 and that the move is 'fuelled by multi-gigabit full fibre broadband services.'
Wi-Fi 7 for phones, laptops, & XR devices
Qualcomm's Wi-Fi 7 signature feature for smartphones continues to be High-Band Simultaneous (HBS) Multi-Link, which allows allows the operation of several Wi-Fi links at the same time on 5 GHz and 6 GHz bands. The feature even adds lots of connectivity value in markets where 6 GHz is not available, such as in China – read more about that here. Qualcomm chipsets are already powering several new Wi-Fi 7 devices for the Chinese market including phones and routers from Chinese tech giant Xiaomi, says VP and GM Mobile Connectivity at Qualcomm, Javier del Prado.
HBS Multi-Link drives down latency and enhances both reliability and speed for smartphone Wi-Fi connectivity. A lesser-known use case includes multi-device scenarios where multiple links can be split between an AP and – for example – an XR headset for gaming or other applications when graphical rendering is done on the phone or on a laptop (see graphic below).
In addition to delivering Wi-Fi 7 connectivity for phones Qualcomm's FastConnect 7800 platform is available for laptops and is currently powering – among others – Wi-Fi 7 connectivity for Acer's recently released Swift Edge 16 laptop model.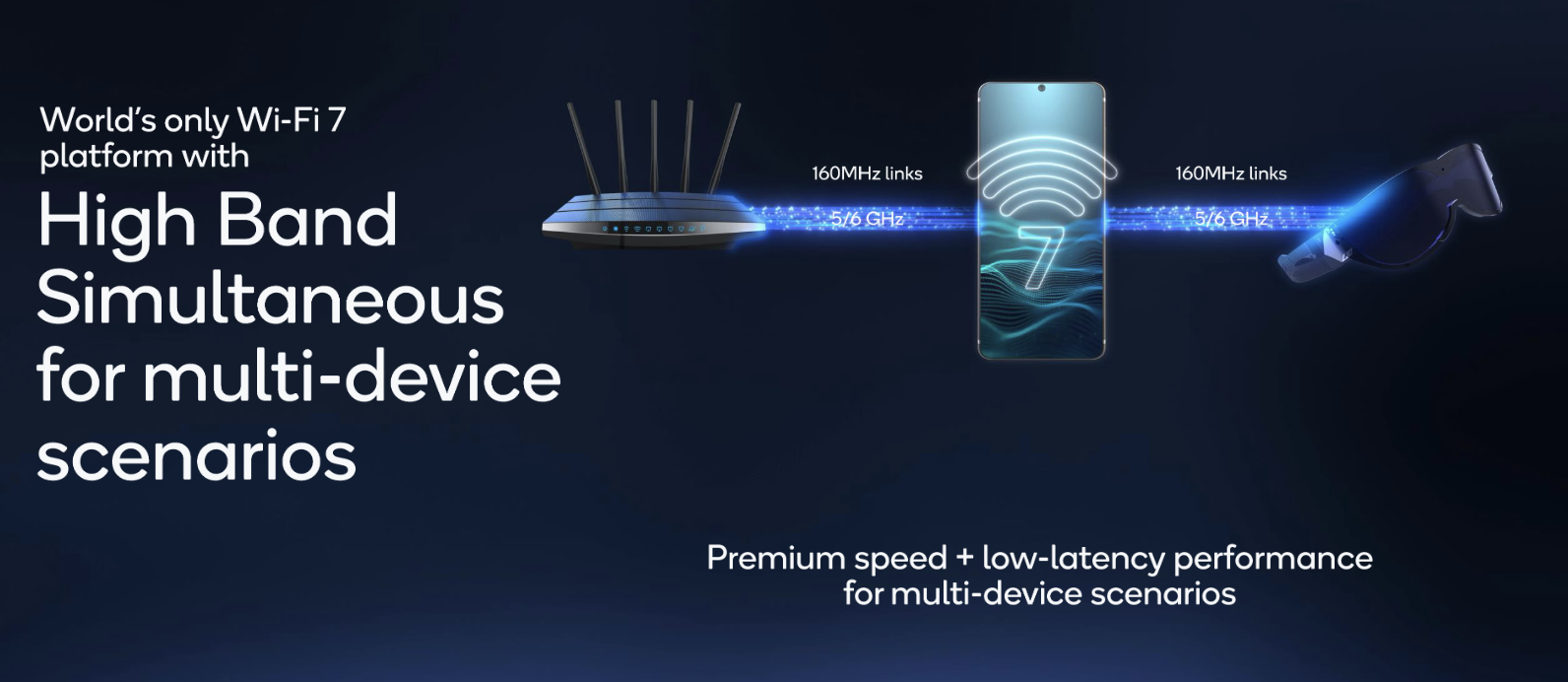 Qualcomm says it has shipped more than 7.5 billion Wi-Fi chipsets in 10 years and has racked up more than 350 Wi-Fi 7 design wins based on its FastConnect 7800 client-side platform as well as its Networking Pro and Immersive Home networking (AP) platforms. We will shortly have more to say about other solutions unveiled at Qualcomm's Wi-Fi 7 analyst event including in particular Qualcomm's comprehensive AFC solution for enabling standard power 6 GHz Wi-Fi.
Below: Watch our 4-minute concise video showing Wi-Fi 7 demos from Qualcomm's Analyst Day in San Diego.
/Claus.