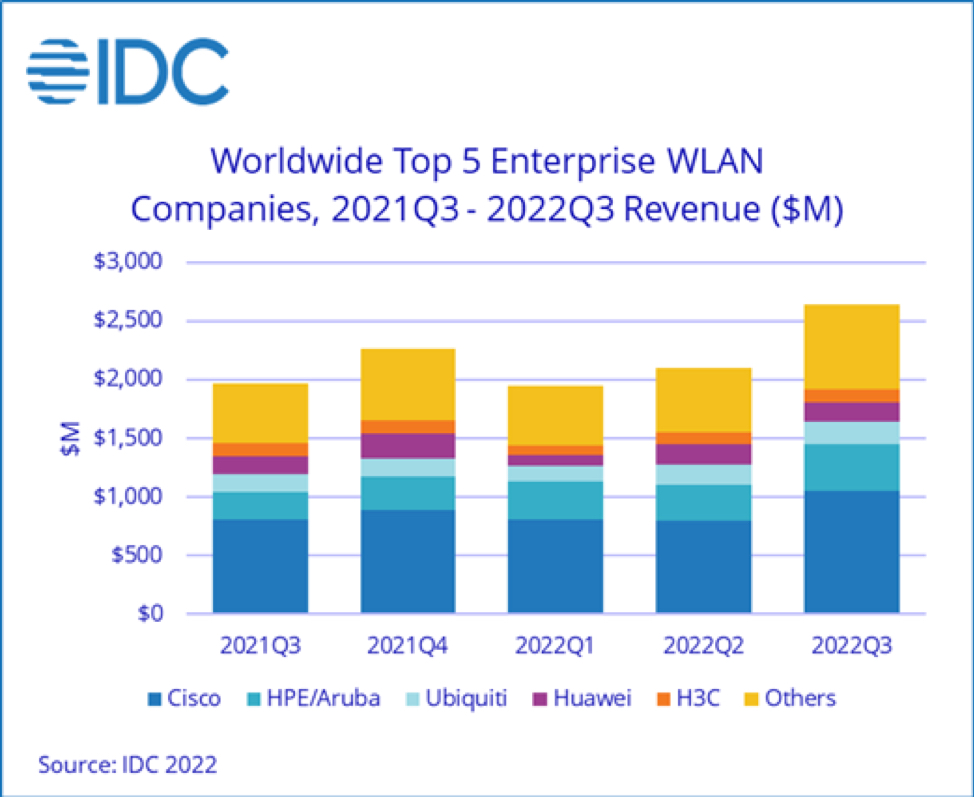 By Claus Hetting, Wi-Fi NOW CEO & Chairman
The enterprise Wi-Fi industry has posted another stellar quarter with revenues increasing 34.3% year-on-year for 3Q2022, which is up from 20.4% in 2Q2022. The numbers come from IDC's Worldwide Quarterly Wireless LAN Tracker. Consumer Wi-Fi revenues contracted to a growth rate of 2.4% for the same period, IDC says.
Supply chain constraints now appear to be a thing of the past as the market (revenues) for enterprise Wi-Fi grew by more than a third year-on-year for 2Q2022. The impressive figure comes from IDC's wireless LAN tracker and was released this week. Wi-Fi 6E sales now constitute 4.8% of the total revenue while Wi-Fi 6 represents the vast majority of AP purchases at 79.7%, IDC says.
The news for the consumer Wi-Fi segment is less rosy as growth recedes to 2.4% for the quarter year-on-year with shipments down 13.2% compared to third quarter 2021. Wi-Fi 6 represents 38.1% of consumer-grade Wi-Fi AP revenues, IDC says.
"A variety of factors continue to drive growth in the enterprise WLAN market. Perhaps most importantly, the global shortage of various infrastructure components and log-jammed supply chains are showing signs of easing, allowing networking vendors to convert record-large backlogs into revenue and giving enterprise customers access to the latest Wi-Fi technology," says IDC research manager for enterprise networks, Brandon Butler.
/Claus.