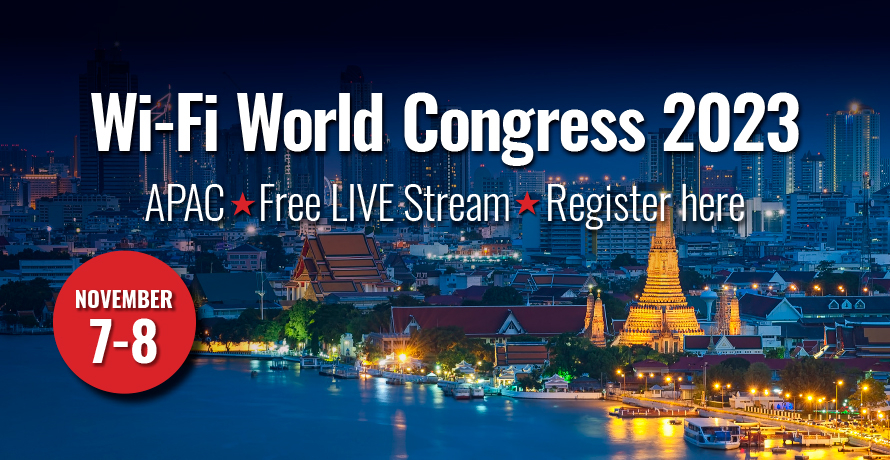 Register above and the recorded event window will appear for viewing.
What new Wi-Fi technologies are in the pipeline offering opportunities for enterprises and service providers? We'll ask the best minds from the APAC region and beyond about next generation enterprise Wi-Fi, Wi-Fi offload, new architectures,  new services, the marriage of Wi-Fi with satellite services, and much more. Times stated below are CET (Central European Time). Beware that the time schedule is approximate and can shift.
6:00- 6:05 am: Welcome with Claus Hetting, Wi-Fi NOW CEO & Chairman
6:05-6:25 am: Hassle-free Wi-Fi – with Cambium Networks' Bruce Miller
6:25-6:45 am: The power of satellite connectivity and Wi-Fi – featuring Brandon Seir, Chief Commercial Officer of Kacific Broadband Satellite Group
Short refreshment break
7:00-7:20: OpenWiFi-based managed Wi-Fi services for India – with Udit Mehrotra, Spectra
7:20-7:40 am: Why Wi-Fi 6E and Why Now – with Cisco's Mark Krischer
7:40-8:00 am: The new 'Wi-Fi offload' – why is it coming back? – with Johan Terve of Enea
8:00-8:20 am: The role of convergence & Wi-Fi for indoor wireless – with Dean Bubley
Short refreshment break
8:30-8:40 am: Introducing OpenWiFi – with Howard Buzick
8:40-9:10 am: Q&A with the OpenWiFi community – get your OpenWiFi questions answered here!

Howard Buzick, American Bandwidth
Todd Myers, GoZone WiFi
John McBrayne, Actiontec
Rishi Ghare, Indio Networks

Short refreshment break
9:20-9:40: Intelligent Venue Wi-Fi Services through Digital Onboarding – with Kwang Tat Ang, ANTlabs
9:40 am -10:00 am: Connecting the unconnected – with Indio Networks' CEO Rishi Ghare
Duration: Approximately 4 hours including presentations & short breaks.
With thanks to our sponsors:

And to our speakers – with more to come: