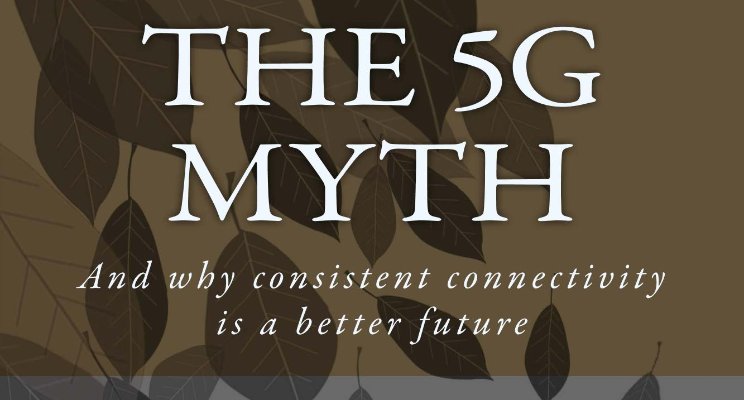 BOOK REVIEW By Claus Hetting, Wi-Fi NOW CEO & Chairman
There's something just not right about the 5G concept. This has been my belief since the 5G train started rolling a couple of years ago. Now, Dr William Webb's 'The 5G Myth' finally offers a precise deconstruction of the 5G story and not least all the hype surrounding it. It should be read by anyone serious about wireless today – and preferably before it's too late. 
The questions we should be asking
Most of the mobile industry will have you believe that 5G follows 4G as surely as night follows day – and that the success of 5G is guaranteed. But do we really need 10-100x current data rates? Does latency matter? Will the demand for data continue to grow at current or past rates? Is the industry ready to make another huge investment? And is the utopian 5G vision even achievable?
These are the questions that urgently need to be answered and – as William Webb demonstrates – can be answered based on analyses of historical mobile industry data & current trends. The short answer is that data demand is slowing and that current speeds for the most part are plenty. Consequently, 5G will run out of demand, says William Webb.
It's the economy, stupid
But it gets worse. Dr Webb also questions how much of a technical improvement is possible with 5G given the advanced state of 4G and the potentially huge costs & complications of extracting more than twice current 4G capacity from 5G. Add to this that mobile carriers today are underperforming financially, reaping only a fraction of the profits of the 2G era.
Finally, the churn-avoidance benefit of 5G may in the end not be enough to drive the 5G business forward. 'Prisoner's dilemma' game theory models show that one possible scenario is that no operator will invest in 5G – or that all operators will invest to the detriment of all.
So what should we do instead of 5G?
The answer is obvious because we all experience the same problem: Lack of consistent connectivity. A wasteland of poor or non-existent mobile coverage still envelops this world, in particular in emerging markets and rural areas. And that's despite four generations of cellular systems.
We're also disastrously short of good connectivity for transport (on trains, busses, etc.). And we need better indoor connectivity for public buildings, offices, and even within homes. Interestingly, most of the segments with identifiable needs are today being addressed by – you guessed it – Wi-Fi.
Dr William Webb's book is highly recommended reading for anyone in wireless. Buy it here on Amazon.co.uk. Read more about Dr William Webb and connect to him here on LinkedIn. 
/Claus.