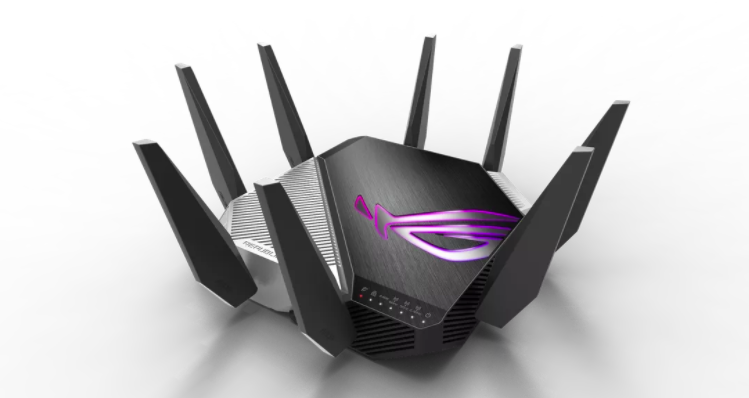 By Claus Hetting, Wi-Fi NOW CEO & Chairman
The world of 6 GHz Wi-Fi has arrived: Taiwan-based computer and networking giant ASUS has launched the world's first 6 GHz Wi-Fi (Wi-Fi 6E)-capable router. The announcement came at a live Meta Buffs online launch event featuring the ASUS Republic Of Gamers (ROG) this past Monday. The new router will be available for retail purchase in North America starting December 2020. 
The world's first 6 GHz Wi-Fi router has arrived – and unsurprisingly, the world of gaming will be the first bandwidth-hungry market segment to benefit from the big boost in Wi-Fi performance arising from the 6 GHz band. ASUS' new tri-band router is called the 'ROG Rapture GT-AXE11000' and features a top speed of 11 Gbps, ASUS says in their press release here.
To ASUS' great credit the company is both upbeat and refreshingly honest about Wi-Fi 6E: "The Wi-Fi 6 protocol already allowed compatible devices and routers to deliver more equitable and lower-latency access to existing bandwidth on the 2.4 GHz and 5 GHz bands. Wi-Fi 6E takes those same benefits and applies them to the much less crowded 6 GHz band, making much more room for compatible devices to connect and enjoy high performance," ASUS says – and they are right, of course.
Enjoying this story?
Leave your email here and we'll get you all the latest Wi-Fi news.
But ASUS also says: "There is one caveat: You will need a client device with a compatible Wi-Fi 6E radio to tap into the 6 GHz airspace, as older adapters aren't ready for this spectrum. As more and more Wi-Fi 6E devices become available, however, you'll want the Rapture GT-AXE11000 at the center of your network to enjoy full performance from day one." Read ASUS full release note here for more useful information.
And of course they're right about that too. So who will be the first to come up with a Wi-Fi 6E dongle designed for gaming computers? We're guessing there could be an early-adopter market for a device like that. We will be following all upcoming Wi-Fi 6E product releases carefully, of course.
The chipset technology for ASUS new 6 GHz router is provided by Broadcom.
/Claus.