By Claus Hetting, Wi-Fi NOW CEO & Chairman
They've done it before and now they're doing it again – this time for Wi-Fi 6: Cisco and Apple are teaming up to deliver better Wi-Fi uplink performance for real-time interactive video and voice applications such as FaceTime, webex, and more. The collaboration has resulted in the 'Fastlane+' feature that tweaks Wi-Fi protocols just enough to make uplink scheduling substantially more efficient, Cisco says. 
We've said it before and we'll say it again: Uplink video is the fastest growing Wi-Fi use case today – for obvious reasons – but it is also the most challenging to manage from a Wi-Fi quality point of view. Enter Cisco and Apple: The two tech giants have teamed up to introduce a timely and innovative Wi-Fi protocol feature that significantly boosts real-time uplink performance when iOS14 devices are connected to Cisco Catalyst APs.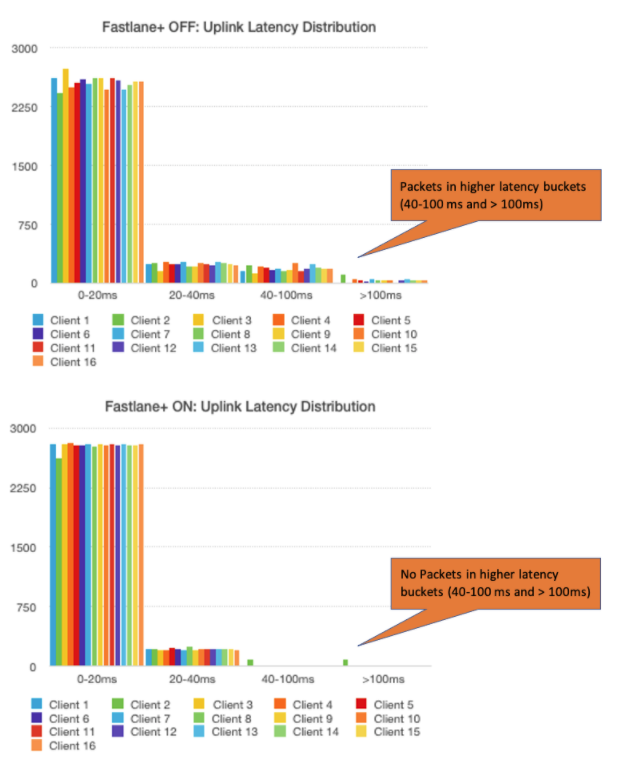 The feature is a testament to the flexibility of Wi-Fi 6 technology in general and the intelligent Wi-Fi tuning work of Cisco and Apple in particular: The 'Fastlane+' feature boosts the MOS (Mean Opinion Score) by up to 46% on typical voice and video applications, Cisco says. The latency performance is also much improved (see the graphic to the left). The tests were run using 80 MHz Wi-Fi channels and 75% channel utilisation, Cisco says and also points out that the performance benefit of the feature increases with higher channel utilisation. Improvements in both MOS and latency are becoming increasingly important for the interactive video and audio user experience as the density of Wi-Fi devices and the volume of real-time uplink traffic continue to rise.
So how does exactly this work? Well – you will need to dig into the bits and bytes to get the full answer but in essence the solution tunes specific parameters to reduce unnecessary overhead and improve uplink (OFDMA) Wi-Fi 6 scheduling efficiency. The feature uses an ASR (Advanced Scheduling Request) session to exchange information between the AP and the device and intelligently estimates uplink demand  (or flow requirements) based on the predictable real-time traffic behaviour of voice and video. This in turn reduces network latency, Cisco says.
Enjoying this story?
Leave your email here and we'll get you all the latest Wi-Fi news.
Fastlane+ is activated automatically for latency-sensitive voice and video applications when the channel utilisation is above 60%. Key to the feature is that Fastlane+ – in contrast to standard uplink OFDMA – depends only upon BSR (Buffer Status Report) information for the system to learn about the demand. The end result is that a lot fewer packets end up in higher latency 'buckets' and hence real-time traffic is much less likely to experience hiccups and quality disruptions, Cisco says.
The Fastlane+ feature is available on any Wi-Fi 6-capable iPhone or iPad running iOS14 or later and needs the Cisco Catalyst 9130 access point on the infrastructure side to work, Cisco says in their comprehensive blog about the feature here. Also see the video below for a more detailed explanation of the inner working of Fastlane+.
/Claus.