By Claus Hetting, Wi-Fi NOW CEO & Chairman
In the last few years Apple, Google, and Microsoft have been sending shudders through much of the Wi-Fi community because of their decisions to introduce MAC randomisation into devices. Since then it has become increasingly obvious to most that protecting device and hence personal identity via MAC randomisation is here to stay. Cisco now says it is time to step up: Privacy – including device identity – is a fundamental human right. And the networking world urgently needs a new form of identity to replace MAC.
Privacy is a fundmental human right, says Cisco. And they're right, of course. But when you set up systems to protect device identity by randomising MAC (device hardware) addresses – disruption inevitably results. Not because Apple, Google, and Microsoft's decisions to protect device identity are wrong but because the networking industry including service providers, enterprises, or venues offering Wi-Fi have been using MAC (hardware) addresses for device authentication for decades.
The MAC exposes your device – and you
Unfortunately, if the MAC address of your personal device is exposed, so are you. This is why especially device manufacturers simply want MAC-address based identification to end as soon as possible.
"There is no question that MAC rotation – or randomisation – either breaks some pretty important services or at best introduces inconveniences. On the other hand, the truth is that this industry needs to fully support the drive towards device and personal privacy. This is why we urgently need to develop a new identity to replace MAC," says Cisco Wireless CTO, Matt MacPherson.
Enjoying this story?
Leave your email here and we'll get you all the latest Wi-Fi news.
MacPherson also says that we are only in the first phase of efforts by device vendors to rotate MAC addresses, which means things may soon get a lot more complicated and disruptive. This also means finding a solution is becoming urgent.
MAC address rotation is here to stay
"The first phase is randomising the MAC when the device is not connected to the network. The second phase is generating a unique MAC for every Wi-Fi network that you connect to. The third could be changing the MAC even after you're authenticated and connected to your Wi-Fi network. All of this will deliver increasing levels of disruption to Wi-Fi services, unless we find and embrace new, industry-wide solutions," MacPherson says.
Some Wi-Fi services or network functions are already feeling the impact. "For example, if your MAC address changes then you might experience getting pushed through to a portal every time you try to connect to a known hotel network, when you should actually reconnect automatically. Or someone trying to troubleshoot a connectivity problem may not be able to trace the device because its address changed," Matt MacPherson says.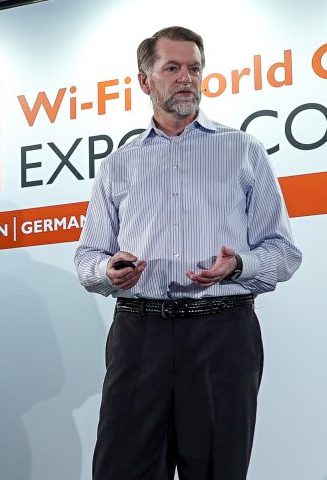 MacPherson also says that allowing the free use of unchanged and unique MAC address identities is a future privacy disaster waiting to happen. "Imagine for example what might happen when AR glasses become popular. Everything you see will traverse the Cloud. Potentially, someone or something will be able to know not just who you are but your entire world. Obviously such a scenario could lead to a privacy breach on a whole new level," Matt MacPherson says.
Decoupling the MAC from the device
So what's the answer? Well – it's a complex issue that includes multiple layers of requirements. First of all, Cisco says there should be a standard for MAC randomisation so that service providers, enterprises, and any other users of Wi-Fi services know what to expect and can act and remedy the situation accordingly. In the end the MAC address should be fully decoupled from the device.
A new solution for identity management would require private authentication and that users control privacy by actively choosing to opt in – or not. "Another requirement is that users and devices are identified in context, meaning for example in the connection with accessing specific services or networks. And user data must exchanged on an unexposed and encrypted protocol layer," Matt MacPherson says.
One privacy solution that 'ticks all the boxes' – says Cisco – is OpenRoaming. OpenRoaming – a Wi-Fi roaming scheme initiated by Cisco and today operated by the Wireless Broadband Alliance – allows users to remain anonymous while providing identity within a context. It's also seamless, unique across devices, and entirely eliminates the need for MAC-address based authentication.
"We believe OpenRoaming elegantly resolves the authentication issue and at the same time provides a host of other benefits, including seamless onboarding and security, even convergence of Wi-Fi with mobile services are enabled by OpenRoaming," MacPherson says. Over the past year support and advocacy for the OpenRoaming initiative has grown to include major carriers, vendors, and even municipalities and other roaming federations such as Japan's Cityroam.
/Claus.