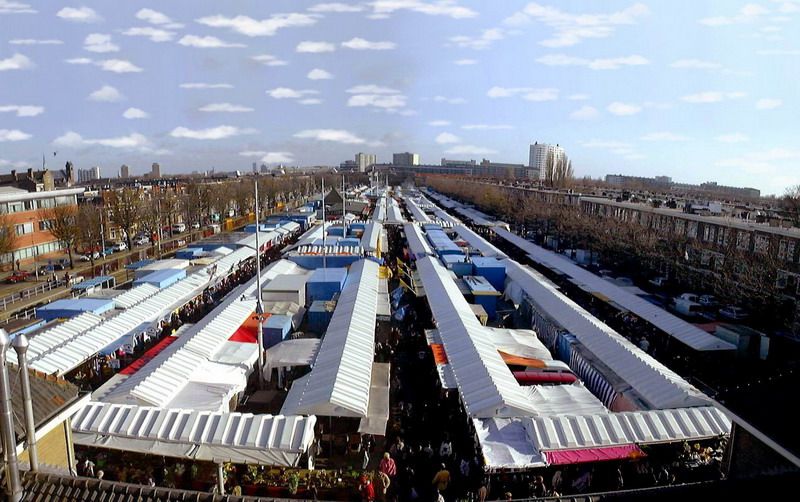 Above: The Hague's famous 'De Haagse Markt' marketplace.
By Claus Hetting, Wi-Fi NOW CEO & Chairman
The City of The Hague, Netherlands today launched the first ever free Wi-Fi service using the new 'Publicroam' secure roaming mechanism. The free Wi-Fi service is as of today available at The Hague's famous 'De Haagse Markt' – one of Europe's largest markets.
A week after European Commission's WiFi4EU portal reopened for free Wi-Fi funding applications, the City of The Hague is already doing it: Providing free and secure Wi-Fi to citizens and visitors. The new Publicroam-based free Wi-Fi service was launched today at the iconic De Haagse Markt, a popular market in The Hague frequented by up to 40,000 visitors a day.
The launch of free Wi-Fi at De Haagse Markt is only the beginning, city officials said. "We plan to offer Publicroam in all the municipal buildings as well," said Deputy Mayor for Municipal Organisation and ICT, Rachid Guernaoui. "By providing free Wi-Fi, we are responding to the long-held wish of the market entrepreneurs," said another Deputy Mayor – this time for Economic Affairs, Richard de Mos.
The fix to a persistent Wi-Fi security problem
Publicroam – now supported by the City of the Hague – provides a low-cost, simple fix to a persistent public Wi-Fi problem, says the organisation's founder and director, Paul Francissen.
"It's all about connecting securely to Wi-Fi and roaming automatically between Wi-Fi service locations. Organisations just don't want insecure Wi-Fi any more," Francissen says. He also says that Publicroam uses the same architecture as the more well-known Eduroam and Govroam Wi-Fi services. Eduroam today serves millions of students in 101 countries across the globe.
And Publicroam has made connecting securely to the service as simple as possible for users: You can either send an SMS to receive access credentials or for example scan a QR code at the Wi-Fi service location, Paul Francissen says. Once connected, the device – such as a smartphone  – will automatically reconnect when in range of a Publicroam Wi-Fi signal.
The operation of the service is paid for by the organisations using Publicroam, says Paul Francissen. "Users don't expect to pay. On the other hand, many organisations are ready to pay provided the fee is low. And our fee is much lower than anything comparable out there," he says.
/Claus.