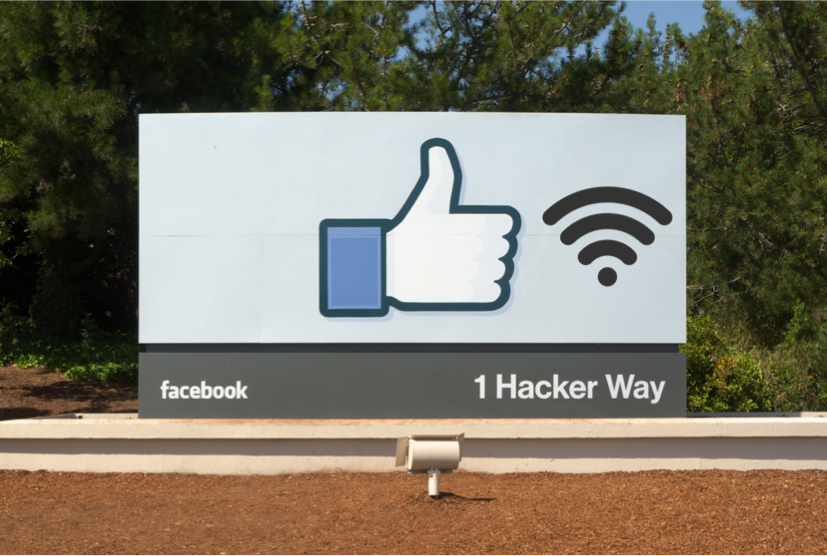 Facebook wants gigabit wireless everywhere. And they've hatched a plan to make it happen.
Menlo Park, California: For the time being the copious stream of advertising dollars that built Facebook's vast campus continues to flow to Menlo Park. In the longer term, Facebook's web dominance will depend on more users getting access at higher speeds. That's why the company's Connectivity Lab is sinking serious resources and ingenuity into rewriting the rules of wireless networking.
A giant WiGig city mesh
According to Facebook, the way forward is Terragraph. The project may not be as futuristic as their famed 737-sized Internet-beaming drones (another of Connectivity Lab's projects) but in the end Terragraph may turn out to be more important for the areas where most of us live: Big cities in the West.
Terragraph hardware consists of pole-mounted 10×10 cm units that in essence are WiGig radios forming a city mesh that can be – well – as big as you want it to be. The idea of course is to use the huge amount of spectrum available in 60 GHz to connect city folk to the Internet faster, better, & cheaper.
Like many others, Facebook believes that next generation wireless will need to use higher GHz bands to make progress beyond regular Wi-Fi and LTE. For WiGig there's all of 7 GHz available. With the right network technology, WiGig could deliver gigabit speeds to your home and office. With Wi-Fi as the last leg, hundreds of megabits more of wireless Internet to your devices could be in the pipeline just few years from now.
Open-sourcing the reference design
The range of a single Terragraph radio may only be 250 meters or so but the idea is to make the equipment and software cheap enough for deployment densely and everywhere – at least in cities. Facebook has also invented new reference design hardware, architecture, and protocols for the phased arrays to steer around obstacles and to optimise routing. This turns Terragraph into a (kind of) self-healing network.
And despite multiple patents, Facebook intends to open source all of Terragraph so that 'OEMs can mass manufacture our reference design at low cost', a Facebook source told me.
WiGig may be better than you think
So how well will WiGig work? According to another reputable source, it's a common misconception that 60 GHz Wi-Fi (WiGig) will be less ubiquitous than regular Wi-Fi. Rumor has it that a California-based company is already testing WiGig radios that may eventually cover most of your home and even beam through walls. Certainly, 60 GHz radio is harder to get to work. But a couple of years of intense R&D could well fix that.
No time to wait for 5G
So why is Facebook doing this? For precisely the same reason that their Mountain View neighbours at Google are deeply involved in getting more people online. To sustain growth, Facebook will need networks to support faster connectivity to more people. And with 5G years away, they (and Google) may need to either do it themselves or work hard on seeding the beginnings of a new way of building wireless networks.
The next milestone for Terragraph is the build-out of a large scale trial for the system in the city of San Jose, not far south of Menlo Park.
Wi-Fi in the 28 GHz band with Starry
Terragraph is of course not the only project eyeing the higher GHz frequencies for public access. Boston-based Starry has similar ideas on how to connect apartment-dwellers in US cities at rock bottom prices and has already developed their own 28 GHz base station & CPEs to that end.
Starry has made 802.11ac work in the 28 GHz band and wants to beam high-speed signals directly to your apartment. For more on Starry see the interview from Wi-Fi NOW Washington DC here with Starry founder, Chet Kanojia.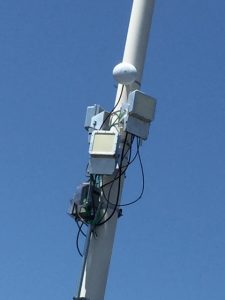 Above: Terragraph units installed on a street-light at Facebook's Menlo Park HQ. 
/Claus.