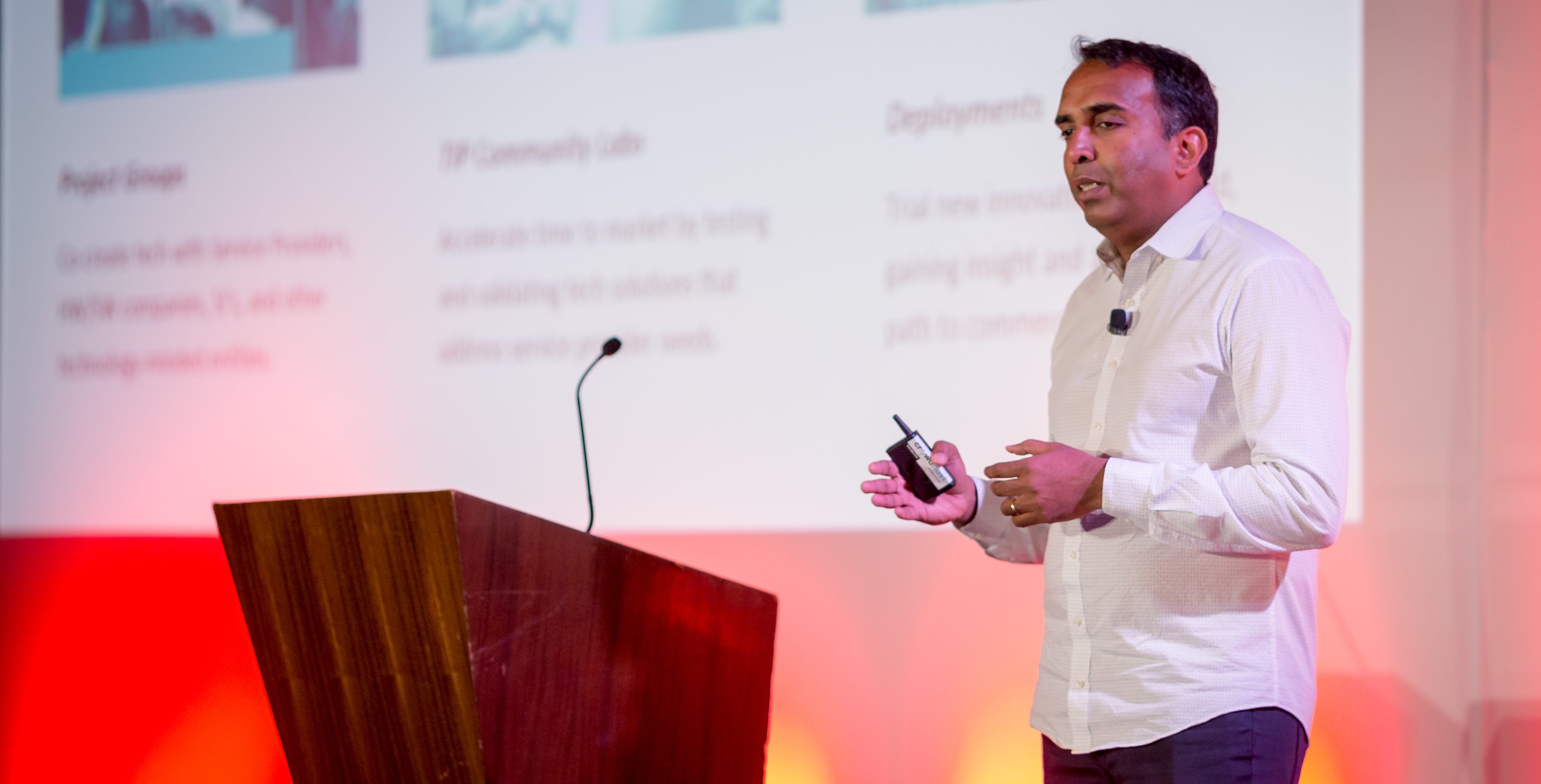 Above: Co-chair of Facebook's TIP Wi-Fi Group, Vish Ponnampalam speaking at Wi-Fi NOW DC in May
By Claus Hetting, Wi-Fi NOW CEO & Chairman
Facebook wants more connectivity to be made available everywhere across the globe – and wants it to happen fast. To that end Wi-Fi plays a critical role and hence Facebook has launched an industry program aimed at speeding up collaboration on Wi-Fi standards. Facebook's Vish Ponnampalam, Co-chair of the TIP Wi-Fi Group, spoke at Wi-Fi NOW USA in Washington DC last month.
That Facebook is interested in Wi-Fi as means of delivering mass market connectivity is old news. But it may have evaded a few tech media radars (including ours) that the social media giant in February launched a new collaborative industry program – under the auspices of the larger Telecom Infra Project (TIP) – aimed at making Wi-Fi work better.
It may be slightly confusing (even for us) that there are now multiple Wi-Fi-related programs at Facebook but here's the clarification: The first initiative is the company's emerging markets program Facebook Express WiFi, which recently ramped up and is now active with various MNO partners in African and Asia. That program has already signed up and certified vendor partners including Cambium Networks, CommScope (formerly Ruckus Networks), and others.
In parallel the Wi-Fi program under TIP is aiming to resolve specific Wi-Fi challenges from the bottom up. What Facebook is going after here are collaborative solutions to Wi-Fi industry classic themes including monetization, mobile data offload, core network (AAA) best practices, a common approach to managed home networks (interoperability), and what Facebook calls 'Wi-Fi based backhaul'.
Enjoying this story?
Leave your email here and we'll get you all the latest Wi-Fi news.
And of course Facebook's take on many of the Wi-Fi industry's biggest pain points is spot on. For mobile data offload, Vish Ponnampalam said Facebook wants to make the distribution of access profiles (we're assuming Passpoint certificates or similar) to mobile devices easier.
"This will accelerate adoption of service provider Wi-Fi. But we also need to be able to monitor the Wi-Fi quality of experience and – last but not least – make sure that connectivity policies can be applied so that a user is always connected to the best network service available," Vish Ponnampalam said at Wi-Fi NOW USA in May.
In the case of managed home Wi-Fi Facebook would like to see the adoption of standards allowing service providers and vendors to mix and match solutions. "We think interoperability between APs, access controllers, and network management systems is the way forward. All of this would enable vendors to bring solutions to market faster," Vish Ponnampalam said.
Finally, Vish Ponnampalam said Wi-Fi backhaul – meaning Wi-Fi-based point-to-point and point-to-multipoint systems for fixed access – is important and widely successful but would benefit greatly from a standardised approach to both technology and spectrum coordination.
No doubt all of Facebook's goals for improved Wi-Fi are important but despite famously deep pockets and global brand recognition Facebook will need broad support from the industry to make the initiative happen in earnest. Read the detailed charter for the TIP Wi-Fi Workgroup here.
For the record: At Wi-Fi NOW we hope to be lending plenty of support to Facebook's excellent Wi-Fi improvement initiatives in coming months and years.
/Claus.