By Claus Hetting, Wi-Fi NOW CEO & Chairman
Sources familiar with the matter tell Wi-Fi NOW that the FCC's ruling on 6 GHz Wi-Fi could come as soon as next month and the publication 'Communications Daily' even suggests an exact date: April 23. Freeing up the 6 GHz band to Wi-Fi use would be the largest ever single allocation of new unlicensed spectrum and could as much as triple existing Wi-Fi operating bands as well as set off a surge in Wi-Fi innovation.
Releasing the 6 GHz band to Wi-Fi could as much as triple existing Wi-Fi spectrum and – we believe – set off nothing less than a paradigm shift in wireless connectivity. Now sources tell Wi-Fi NOW that the ruling could come as soon as next month with the publication 'Communications Daily' even proposing the exact date as to when this could happen: At an FCC meeting on April 23.
Communications Daily writes the following as of  today:
"FCC Chairman Ajit Pai could propose an order on the 6 GHz band for the April 23 meeting, industry and FCC officials said. That would move one of his biggest pieces of unfinished business, providing spectrum for unlicensed use comparable to the mid-band allocated for licensed use in the C band. Pai was expected to propose an item in March. Staff needed more time, we were told Thursday."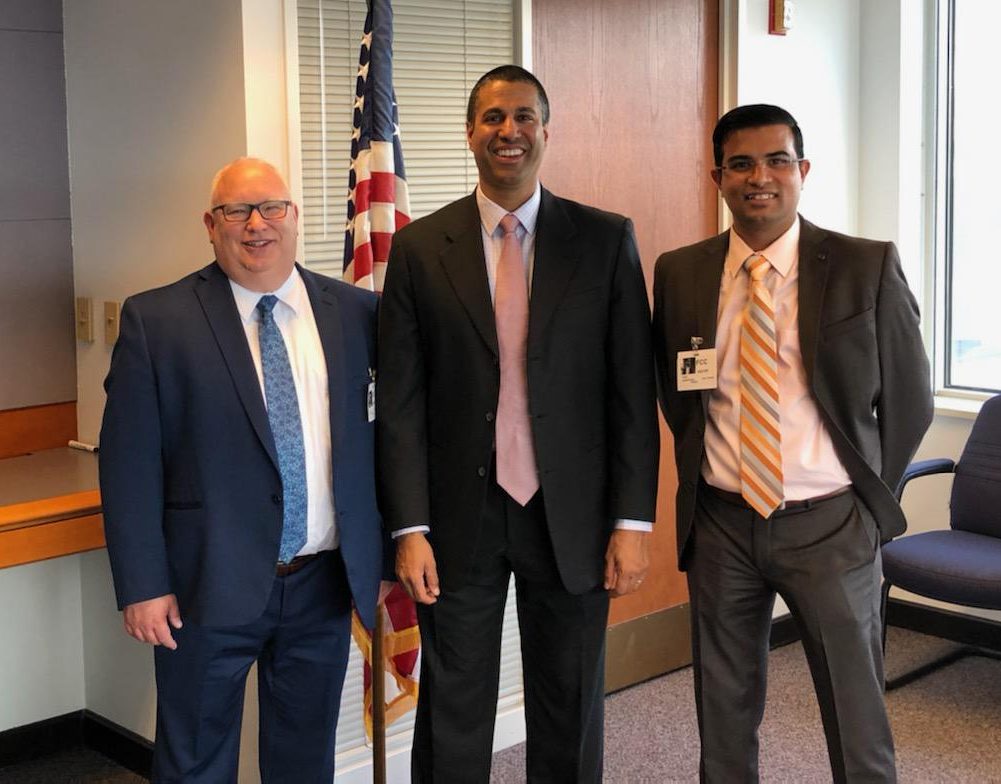 Representatives from Wi-Fi technology leaders Broadcom and Intel (see photo left) met with FCC Chairman Ajit Pai in Washington DC yesterday to discuss the issue of 6 GHz Wi-Fi aka Wi-Fi 6E.
The intent to release the 6 GHz band was first announced by the FCC in late 2018 and has since gathered momentum in particular through the concerted efforts of a consortium of tech giants including Apple, Amazon, Facebook, Comcast, Charter, Broadcom, and others. Meanwhile 6 GHz Wi-Fi has arguably – and perhaps surprisingly – become a signature issue of Ajit Pai's FCC chairmanship.
The looming question is still exactly what rules the FCC will adopt for the 6 GHz band. Outdoor Wi-Fi operation will need to be AFC-controlled, meaning require a database lookup scheme to ensure that incumbent uses of the band are protected. Most experts – including the above mentioned consortium of tech giants – believe and have documented that low power indoor (LPI) Wi-Fi operation is fully feasible without AFC as it would not cause undue interference with incumbent uses.
Important note: Wi-Fi World Congress May 11-14 will showcase 6 GHz Wi-Fi technology and business opportunities. We will have a lot more to say about the 6 GHz Wi-Fi parts of the event in coming weeks. The event will go ahead as planned. 
/Claus.