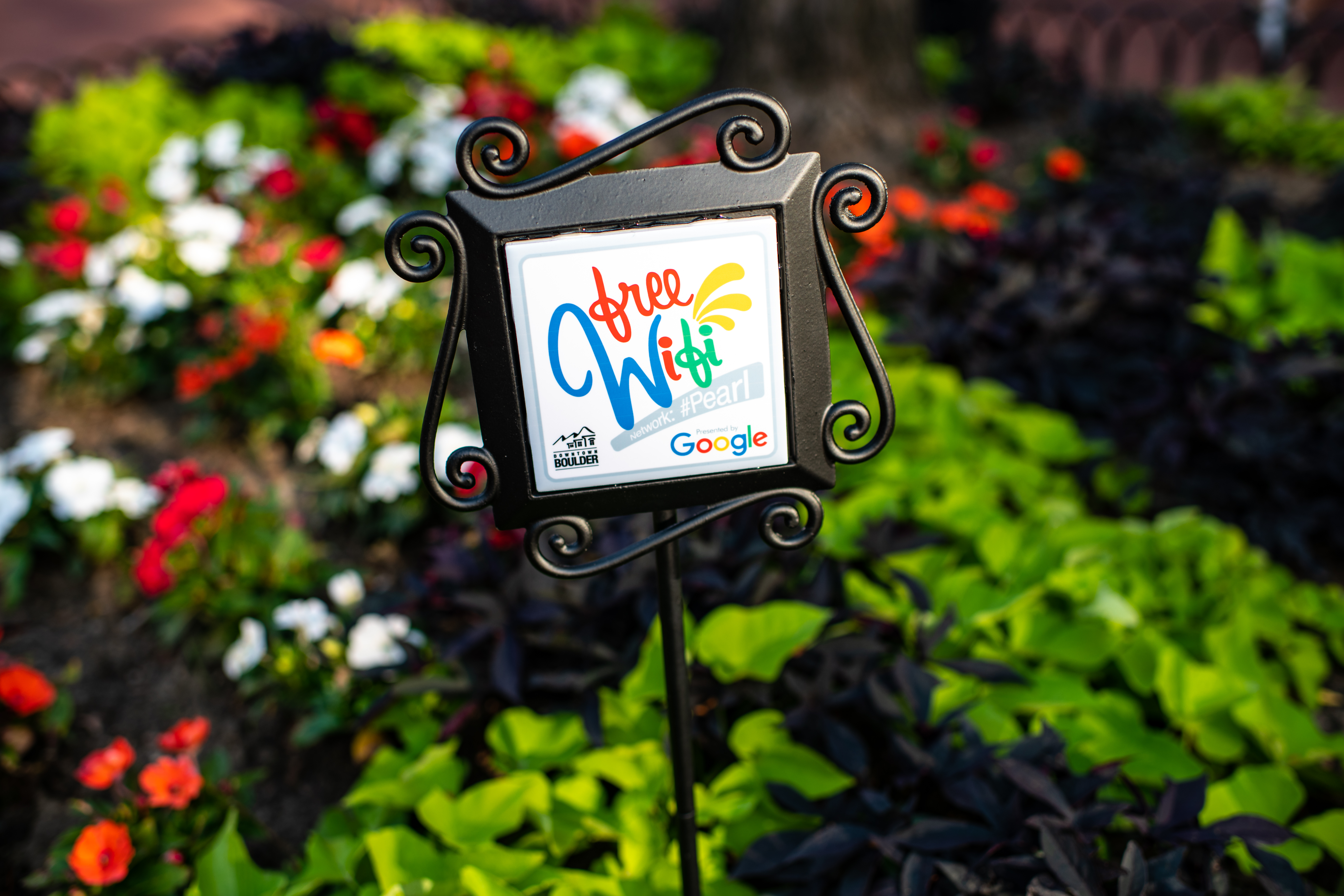 By Stephanie Bergeron Kinch, Wi-Fi NOW Staff Writer
 The Downtown Boulder Foundation in Colorado recently received a public Wi-Fi facelift thanks to a grant from Google.
Google, which opened up a $131 million campus in Boulder last year, gave $261,000 to the foundation to update public Wi-Fi in the center of town. That means a greater coverage area, better equipment, and a more satisfying user experience throughout the downtown area.
Google ups its Wi-Fi Game
Google is a big player in community Internet projects. In July, the company announced that it was partnering with three Kenyan Telcos to launch commercial operations for internet-beaming balloons in the country. In Thailand and Nigeria, Google Station is expected to roll out 200 free Wi-Fi hotspots in 2019. The company's Rolling Study Halls program also provides Wi-Fi to school buses across the United States.
In Boulder, Google gave the tech-centered city's Downtown Boulder Foundation a grant to strengthen and expand the Pearl Street Wi-Fi Network, which is located in a lively part of the city with many outdoor cafes, shops, and foot traffic. The free network covers 12 blocks of downtown Boulder.
"Google wanted to thank the community and give back to us," says Terri Takata- Smith, VP of Marketing and Partnerships for the Downtown Boulder Partnership. "It was perfect timing because our system needed an upgrade."
Boulder's early adaption
Boulder has long been known as a tech and innovation hub. The city has the highest "high-tech startup density" of any metro area in the U.S., according to the August 2013 Kauffmann Foundation Report. Bloomberg BusinessWeek also cited Boulder's many natural and economic assets and declared it a "top U.S. destination for new tech companies largely because of a bottom-up revolution by entrepreneurs." The new Google Boulder campus has 2,000 employees, primarily in the company's cloud and hardware units.
Because of all this innovation, Takata-Smith says that reliable Wi-Fi access is essential for the downtown area – and the numbers show that Boulder is making it happen. In the first month since this recent expansion, the new Wi-fi system had 29,000 users who logged in from the sidewalks of Pearl Street, also called "The Living Room of Boulder."
The Pearl Street Wi-Fi network is available for free, with users able to sign on via a splash page. Takata-Smith says that while users will see a landing page featuring local events, no personal data is captured and the system ad-free.
"We're trying to make it non-obtrusive in terms of gathering data," she says. "The benefit for us is to have a really strong outdoor network for our residents and visitors."
About the System
In 2004, Downtown Boulder launched its first public outdoor Wi-Fi project using a Cisco Meraki equipment that covered four blocks.
"We were an early adapter to offer it, but it was on an antiquated system. It was very temperamental to outdoor issues," says Takata-Smith.
The project has since expanded twice with the help of smart city tech consultants from Sky Packets. The recent expansion included a deployment of two WiFi radio types to maximize the coverage along Pearl Street. In the walking mall area, where there is a lot of  foot traffic area, there are two Ruckus T610 WiFi APs. For areas outside the mall, which have a mixed-use of pedestrian walkways and vehicular traffic, the Ruckus T310 is used.
"Combining these two types of radios allow us to hit the heavy pedestrian traffic areas with Ruckus' high-density AP's and still provide excellent performance and thruput on the regular streets by implementing the T310," says Sky Packet CEO Henry Quintin.
/Stephanie