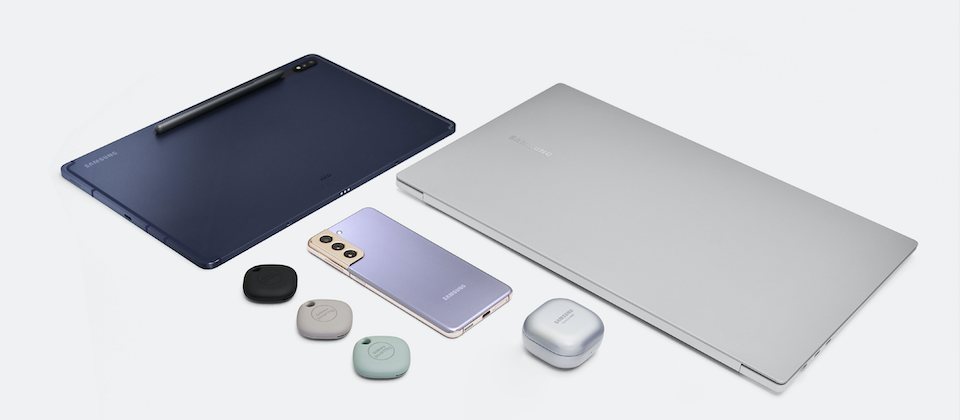 By Claus Hetting, Wi-Fi NOW CEO & Chairman
Samsung debuts new line of 'Wi-Fi 6E Ready' notebooks powered by Intel Wi-Fi
Samsung has launched a couple of super impressive, high-end, feature-rich, smartphone-style notebooks called the Galaxy Book Pro and Galaxy Book Pro 360 both of which are 'Wi-Fi 6E Ready', the company says in this news release. The new notebook computers were released at an 'Apple-style' launch event on April 28 – the full event can be viewed here. Wi-Fi chipset leader Intel is providing the Wi-Fi 6 and 6E connectivity technology incorporated in this new line of notebooks.
Samsung doesn't say much about what 'Wi-Fi 6E Ready' means exactly other than "Wi-Fi 6E availability will vary by many factors" and that "Wi-Fi 6E wireless network router required and sold separately." Samsung's Galaxy S21 phone already supports Wi-Fi 6E with its Wi-Fi capabilities powered by Broadcom (read more here). One of the elegant features of the new Galaxy Book Pro family is that the new high-end notebooks fit snugly into Samsung's overall Wi-Fi 6 and 6E-capable family of interoperable devices that also includes the Galaxy phones, snazzy Bluetooth-powered earbuds, and now also the Galaxy Book Pro's.
The UK's new 6 GHz Wi-Fi and DFS regulation comes into force May 12
It has been a foregone conclusion for a long time but now UK telecom regulator Ofcom has officially announced that they've signed into law new spectrum regulations releasing 500 MHz of 6 GHz spectrum to Wi-Fi from 5925 MHz to 6425 MHz. The statement can be found here. The new regulation comes into force on May 12. The new rules also include removing DFS restrictions in the 5.8 GHz band, which essentially will fully liberate another 125 MHz to Wi-Fi in the 5725 to 5850 MHz band.
Altice USA launches 'Smart WiFi 6' home broadband service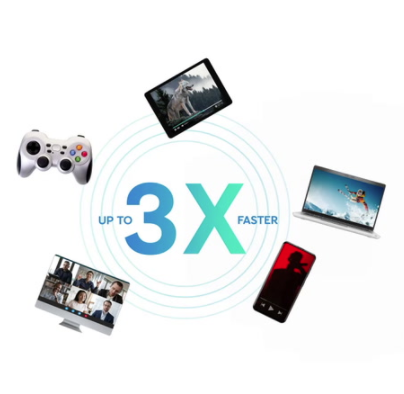 Altice USA – a cable and fibre-based residential broadband provider headquartered in Long Island, New York – last week introduced their latest residential whole-home Wi-Fi solution, which is now based on Wi-Fi 6 technology.
Altice's two residential broadband brands Suddenlink and Optimum are making the new 'Smart WiFi6' package available to subscribers with 1 Gbps bandwidth and to subscribers at the highest tier of bandwidth in areas where 1 Gbps is not offered, the company says in this press release. Altice says their new Wi-Fi 6 offering is three times faster than previous Wi-Fi generations. Read more about Suddenlink's Wi-Fi 6 offering here.
Wi-Fi Alliance debuts Wi-Fi 6E (6 GHz) regulatory tracker webpage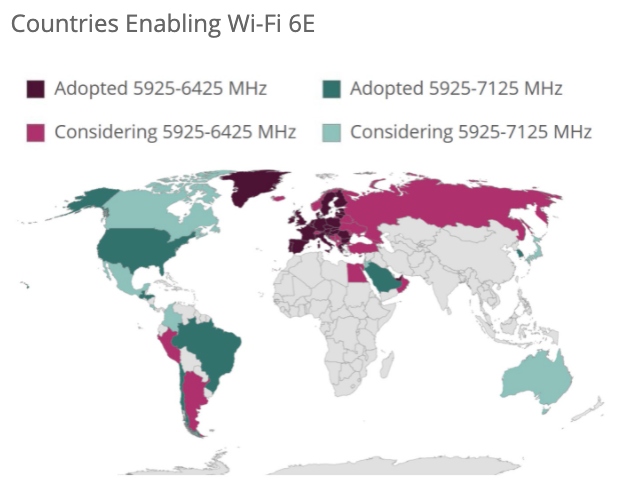 When is Wi-Fi 6E – meaning 6 GHz Wi-Fi – coming to a country near you? That's a good question and a difficult one to answer given the long and winding road of spectrum allocation trials and tribulations across the world. Thankfully, the Wi-Fi Alliance is now making it easier – also for vendors, service providers, and other businesses – to follow all the regulatory action. The Wi-Fi Alliance's new Wi-Fi 6E tracker is available here for all to follow. The tracker allows you to follow the status of the 6 GHz band by country including whether or not the country is considering the full band or something smaller. Enjoy.
/Claus.