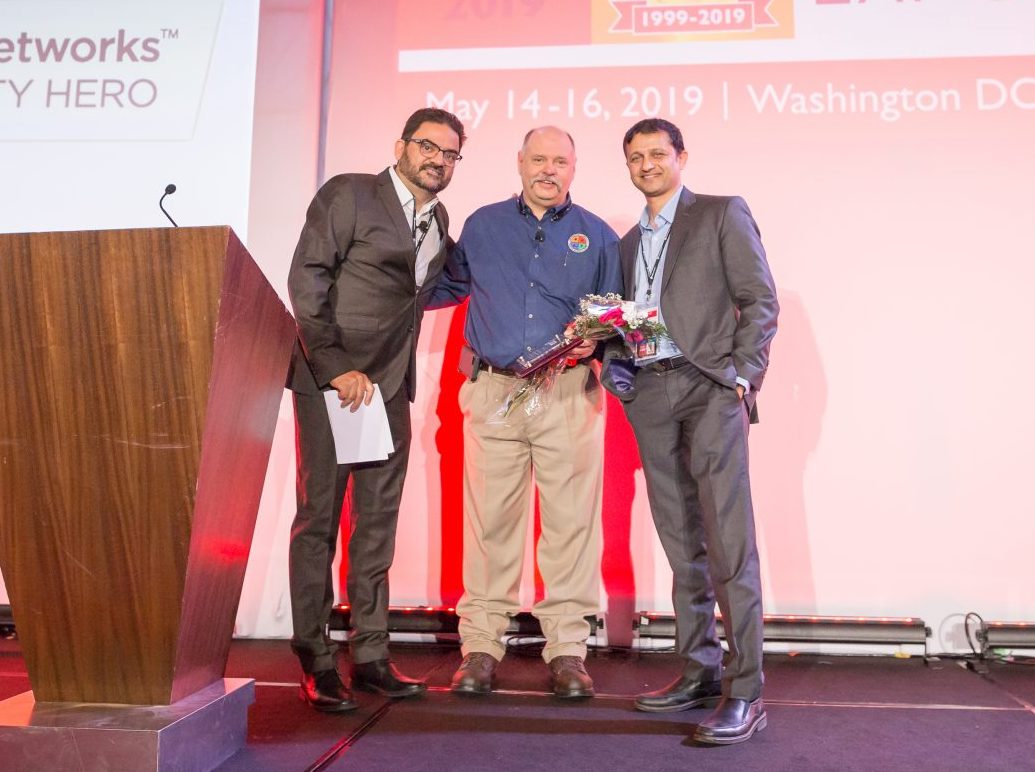 Above: ITDRC co-founder Joe Hillis (middle) accepts the Connectivity Hero award on behalf of his son, Chris Hillis, at Wi-Fi NOW USA in Washington DC on May 15, 2019. The award was presented by Cambium Network's Senior Director Chetan Hebbalae (right). Wi-Fi NOW CEO & Chairman (left) introduced the award.
By Claus Hetting, Wi-Fi NOW Chairman & CEO
ITDRC – in the form of Joe and Chris Hillis – last week received Cambium Networks' Connectivity Hero Award to honour their exceptional work on providing connectivity to hundreds of disaster stricken communities across the USA. The award ceremony was conducted on stage at this year's Wi-Fi NOW USA expo & conference in Washington DC.
True heroes are hard to find these days – especially in IT and telecom – but ITDRC deserves the designation perhaps more than anyone else right now. The volunteer-driven organisation are the 'first responders of connectivity' providing emergency Internet communications including Wi-Fi to communities devastated by natural disasters all over the US.
Last year the ITDRC helped out 142 disaster-stricken areas and they did it (as always) with an all-volunteer based crew. So it is no surprise – and exceedingly well-deserved – that ITDRC this year is the recipient of a Cambium Networks Connectivity Hero award. The award was presented to co-founder of ITDRC Joe Hillis at Wi-Fi NOW USA in Washington DC last week (see photo above).
At Wi-Fi NOW we are delighted and honoured to be a media and events partner of ITDRC. If you wish to donate equipment or services or otherwise support this great cause, you can find all the details on how to do so at the ITDRC website here. And of course we're looking forward to inviting ITDRC back to Wi-Fi NOW for our next US event.
/Claus.