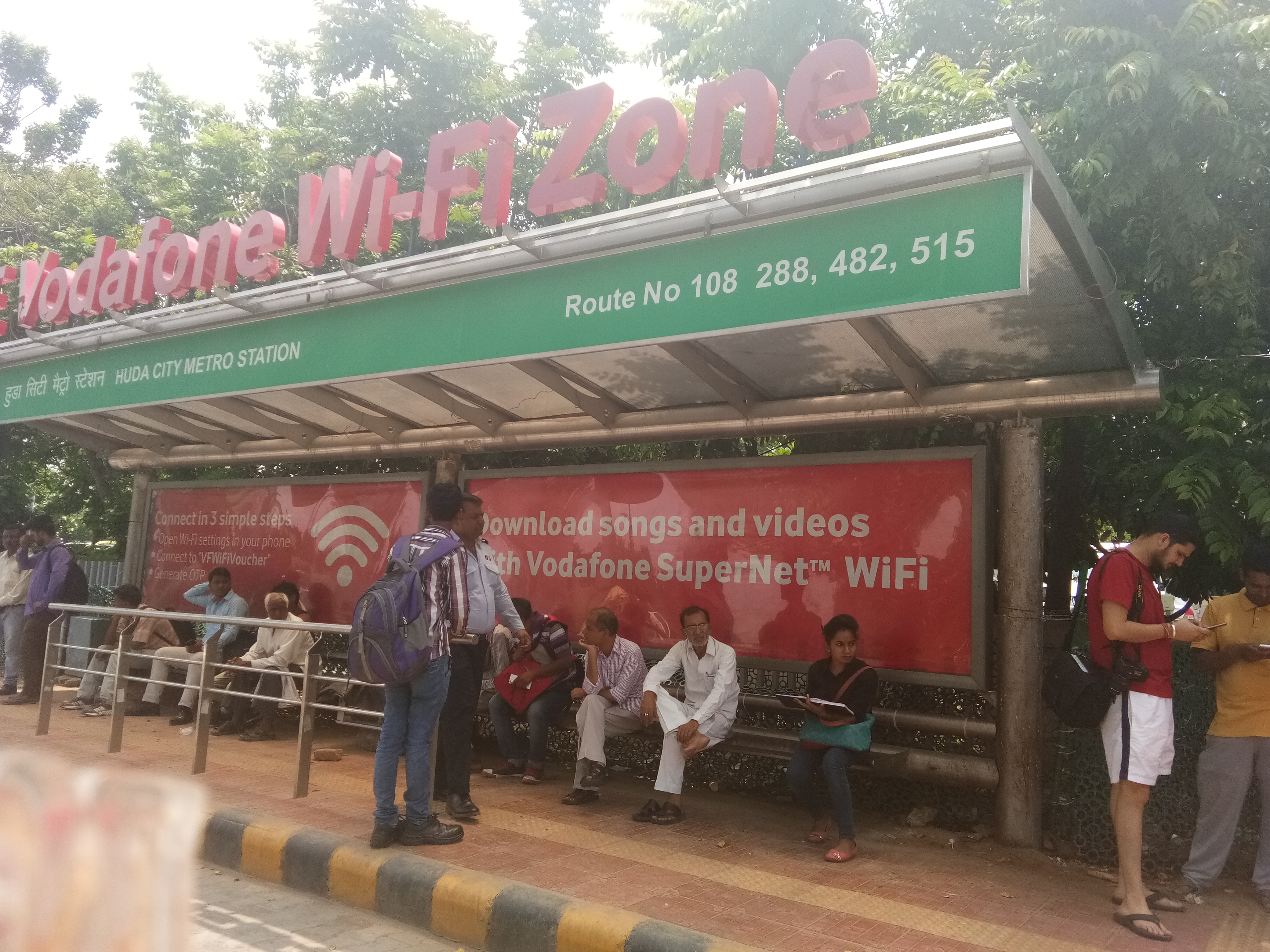 By Wi-Fi NOW guest writers Rahul Atri and Sukhvinder Malik from TechPlayon.com
The most exciting part of Wi-Fi has always been innovative deployments and ease of use for consumers. Both these points are completely validated by Vodafone's Wi-Fi enabled bus shelter deployed in Gurgaon near New Delhi.
Twenty minutes of free Vodafone Wi-Fi
Near one of the busiest Metro Stations (start & end point of metro) of Delhi/Gurgaon Metro the bus shelter seems to be perfect for deploying the first of this kind of Wi-Fi in the city. Interestingly, there is another bus shelter at the most 5 meters from Vodafone's Shelter – but the ratio of people was 20:1 in favour of Vodafone's Wi-Fi enabled shelter.
The best part of the offering is that it is free for any device and any user for the initial 20 minutes or 100MB (meaning not restricted to Vodafone customers). That's makes a lot of sense consider the average time of waiting at the bus stop is likely less than 20minutes. After the first 20 minutes anyone can buy online vouchers to extend the service.
Vodafone customers can use their existing 3G or 4G data packages on the Wi-Fi service. That's a great example of a trial for data offloading to Wi-Fi. And don't forget that the Metro station right next to the bus stop is accessed by 53,000 people every day.
So how well does this work?
During our visit the service was seamless and on the free SSID we recorded speeds of around 5 Mbps even while other people were using the service at same time. We were able to download applications, watch YouTube videos, and access social media within the allotted 100 MB quota. The Wi-Fi access points were transmitting both 2.4 GHz & 5 GHz Wi-Fi and hence allowed even the older devices (2.4 GHz only) to connect.
We also observed two kinds of users: One group that were tech savvy and using the services, and others who found it little difficult to understand how to connect. But with time people seem to get acquainted with the process. The idea Wi-Fi is available for free with Vodafone is a big marketing message, and Vodafone has the shelter acting as one massive advertisement for their services.
More Wi-Fi in the pipeline for India
Vodafone has also deployed bus shelters that include air purifiers in Delhi (near Safdarjung Hospital) to give the people of Delhi respite from widespread pollution. Perhaps in future we will see Wi-Fi (and who knows, IoT services?) at these shelters, too.
We might expect to see many more such deployments as the TRAI's (Telecommunications Regulatory Authority of India) WANI initiative and India's Smart city projects begin to unfold. Read more about TRAI here.
Rahul Atri is an electronics and communication engineer by profession and has worked 7 years with radio technologies. Rahul's love for technology and new ideas keeps him inspired. Rahul believes in learning and sharing – and says: "That's how I met Claus, who is 6851 kms away from India." Rahul's own tech blog can be found here.
More photos