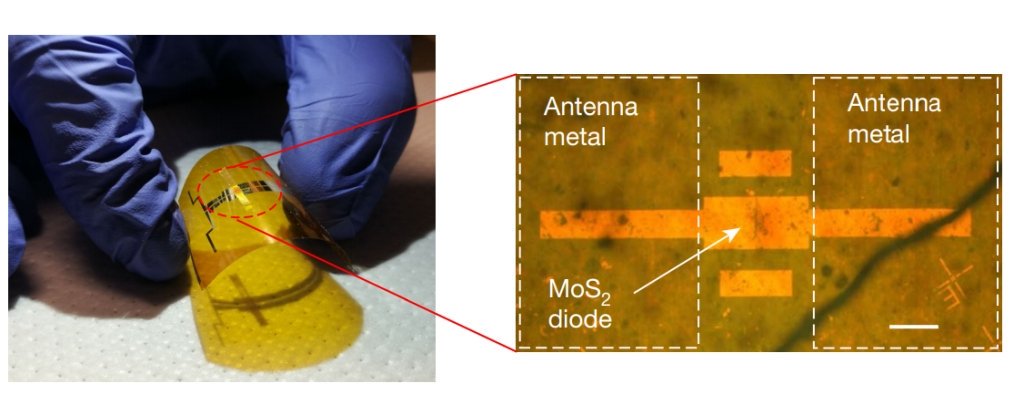 Above illustration courtesy MIT.
By Martynas Tovarovas, Wi-Fi NOW Staff Writer
Batteries may become a thing of the past as a group of scientists have found a way to power electronic devices via Wi-Fi. Massachusetts Institute of Technology researchers produce ultra-thin materials that absorb wireless Internet and other electromagnetic waves in the air and turn them into useful DC electricity.
The groundbreaking research published in Nature may sound like something out of a sci-fi novel – except that there's nothing fictional about it. The described technology consists of a small antenna connected to a semiconductor layer only three atoms thick, and it basically works like a sponge that soaks up and converts radio waves to DC electricity.
"It is essentially a rectifier coupled with an antenna. The antenna collects the electromagnetic wave in the Wi-Fi band and converts it into an AC current. The rectifier will rectify the AC current into usable DC electricity that can be directly used to power electronics," says one of the researchers Xu Zhang.
Scientists have long been talking about the idea of covering electrical appliances, bridges, buildings, or even whole cities with energy-harvesting materials. Mr. Zhang believes that we are already living in a world with more devices than actual people so we need a better way to provide power for them. Harvesting specifically the RF power from Wi-Fi signals makes a lot of sense because they are nearly always around us – and there's no need to waste it, says Xu Zhang.
The so called 'rectenna' device is not a completely new idea. Scientists have produced energy-harvesting systems before but they were made from fragile and unreliable semiconductors. The MIT researchers' version is a lot more practical and potentially valuable because it uses flexible molybdenum disulphide film that can be produced in large sheets to capture lots of energy, which leads to the idea of powering large objects or even areas.
"This work is a key milestone towards using existing Wi-Fi infrastructure to wirelessly power electronics around us. The ultimate goal is to bring self-powered electronics to every object around us and enable a smart city with ubiquitous sensing," says Xu Zhang.
Using typical home Wi-Fi signals, the device now produces about 40 microwatts. It's enough to power an LED display but not nearly enough for smart watches or smartphones. However, the flexible nature of the technology could soon make its way to much bigger projects.
/Martynas.