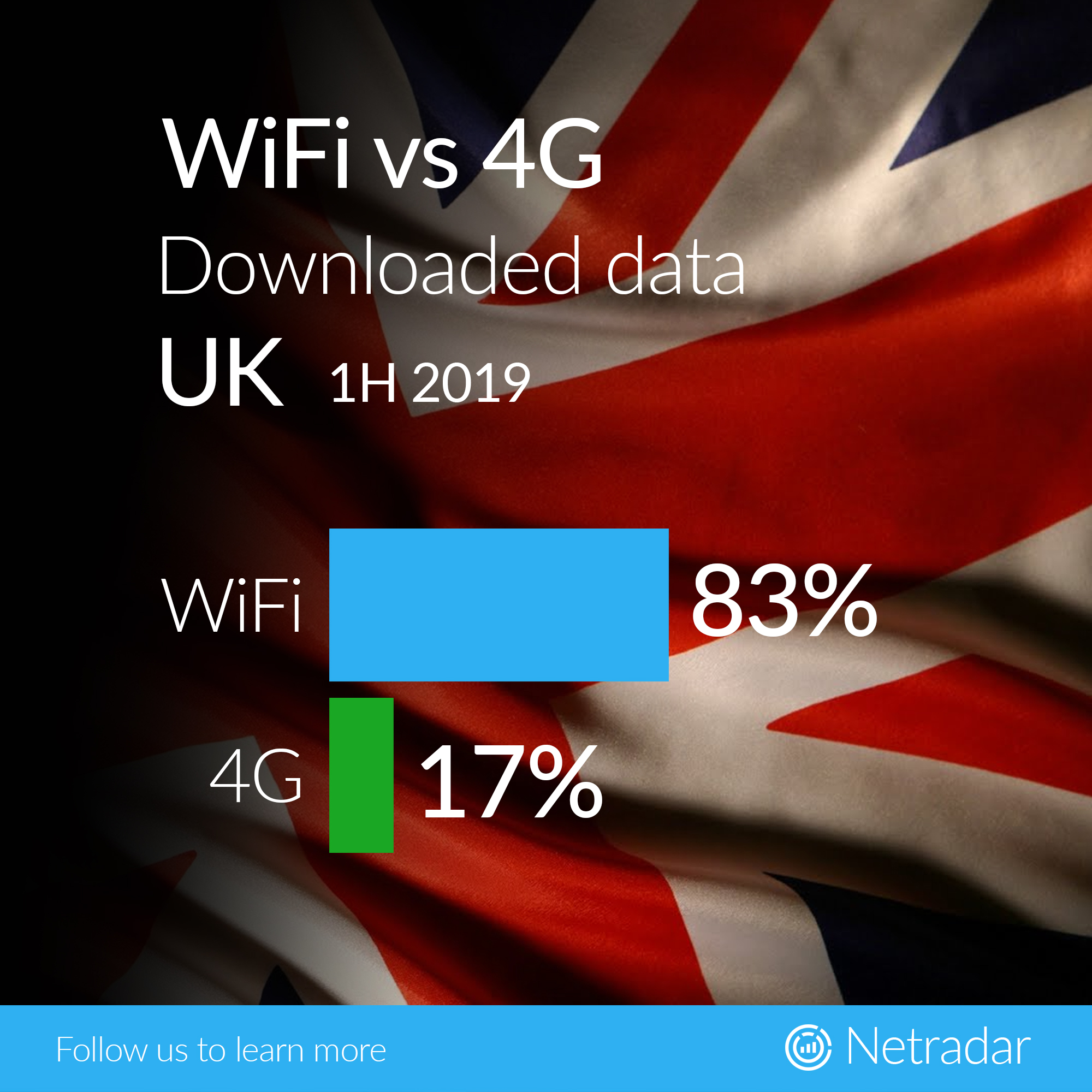 By Claus Hetting, Wi-Fi NOW CEO & Chairman
In the run-up to our Wi-Fi NOW event in London this November 12-14 we'll be zooming in on the role of Wi-Fi in the United Kingdom – so here's fresh data from our mobile analytics partner Netradar: Wi-Fi's share of mobile data in the UK (vs. 4G and download only) is now 83%. In the case of some specific apps, the Wi-Fi share reaches well above 90%, Netradar says.
Still not sure how Wi-Fi will fare in the so-called 'Age of 5G'? New data from mobile analytics provider Netradar suggests that Wi-Fi's position as the preferred connectivity technology in the UK is beating anything cellular by an extremely wide margin. For 1H2019, Wi-Fi has carried 83% of 4G phone data download, a figure that ranks the UK's consumers among the most avid Wi-Fi users in the world together with Japan, Germany, and others.
Enjoying this story?
Leave your email here and we'll get you all the latest Wi-Fi news.
Netradar has also drilled deeper into the data set to discover that some popular apps rely on Wi-Fi for a remarkable 90-98% of their data delivery (see graphic below). These include Facebook, Youtube, browsing, and more. The app data appears to reinforce the main finding: That Wi-Fi in the home, office, school, etc. is exceedingly dominant as the preferred connectivity tech in the UK.
Need for more spectrum is evident
Last year the Wi-Fi Alliance released staggering figures for the economic surplus value of Wi-Fi in the United Kingdom: The value is expected to increase from $54 billion USD in 2018 to $71 billion USD in 2023. But to meet the demand for Wi-Fi connectivity exemplified by these figures, the UK will need to allocate additional unlicensed spectrum in the 6 GHz.
For more about Wi-Fi traffic trends, analysis, and not least the 6 GHz spectrum opportunity, don't miss Wi-Fi NOW International taking place in London UK this November 12-14.
/Claus.
Below: Data & graphics courtesy Netradar.