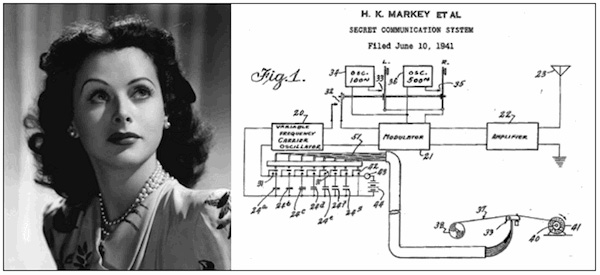 By Claus Hetting, Wi-Fi NOW CEO & Chairman
Wi-Fi is the single most successful wireless technology in the world with eight billion devices in circulation & three billion shipped every year. But did you know that 1940's Hollywood icon Hedy Lamarr laid the groundwork for Wi-Fi?
A new documentary co-produced by actresses Susan Sarandon and Diane Kruger (and directed by Alexandra Dean) tells the larger-than-life story of Austrian-born Lamarr, who was granted a patent for frequency hopping in 1942 together with her co-inventor and friend, George Antheil.
The invention was aimed at circumventing frequency-jamming tactics by the Axis powers during WWII, but only made it into US Navy ships in 1962. Lamarr passionately supported the US anti-Nazi war effort after having escaped pre-WW2 Austria in 1937.
The invention was kept secret until 1985, when the FCC released the patent for public use. Since then the concept of frequency hopping (and later spread-spectrum) has been used not only in Wi-Fi but for a slew of wireless standards, including various generations of mobile technology. Lamarr and Antheil jointly received the EFF (Electronic Frontier Foundation) award in 1997.
Hedy Lamarr passed away in 2000. She and George Antheil were posthumously inducted into the National Inventors Hall of Fame in 2014.
/Claus.
Special announcement: We will be screening 'Bombshell' at Wi-Fi NOW USA on May 16! The film will be introduced by Emmy Award-winning director Alexandra Dean – few tickets available (free of charge to Gold Pass ticket holders to Wi-Fi NOW USA)
Watch the trailer for 'Bombshell: The Hedy Lamarr Story' below.