By Claus Hetting, Wi-Fi NOW CEO & Chairman
This week Cyprus-based broadband service provider Cablenet announced an expansion of its partnership with Plume by bundling Plume's HomePass® services suite with its 'Purple Max Internet' home broadband package. Last month German service provider Deutsche Glasfaser announced its selection of Plume and Sagemcom to deliver optimised Wi-Fi 6E-based connectivity based on Sagemcom's CPE and Plume's Cloud-managed Wi-Fi and HomePass services suite via OpenSync. 
This week Cyprus-based home broadband service provider Cablenet announced that it is expanding its partnership with Plume by bundling Plume's 'HomePass' suite of Cloud-based services with its Purple Max Internet home broadband package. Cablenet already offers home 'UltraWiFi' powered by Plume-designed remotely managed Wi-Fi mesh pods. As part of the expanded deal Cablenet subscribers will now be able to access and manage Plume's suite of smart home services including Wi-Fi sensing, adaptive Wi-Fi, security, and parental controls via Plume's HomePass app.
Arguably more exciting from a Wi-Fi point of view is last month's announcement from Plume and Germany's Deutsche Glasfaser – a name that literally means German optical fibre in German: On May 5 Deutsche Glasfaser announced the selection of CPE-vendor Sagemcom and Plume for delivery of Germany's first Wi-Fi 6E-based (6 GHz) home broadband service.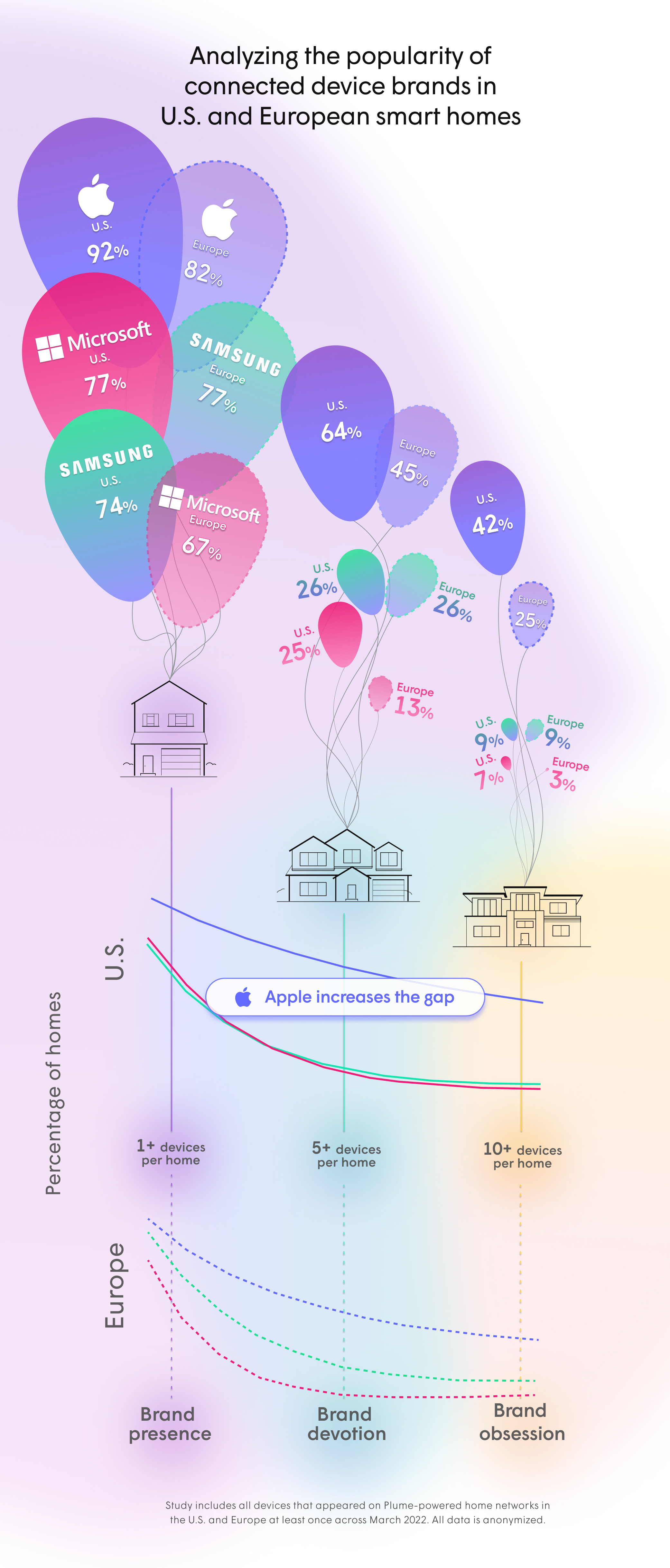 Deutsche Glasfaser says the deployment of Plume's HomePass services suite includes Plume's remote, Cloud-based Wi-Fi management service. The service delivery architecture features the OpenSync open-source framework, Deutsche Glasfaser says.
For now this is Europe's third Wi-Fi 6E deployment by a service provider following launches by Orange and Bouygues in France – and the first in Germany. Sagemcom is also supplying the Wi-Fi 6E-capable CPE hardware for Orange – although in Orange's case, the services and remote Wi-Fi 6E management is provided by SoftAtHome (read more here).
Plume IQ: Apple's dominance even more pronounced in the US
Last month Plume IQ – the home broadband analytics service from Plume – revealed that Apple is the most popular brand of connected devices in Europe. And now this month it turns out that in the US, Apple's market lead is even more pronounced. A whopping 92% of Plume-powered homes in the US serve at least one Apple device compared to 82% for Europe while a quite unbelievable 64% of US homes contain 5 Apple devices or more compared to 45% for Europe.
Any which way you look at it: Apple dominates the connected device market in the home by a wide margin – and even more so in the USA. The figures derive from anonymised data extracted from the Plume-powered homes in the US only.
Don't forget to sign up for the Plume IQ newsletter here for monthly insights on home broadband trends and analysis across the world.
/Claus.