By Claus Hetting, Wi-Fi NOW CEO & Chairman
Qorvo's new front-end modules (iFEMs) boost performance & reduce time-to-market for Wi-Fi 6 mesh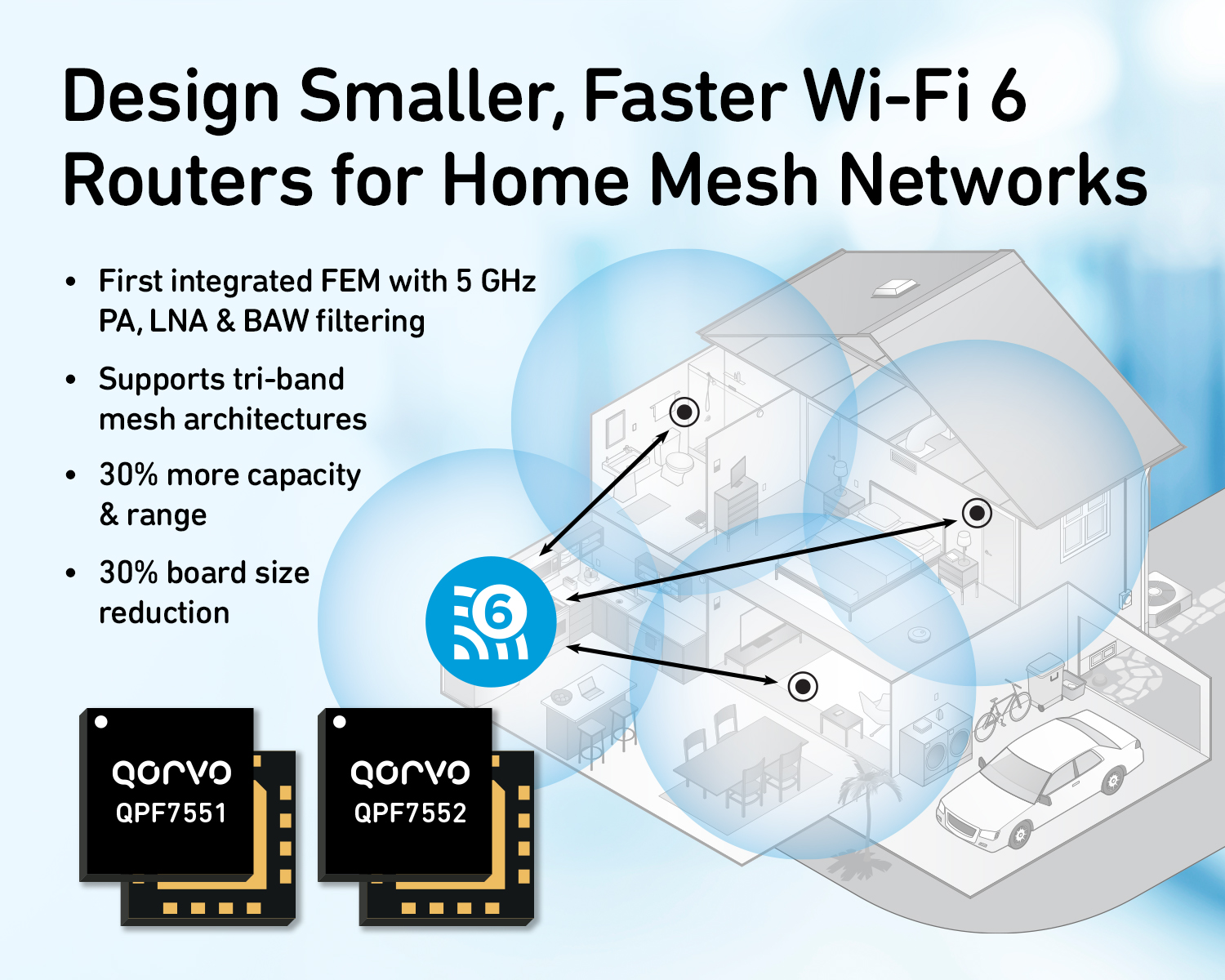 Last week front-end module leader Qorvo – a Wi-Fi NOW Partner – released two new 5 GHz Wi-Fi 6 integrated front-end modules (iFEMs) aimed at reducing time-to-market for Wi-Fi 6 home mesh system development. Qorvo says their new iFEM technology will increase Wi-Fi range by 30% while reducing PCB size by as much as 30%. This leads to more compact form factors for home Wi-Fi mesh APs, the company says in their press release here.
The reduction in size is a result of an industry first: Integrating filtering – Qorvo calls this their bandBoost™ bulk acoustic wave (BAW) filter technology – with the PA (power amplifier) and LNA (low noise amplifier) into a single module. The bandBoost™ filter technology allows users to benefit from Wi-Fi 6 mesh units that "broadcast concurrently on three different channels," Qorvo says. Better Wi-Fi range and capacity is a consequence of better isolation between individual bands with bandBoost™, the company explains.
Qorvo also says "whole-home Wi-Fi 6 mesh is among the fastest growing segments in the Wi-Fi 6 device landscape," – and they are right, of course. The new iFEM technology should give Wi-Fi 6 mesh market a significant boost – as soon as the current silicon shortage has been alleviated.
Enjoying this story?
Leave your email here and we'll get you all the latest Wi-Fi news.
Wi-Fi 6 mesh experts Mercku partners with Aerial for Wi-Fi sensing
Wi-Fi mesh experts Mercku – a Wi-Fi NOW partner – is teaming up with Wi-Fi sensing pioneers Aerial to include Wi-Fi-based motion sensing functionality into the Mercku home Wi-Fi mesh and services portfolio, Mercku said on May 18 in a press release to be found here. The Aerial sensing solution can now be offered to Mercku's ISP clients in conjunction with Mercku's award-winning M6 AX (Wi-Fi 6-capable) mesh system. Aerial – a sensing pioneer – says its 'foundational patents' laying the groundwork for sensing hark back to 2010. Montreal-based Aerial is also a long-time partner of another Wi-Fi NOW Partner, namely ON Semiconductor.
Plenty of home broadband subscribers get close to peak speed every month, says Plume IQ
Is it time for a broadband – and Wi-Fi – bandwidth upgrade?  Well, if your subscription belongs to the lower end of the scale – meaning for households with up to 49 mbps of peak broadband speed – the prospect of needing a speed upgrade is creeping closer, says Plume IQ, the home broadband intelligence service offered by smart home platform provider Plume.
Plume IQ says around 45% of all households with up to 49 mbps of home Internet speed get close (within 10%) of their maximum allotted speed every month. For the higher speeds, getting within the 10% capacity limit is less frequent, Plume IQ says. To subscribe to monthly Plume IQ market insights sign up here.
/Claus.