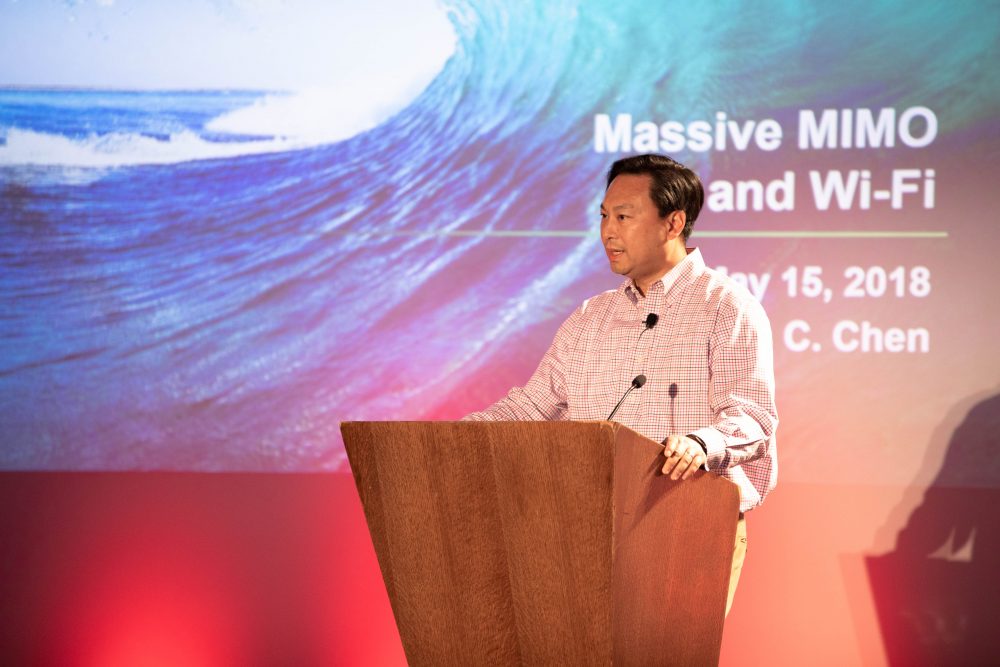 Above: Quantenna's James Chen at Wi-Fi NOW USA in Redwood City, May 2018.
By Claus Hetting, Wi-Fi NOW CEO and Chairman
Massive MIMO should in theory serve up a huge boost to home Wi-Fi performance and coverage but have you ever seen it happen for real? Now there is compelling evidence of massive MIMO performance boosts and it is indeed impressive: Quantenna's 8×8 MIMO blasts through walls. 
Massive MIMO can boost home Wi-Fi performance to the extent of blasting through 2-feet-thick concrete walls. That was a key message delivered by Quantenna's VP of Product Line Management, James Chen at Wi-Fi NOW USA 2018 in Redwood City this May 15.
An 8×8 MIMO system hikes the Wi-Fi performance in every category including for single users and multiple users, said James Chen. According to Quantenna's recent test results, 8×8 MIMO delivers tens of Mbps on the far side of two 2-feet thick concrete walls where before there was no signal at all, even when compared to 4×4 MIMO signals.
James Chen also said that massive MIMO is a useful method for avoiding the classic 'sticky client' problem and that many massive MIMO gateways and APs are poised to hit the market. The technology is also expected to play an important role in the new 802.11ax Wi-Fi standard.
As a result of the coverage boost, MIMO is an important complement or even alternative to the popular but more costly Wi-Fi mesh aka multi-AP systems. As more and more advanced in-home Wi-Fi technology sees the light of day, the approach to home Wi-Fi is diversifying and competition – also between radio approaches – is intensifying. Also read about steering vs. Wi-Fi mesh here.
/Claus.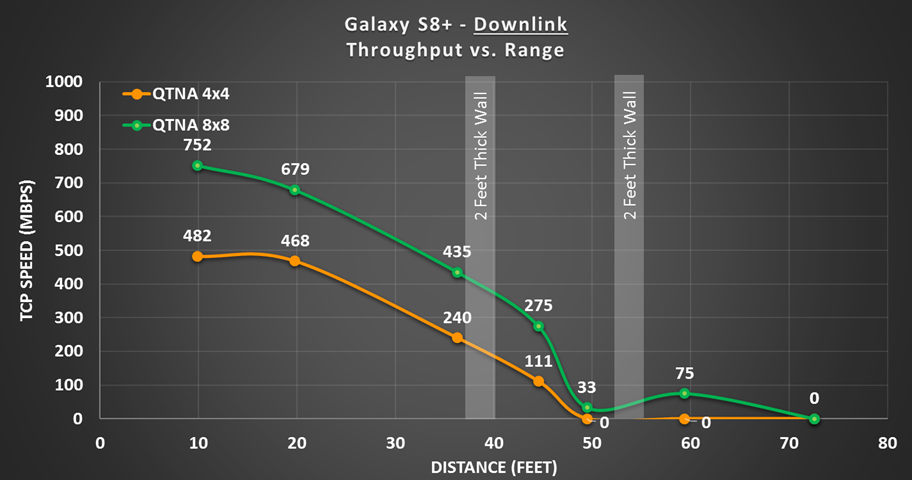 Above: Massive MIMO test results from Quantenna.