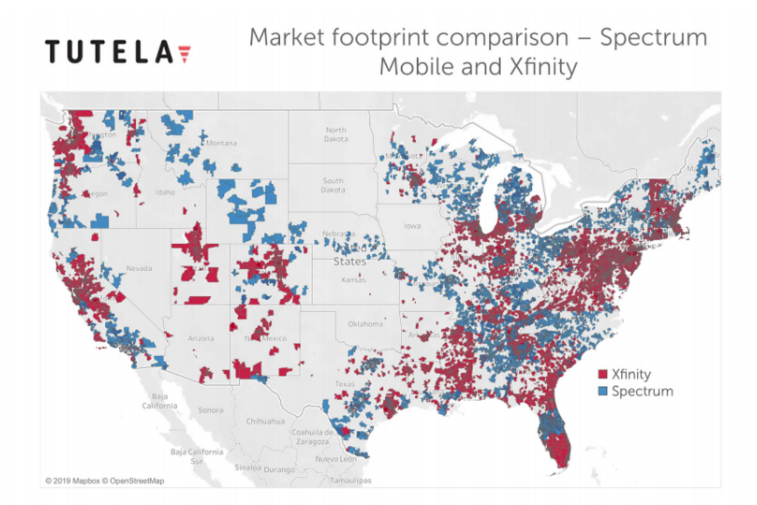 By Claus Hetting, Wi-Fi NOW CEO & Chairman
Wi-Fi offload is not getting a lot of tech media attention these days – but the truth is that US cable MVNOs are quietly extracting big benefits from using own Wi-Fi networks to deliver smartphone traffic. The benefits comprise reduced dependence (and hence costs) on cellular connectivity and even far above average service quality, says a remarkable new report from mobile analytics company Tutela.
It is well know that Wi-Fi carries the lion's share of phone traffic in nearly every country – but how much benefit can MVNOs extract from embracing Wi-Fi offload as a strategy? According to a new report from mobile analytics company Tutela, the use of Wi-Fi is strongly reducing dependency on cellular networks for both Comcast's Xfinity Mobile and Spectrum Mobile.
Enjoying this story?
Leave your email here and we'll get you all the latest Wi-Fi news.
More than that, Tutela says their data shows subscribers are subjected to a much better 'Quality of Experience' (QoE) when connected to the Wi-Fi networks of Altice, Comcast, and Charter compared to pure cellular from Verizon. "Tests over the WiFi network of Altice, Comcast, and Charter all recorded Excellent and Core Consistent Quality percentages well in excess of the average for Verizon's network — the best in the United States," Tutela says in the report.
In particular the comparative QoE results are remarkable although data from other countries indicate a similar trend regarding speeds: On average Wi-Fi networks tend to be faster than mobile.
US cable MVNO use of Wi-Fi close to 80%
The report says that Verizon subscribers use Wi-Fi for about 61% of traffic while Xfinity Mobile subs use Wi-Fi for nearly 20% more at 78.3%. Some 6% of the traffic is delivered by Comcast's public Xfinity Wi-Fi network of hotspots, of which Comcast claims there exists some 18 million (including so-called 'homespots' or shared residential Wi-Fi).
For Spectrum Mobile the numbers are similar but a little lower in Wi-Fi traffic percentage, which seems to be at least in part due to Spectrum's smaller number of public Wi-Fi hotspots. In general high Wi-Fi traffic rates are valuable to the MVNOs because they generally mean less cellular traffic and hence lowered traffic fees paid out to the host cellular network. Both Spectrum Mobile and Xfinity Mobile rely on Verizon's 4G network for cellular services.
But Tutela also warns against oversimplifying the reason for differences in Wi-Fi usage rates between MVNOs and Verizon. "Other factors, such as the mix of plans chosen by MVNO subscribers compared to Verizon's subscriber base, also contribute to the difference in cellular data usage," says Chris Mills, Head of Industry Analysis at Tutela.
Is Wi-Fi offload ready for a renaissance?
Carrier-initiated Wi-Fi offload has intermittently been touted as a capital efficient boost to the MVNO or MNO business case although in actuality few service providers actively employ it. Sources knowledgable on the matter suggest less than 30 mobile operators actively use offload the world over.
But this could change in coming years as convergence standards evolve. The cellular standardisation organisation 3GPP has created a TCP multipath scheme for bringing together multiple radio access data streams in its Release 16. For more about this and mobile-Wi-Fi convergence in general don't miss Wi-Fi NOW London on November 12-14.
/Claus.