By Claus Hetting, Wi-Fi NOW CEO & Chairman
Enjoying this story?
Leave your email here and we'll get you all the latest Wi-Fi news.
Aruba Networks reinvents location-based services using GPS and FTM
Aruba Networks announced last week that the company has finally arrived at a solution to a decade-old problem: Determining the accurate indoor location of a Wi-Fi-capable device. During a presentation during the Aruba Atmosphere 22 Field Day Experience on March 29, Aruba wireless CTO Chuck Lukaszewski and Stuart Strickland, HPE Fellow, explained what the new Aruba solution is all about.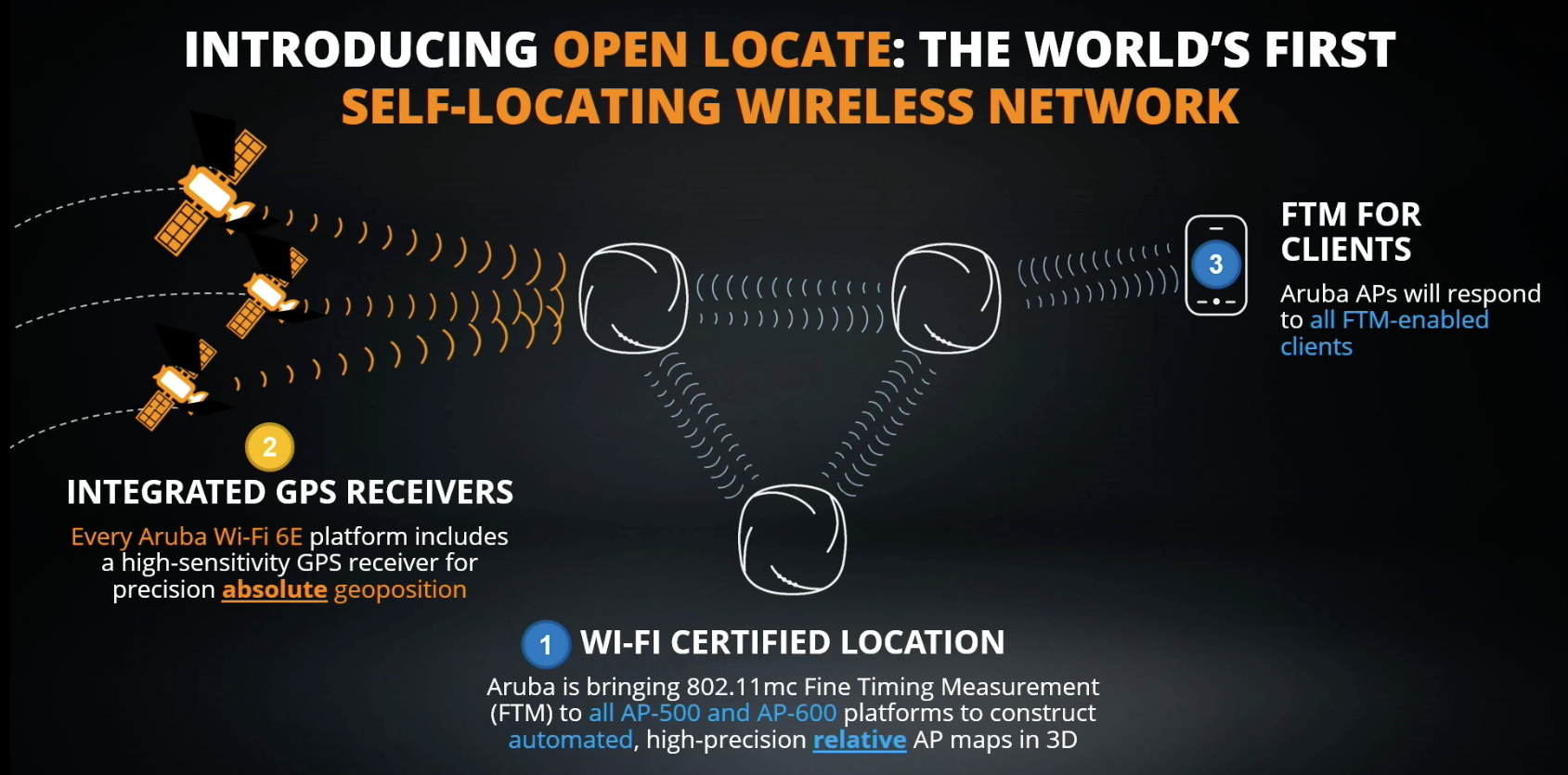 "Location indoors thus far has not worked to anybody's satisfaction," Chuck Lukaszewski said during the presentation, and he's right, of course. Now Aruba is launching what they call their 'Open Locate' solution, which uses fine time measurement (FTM) and GPS receivers in Aruba APs to construct an accurate map of the absolute locations of Aruba APs in 3D. Fine time measurements between infrastructure and client devices then locate the devices.
For legacy devices Aruba is proposing the information is sent over 802.11 and Bluetooth beacon frames – and for this some standards consensus will eventually be needed. Ultimately, the new technology may allow users to zoom in for example on a Google map to identify precisely the product they are looking for on the aisles of a retailer, Stuart Strickland says. Later this week we will be interviewing Stuart Strickland for a lot more details about the new initiative and solution – so stay tuned.
Startup wireless ISP Starry debuts on the NYSE
Last week startup wireless ISP Starry's mission to connect Americans to low cost, high-quality home Internet connectivity took another bold step forward as the company began trading on the NYSE under the ticker symbol "STRY". The company has since its inception in 2016 been acquiring millimetre wave operating licenses across the US while developing its own wireless network infrastructure – base stations and CPEs – and rolling out their solution across the country.

Starry's wireless technology is a unique clocked-up 37 GHz version of IEEE 802.11ax and today the Starry network covers some 5.3 million US households. With an infrastructure cost of as little as US$12 per home, the economics of Starry's approach to home broadband is indeed compelling. For more see our coverage of Starry here and the company's IPO announcement here.
Plume IQ charts device preferences and broadband usage on big game day
Smartphones and tablets are of course extremely popular as viewing devices but when it comes to watching the big game, viewers definitely prefer the big screen. According to the latest data from Plume IQ – a home broadband analytics service tracking 1.3 billion connected devices across 35 million homes – smart TV traffic jumped 31% on game day with smartphone traffic up on 11%. Sony took the top position among combined smart TV & set top box brands  (44%) while Samsung came in as a relatively close second (41%).
Don't forget to sign up to the free Plume IQ analytics and intelligence service here. 
/Claus.