By Claus Hetting, Wi-Fi NOW CEO & Chairman
'Citizens' of Virginia launches Plume solution for whole-home Wi-Fi & more
Citizens – a broadband service provider cooperative based out of Floyd, Virginia – has selected adaptive Wi-Fi and broadband services platform provider Plume for launch of their whole-home 'Citizens Advanced Wi-Fi' service. The new suite of home services is powered by Plume

HomePass® and includes Plume-designed 'Pod' APs to deliver adaptive whole-home Wi-Fi coverage plus an app to control the network and services, including parental controls, security, guest access, monitoring, and much more. Citizens is a member-owned telecom services cooperative providing telephone, Internet, and TV to Floyd County, Virginia, USA and surrounding communities for more than 100 years, the company says.
Plume – a Wi-Fi NOW Partner – continues to grow seemingly at warp speed and was recently valued at US$2.6 billion nearly doubling their valuation in 6 months. At present, Plume solutions connect more than 35 million homes and businesses world wide. Plume is also the founder of the OpenSync™ open-source software initiative acting as a silicon, CPE, and cloud-agnostic connection between the in-home hardware devices and the Cloud. OpenSync™ connects millions of home broadband services to the Cloud every day.
Speedcheck: Up to 18% of US consumers severely unhappy with their Wi-Fi
A new survey by Speedcheck reveals a raft of useful information on the degree of broadband and Wi-Fi user satisfaction in the US. Speedcheck says they've surveyed nearly 1,700 US Wi-Fi consumers to come up with a comprehensive report, which can be found in its entirety here.

Most notably Speedcheck found that the advent of Wi-Fi 6 has boosted the number of very satisfied broadband users from 20.8% to 33%. Unfortunately, the percentage of strongly dissatisfied users has also increased from about 16% to 18%. The survey shows nearly identical numbers with respect to the user's perception of 'Wi-Fi reliability'.
Among the respondents some 65-70% say they optimise the location of their router – or presumably try to. Close to 40% of respondents are using Wi-Fi routers that are less than one year old, while more than half of the respondents say they use the router provided to them by their broadband services provider.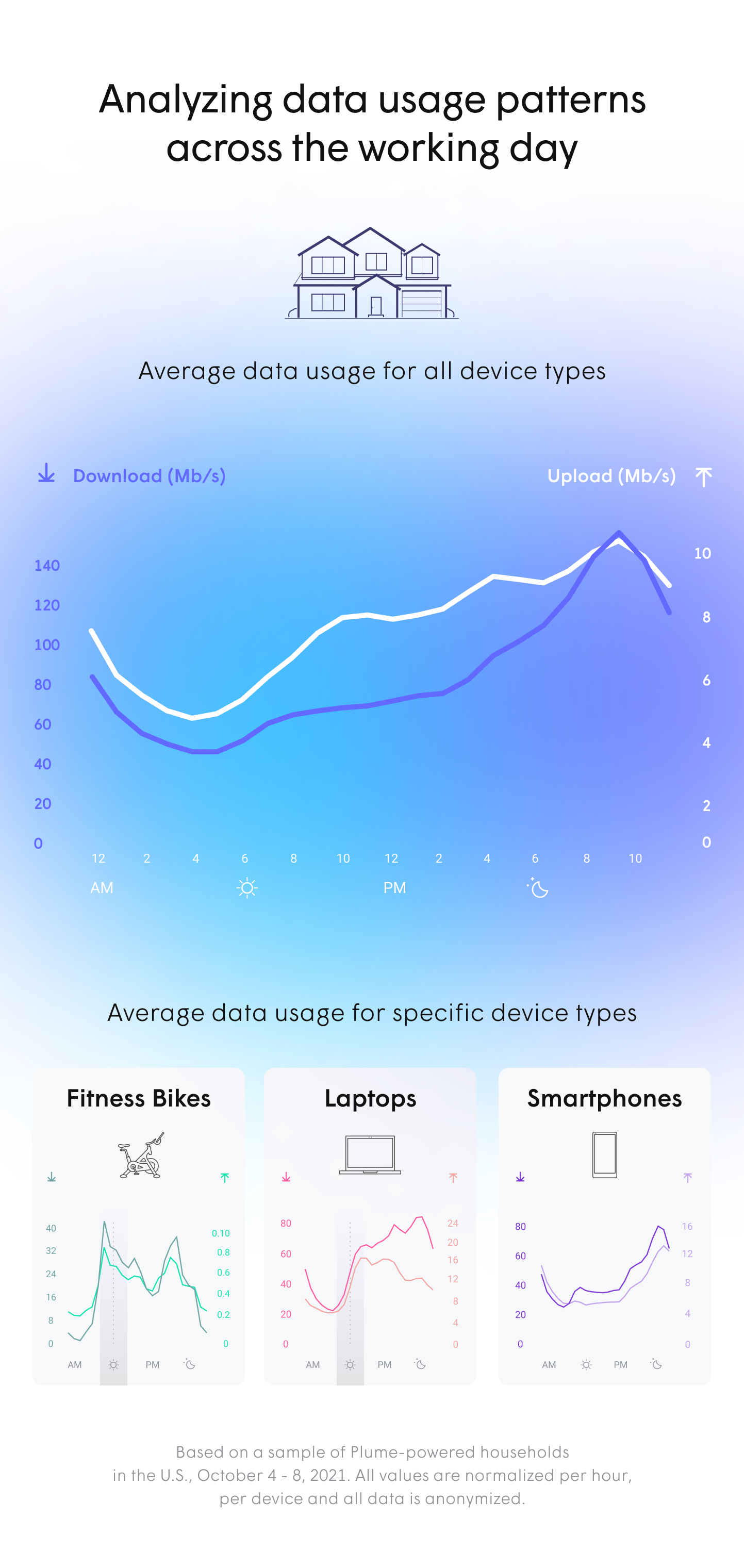 Plume IQ™ reveals curious new behaviours during the work-from-home era
What information can you extract from broadband usage statistics as to work-from-home behaviour? Interestingly, when you know what devices consume data and when some interesting conclusions follow. For example: According to Plume IQ's latest intelligence report, laptop usage appears to surge in the AM immediately after the use of connected fitness bikes.
During the day upload and download data consumption levels for laptops are similar but as evening approaches, upload traffic tends to drop off giving way to video streaming (mostly download). Interestingly, smartphone data consumption in the home is concentrated in the morning and evening, while upload and download traffic levels are similar, Plume IQ's latest statistics show. See more statistics from Plume IQ™ and sign up for Plume's weekly broadband intelligence service here.
/Claus.