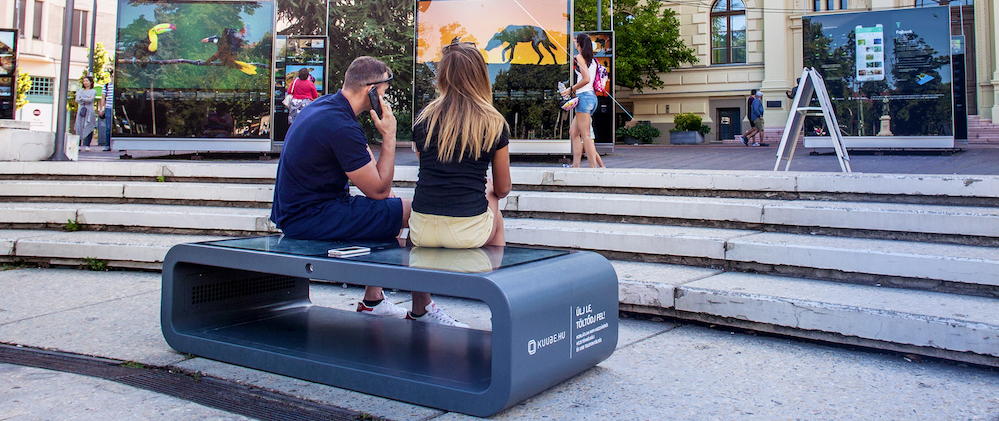 By Claus Hetting, Wi-Fi NOW CEO & Chairman
Hungarian startup builds solar-powered city benches with Wi-Fi hotspots
The Hungarian startup Kuube has invented a solar-powered city 'smart bench' concept that includes phone charging and Wi-Fi hotspot services, the company says. The benches have already been sold to cities in Hungary, Croatia, and Israel. Interest in the concept is on the rise, says Kuube.
The smart benches light up at night transforming them into luminous points of interest. And with free Wi-Fi, these benches are designed to be the center of night-time activity in the city. For now Kuube ECO & Kuube NANO models allow simultaneous connection of up to 50 Wi-Fi users at a distance of around 30-40 meters. The enhanced Kuube PLUS model offers better performance: A Wi-Fi 5 router that connects up to 100 people within a 100 meter radius, the company says.
"We are proud that we have been able to achieve the development of our products on our own so far, without any investors. There is a great interest about them in Hungary and abroad as well, mainly from local governments, parks, institutes, universities, hotels etc. We see excellent potential in the fact that our new products will even be able to charge mobile devices from renewable energy resources," says Máté Gallai, CEO of Kuube.
US cableco Mediacom launches whole-home mesh Wi-Fi based on Eero technology
On March 11 Mediacom – the fifth largest cableco in the US – launched their new Wi-Fi-6 capable whole-home mesh Wi-Fi solution called Xtream WiFi 360 pro. The product is based on Eero's patented 'Truemesh' technology and also draws on eero's service provider solution, which is aimed at providing 'actionable insights to simplify the customer experience,' Mediacom says.
Eero launched their 'eero for Service Providers' solution in October of last year and has – according to the company's website here – already amassed more than a dozen service provider clients. Eero was founded in 2014 as the original vendor of consumer-grade whole-home Wi-Fi mesh systems. The company was acquired by Amazon in 2019 for US$97 million.
TP-Link launches a raft of Qualcomm-powered Wi-Fi 6 routers for the Chinese market

Qualcomm continues to expand its strong market position on the Chinese Wi-Fi market, most recently by powering no less than 12 new Wi-Fi 6 TP-Link router products. TP-Link launched four router products in each of its 'Dadao' ('Avenue'), 'Feiliu' ('Flying'), and 'Shengshi' ('Global Launch') series, stretching from dual-frequency four-stream models to the three-frequency sixteen-stream 'Shengshi' model.
The 'Dadao' model supports 160 MHz channels while 'Feliu' and 'Shengshi' models support 4kQAM- a feature also available on some Qualcomm-powered smartphones sold on the Chinese market and elsewhere. Remarkably, the top-of-the-line TP-Link Shengshi router also supports Wi-Fi 6E, even though 6 GHz – at least to our knowledge – has as yet not been released for operation in China. TP-Link says 6 GHz support is 'user configurable' – we're guessing this may allow users to flip a switch to enable 6 GHz once the band is officially released.
Shenzhen, China-based TP-Link is – according to the most recent numbers we could find – likely still the world's largest vendor of Wi-Fi routers by volume with a 2016 market share of well over 40%.
/Claus.