By Claus Hetting, Wi-Fi NOW CEO & Chairman
LitePoint test platform selected to verify Broadcom Wi-Fi 7 solutions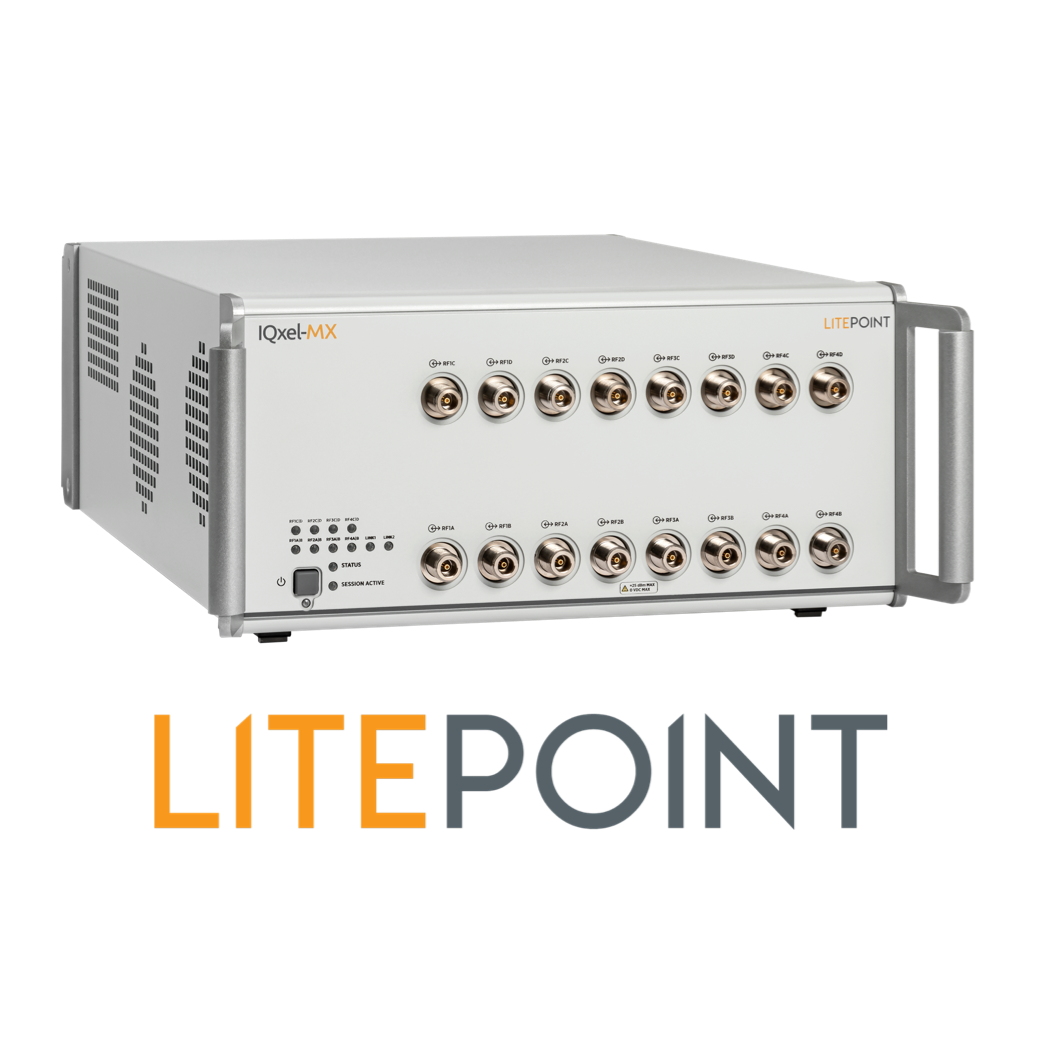 Wi-Fi testing leader – and Wi-Fi NOW partner – LitePoint continues its collaboration with Wi-Fi silicon leader Broadcom for testing of Broadcom's just released Wi-Fi 7 platform, LitePoint said earlier this week in a press release. LitePoint says that its IQxel-MX tester "has been selected to test Broadcom's industry-leading chips, since this test platform enables comprehensive validation of key new Wi-Fi 7 access point and client features, all of which are critical to ensuring the high speed and low-latency communications to support next generation applications such as augmented reality (AR) and virtual reality (VR)."
A spokesperson from LitePoint says any vendor working on Wi-Fi 7 products based on Broadcom chipsets can now use the LitePoint IQxel-MX tester to develop and verify their designs. This also means that OEMs are now able to accelerate development of next generation Wi-Fi 7 access points that use Broadcom's Wi-Fi 7 chipsets.
The IQxel-MX is a single tester for RF-PHY with a continuous frequency range from 400 MHz to 7.3 GHz, LitePoint says. The tester supports testing of MLO (Multi-Link Operation) without additional external hardware while simultaneously addressing the requirements of Wi-Fi 6, Wi-Fi 6E, and Wi-Fi 7 (IEEE 802.11be). The test platform is optimized to validate a device's wireless signal quality and optimal operation over multiple links and multiple bands, the company says.
MediaTek becomes third silicon vendor to announce Wi-Fi 7 platforms
Last week leading Taiwan-based provider of Wi-Fi chipsets MediaTek became the third silicon vendor to announce availability of Wi-Fi 7 platforms in the form of the Filogic 880 solution for access points and gateways as well as the Filogic 380 solution for client devices (smartphones, laptops, TVs, etc.).
MediaTek says the Filogic 880 platform is tri-band but 'scalable to penta-band 4×4' with a peak data rate of a whopping 36 Gbps while the Filogic 380 supports a peak rate of 6.5 Gbps (with MLO). Both new chipsets support core Wi-Fi 7 technologies such as 4kQAM, 320 MHz channels, Multi-Link Operation (MLO), and MRU (this is MediaTek's name for puncturing). MediaTek also announced their new Dimensity 1050 smartphone 5G SoC that includes support for Wi-Fi 6E. For more read here. Qualcomm and Broadcom have also recently announced AP and client-side Wi-Fi 7 solutions.
Minnesota ISP Arvig becomes one of the first to offer Wi-Fi 6E in the US
In partnership with leading home Wi-Fi and broadband service platform vendor Calix, Arvig – a regional ISP based in Minnesota, USA – has become one of the first in the US (and in the world) to offer Wi-Fi 6E-based home connectivity. Arvig's Wi-Fi 6E offering is based on the latest GigaSpire home gateways and mesh units from Calix, the company says in a press release here.
Arvig operates broadband services based on 14,500 miles of fibre networking deployed across Minnesota, USA. So far Comcast (USA), Orange (France), and Bouygues (France), and now also Arvig (USA) have announced Wi-Fi 6E home broadband services.
South Africa's wireless ISP association WAPA urges release of full 6 GHz band
South Africa's association of wireless ISPs – WAPA – has urged the country's regulator ICASA to release the full 6 GHz band (a total of 1.2 GHz of new unlicensed spectrum) to Wi-Fi. Based on numbers released by the Dynamic Spectrum Alliance (DSA), WAPA says release of the full 6 GHz band could create nearly US$58 billion of value for the South Africa economy, helping the South Africa to bridge the digital divide. So far no word on how ICASA intends to manage the massive 6 GHz spectrum opportunity in South Africa. For more details read here.
/Claus.