By Claus Hetting, Wi-Fi NOW CEO & Chairman
Leading MSP World Cinema rebrands as WorldVue

World Cinema Inc. – a leader in IT services and managed connectivity (including Wi-Fi) for hospitality & long-stay properties across the world – today announced that they've chosen to rebrand as WorldVue. The decision comes a little more than a year after World Cinema acquired Hospital WiFi, a top-three hospitality managed services provider. Today, it is estimated that WorldVue commands 20-25% of the hospitality Wi-Fi market in North America. WorldVue says the new brand emphasises "its dedication to innovation and growth to service every property across the globe." Tommy Fatjo, CEO of WorldVue says "the decision was made to better reflect the evolution of the company, our industry and the needs of our clients and partners – all while ensuring a focus on an excellent customer experience."
Also: Don't miss WorldVue President & Chief Operating Officer Robert Grosz speaking at the Wi-Fi World Congress in Toronto this September 18-20 – for more click here.
Dell'Oro Group: Enterprise WLAN growth hits ten-year high
The enterprise WLAN market continues its growth spree with a seventh consecutive quarter of double-digit year-over-year growth reaching a total second quarter 2023 market value of close to US$3 billion, say the analysts from Dell'Oro Group. Dell'Oro says that Cisco – the market leader by market share – and HPE together gained five points of market share. "Pent-up demand for digital transformation, an appetite for the new 6 GHz frequency band, and loosening supply constraints are creating the perfect conditions for rapid revenue expansion," says Siân Morgan, Research Director at Dell'Oro Group.
Dell'Oro Group also says that Chinese vendors have taken an early lead in Wi-Fi 7 with H3C as the first vendor to recognise revenues for Wi-Fi 7 enterprise-grade APs and that the adoption of standard power APs in the US should help accelerate revenues. For more also read here. Siân Morgan will be one of our honoured speakers at the Wi-Fi World Congress in Toronto, Canada on September 18-20.
Germany's AVM Fritz launches first Wi-Fi 7 home gateway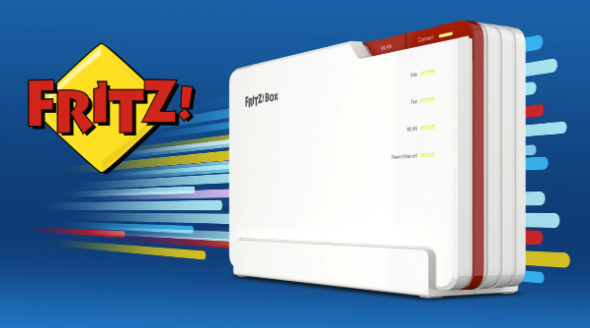 This week German broadband solution provider AVM launched their first Wi-Fi 7-capable home gateway in the form of the Fritz!BOX 5690 Pro, a unit that also supports integrated GPON and DSL routers. The new gateway will deliver Wi-Fi data rates of more than 18 Gbps, AVM says. Somewhat oddly – but typical for the German market – the unit also supports telephony and IoT via the DECT standard while support for Matter is 'in preparation,' AVM says. AVM and Fritz! is a dominating brand on the German gateway market and in a few other countries, for example in The Netherlands. Read more here. The new Fritz!BOX's Wi-Fi is powered by Qualcomm.
Plume IQ data reveals device shopping behaviour on Amazon Prime Day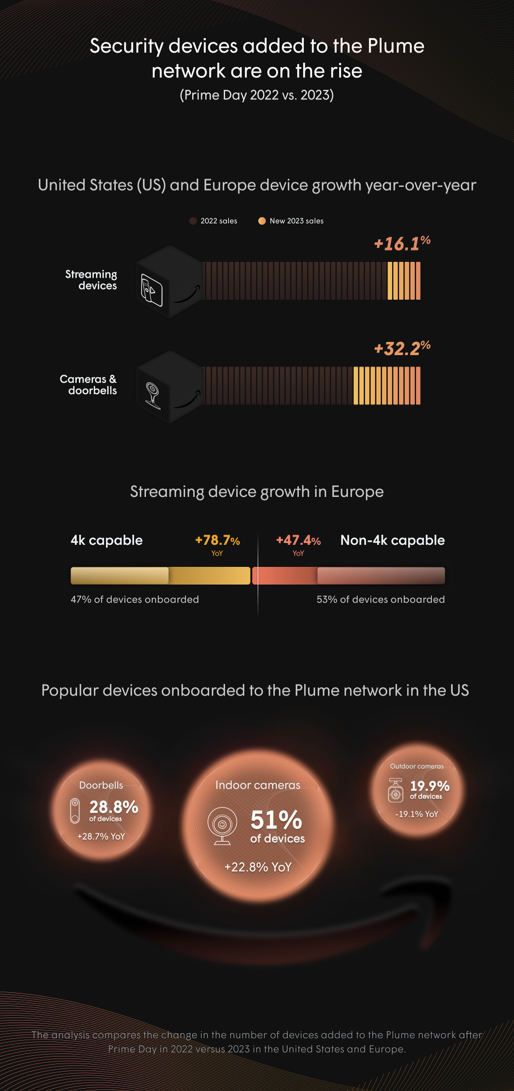 The latest insights from Plume IQ reveals that consumers' appetite for streaming devices and smart home security IoT is on the rise. Plume IQ compared 2023 number of devices to the numbers for 2022 on Amazon Prime Day and came up with the following data: 16% more streaming devices and 32% more home security devices were connected year-on-year. The analysis was for both the US and Europe. Other data shows close to or better than 20% growth in the US for connected doorbells as well as indoor and outdoor connected video cameras.
Plume IQ data represents insights from more than 2.5 billion connected devices and over 50 million locations managed by Plume's cloud platform. For more about Plume also read here.
/Claus.