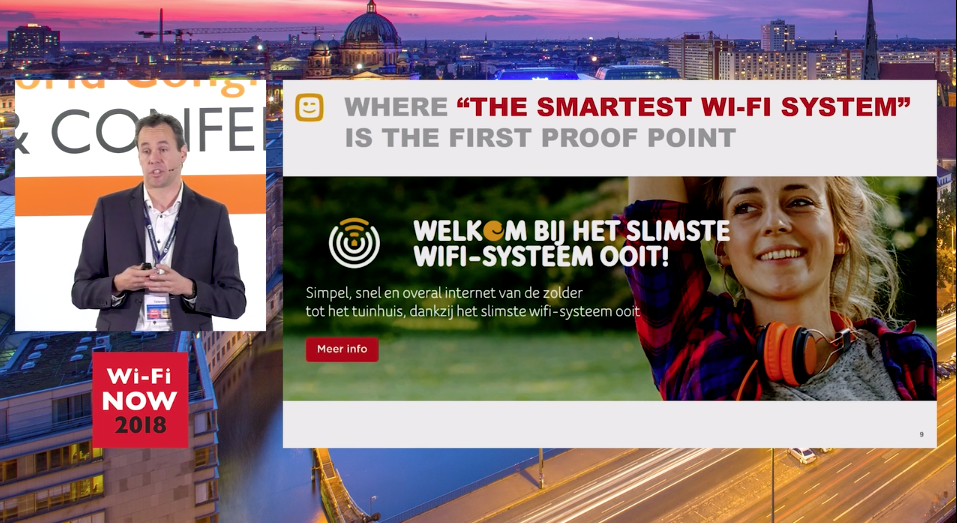 Above: Telenet's Stijn Eulaerts speaking at Wi-Fi NOW Berlin on November 7, 2018.
By Claus Hetting, Wi-Fi NOW CEO & Chairman
Telco professionals used to swear that 'guaranteed Wi-Fi' was impossible. Today, a handful of telcos and cablecos in Europe have gone from reluctance to a full-on market attack: The truth is that great residential Wi-Fi sells – and it sells so well that giving away home Wi-Fi kits to patch up coverage holes is well worth it. Belgium's Telenet and KPN of the Netherlands are blazing the trail, among others.
Telenet hands out PLC-based Wi-Fi boosters for free
It hardly matters how good your infrastructure is. If you don't get the home Wi-Fi coverage right, consumers are simply not happy. That's why Telenet – a Belgian subsidiary of Liberty Global – is 'investing in the last 10 meters' of connectivity. Late last year the company launched a campaign aimed at fixing home Wi-Fi coverage by giving away PLC-based Wi-Fi boosters to customers at all levels, said Stijn Eulaerts, Telenet product manager, at Wi-Fi NOW Europe in Berlin on November 6.
"On the first day of availability of the booster, people would line up in front of our retail stores to get it. We've not seen this kind of enthusiasm for a product since the first iPhones," Stijn Eulaerts said. Telenet customers now use an app to scan home Wi-Fi and then order the coverage-boosting PLC-based AP via the app. When plugged in, the booster is auto-configured from the Cloud, he explained.
"Today, our customers say to us: Wi-Fi is Internet, and Internet is Wi-Fi. So if your connectivity fails on the last ten meters, all the rest of your network investments are worthless," Stijn Eulaerts said.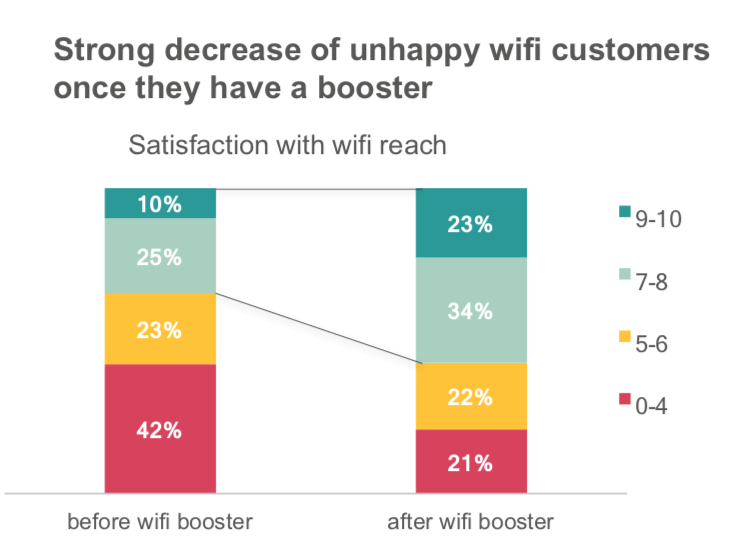 And indeed the results of the free booster program have been remarkable. According to Eulaerts, the number of unhappy Wi-Fi customers at Telenet have been reduced by half. And the NPS (Net Promoter Score) has improved by 10 points, he said.
The Dutch are on the same track
And Telenet is not alone. Across the border in the Netherlands, Dutch telco-giant KPN is on a similar track: KPN is one of a small handful of European telcos who guarantees Wi-Fi speeds in the home, in this case at least 20 Mbps in all corners of your house, says Thomas Drijfhout, in-home product manager at KPN. KPN also uses a 'Wi-Fi tuner' app that takes the customer through the process of scanning and speed-testing Wi-Fi performance around the home.
"So far 250,000 customers have used the app to measure their Wi-Fi. And the results have been a huge boost to the NPS score," said Thomas Drijfhout at Wi-Fi NOW Europe in Berlin on November 8. In some cases the result of the Wi-Fi home scan may be that KPN sends one or even two extender APs to the customer for free, he said during his presentation.
Dutch challenger Ziggo-Vodafone weighs in
Only a few miles away, KPN's sworn competitor, Ziggo-Vodafone is doing something similar. According to product manager Herman Weerman of Ziggo-Vodafone, the company also guarantees at least 20 Mbps in all parts of the home. If the Wi-Fi service is not up to scratch, Werman says that customers can choose either a wired TP-Link router or a set of two home plug (PLC) adaptors of which one includes a Wi-Fi AP. "Both are monitored centrally and statistics are collected, so we learn a lot about in-home Wi-Fi quality," says Herman Weerman.
BT guarantees 'strong Wi-Fi signal'
Across the channel in the UK, BT has also joined the guaranteed home Wi-Fi bandwagon. The company does not exactly promise a particular speed but instead says their guarantee is 'to deliver a strong Wi-Fi signal in every room of your home'. BT has named the product 'Complete Wi-Fi' and it includes a Wi-Fi hub unit plus one or more 'Wi-Fi Discs', which appear to be mesh-type satellite APs. The product was launched by BT in late November.
BT says if a single hub and 'Wi-Fi Disc' system doesn't give a strong Wi-Fi signal all over the house, up to two more satellite APs will be provided at no extra charge. And if that still doesn't work, you will get 20 pounds back, BT says.
Is this a real trend? We think yes
The conclusions are clear: This trail may well be the beginnings of a full-blown trend that will see more guaranteed home Wi-Fi services emerge across Europe and elsewhere. For these ISPs – and any ISP, really – spending a couple hundred EUR or pounds more per customer to make sure their home Wi-Fi works everywhere is worth it. The RoI is measured in consumer satisfaction, brand loyalty, and not least fewer truck rolls for maintenance.
In several cases, PLC-based APs right now seem to be the low-cost distributed Wi-Fi technology of choice, perhaps also because the units are easy to install and also because they integrate nicely with operator's central monitoring systems.
/Claus.