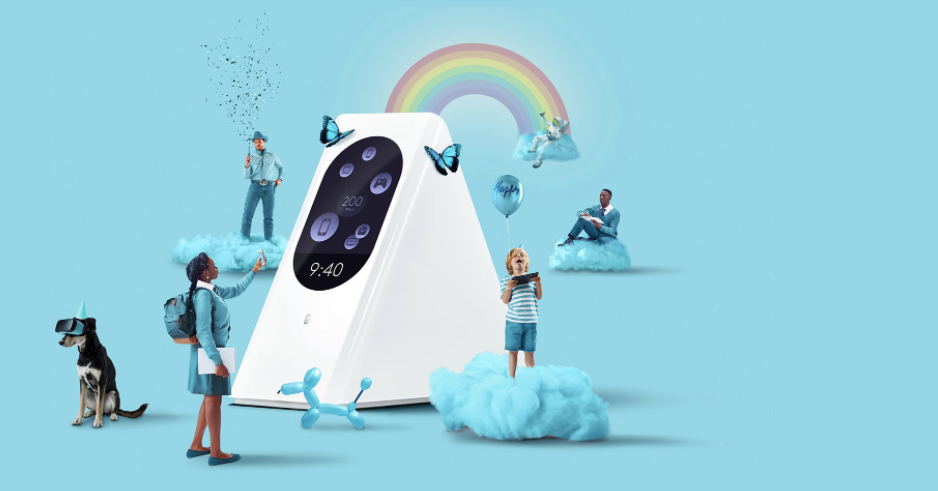 By Claus Hetting, Wi-Fi NOW CEO & Chairman
Starry is the flagship case for using Wi-Fi technology to serve up mass-market fixed broadband in mmWave bands. The Boston-based WISP startup is now expanding into 16 new markets across the US with an infrastructure cost is as low as $12 per household, Starry says.
While big telcos in the US are racing to get fixed wireless 5G to market, WISP startup Starry has already beat them to it with super low-cost broadband that has nothing to do with 5G but delivers a similar service that will likely land at a fraction of the 5G network cost.
And the company appears to be well financed. Starry raised another $31 million in 2017 on top of its previous total of $63 million in investments, according to this Boston Herald news report.
The solution: Clocked-up proprietary Wi-Fi at 37 GHz
The company – which has been around since 2016 – is the brainchild of serial entrepreneur Chet Kanojia, and Starry's technology the first example (that we know of) of using Wi-Fi technology in licensed bands, in this case the 37-39 GHz band.
Starry is using a clocked-up proprietary version of the 802.11ac Wi-Fi standard to beam point-to-multipoint-based wireless Internet into your home, and the company says it's already working on upgrading the system to the new 802.11ax standard.
And as of this week, Starry will be taking the concept a bold step further: TechCrunch reports from CES that he company says it intends to release the reference designs for their system in partnership with Wi-Fi chipmaker Marvell, allowing for equipment manufacturers and other service providers to build & apply Starry's technology.
Driving down cost of delivery to $12 per home
What's remarkable here is how Starry has worked Wi-Fi technology and available bands into a concept that may just hit the mass market sweet spot: Kanojia says the cost per home covered is as low as $12 in very dense areas and $25 in modestly dense areas.
The company's base stations have a range of about 2 kilometres. Starry's system delivers up to 200 Mbps per subscriber to 800-1000 subscribers per cell sector, Kanojia says in this interview with Fierce Wireless. The price for the 200 Mbps service including the Starry Station Wi-Fi hub is $50 per month.
How will standards-based 5G fare against technology like this?
The 3GPP community – including big telco in the US – have long been touting fixed wireless as a future stronghold of 5G. But the looming question is how future 5G technology costs may compare to something like Starry. It's hard to imagine how 5G – even for the fixed wireless version of it, if there would be such a thing – will compete with 802.11ac chipsets cost of less than $10.
For more details on Starry's planned service launches in Los Angeles, Washington DC, and other US markets see the full press release here.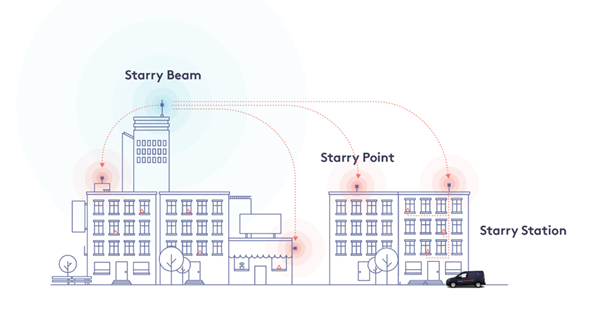 Above: How Starry works – using Starry Beam base stations and Starry Point & Starry Station receivers.
/Claus.