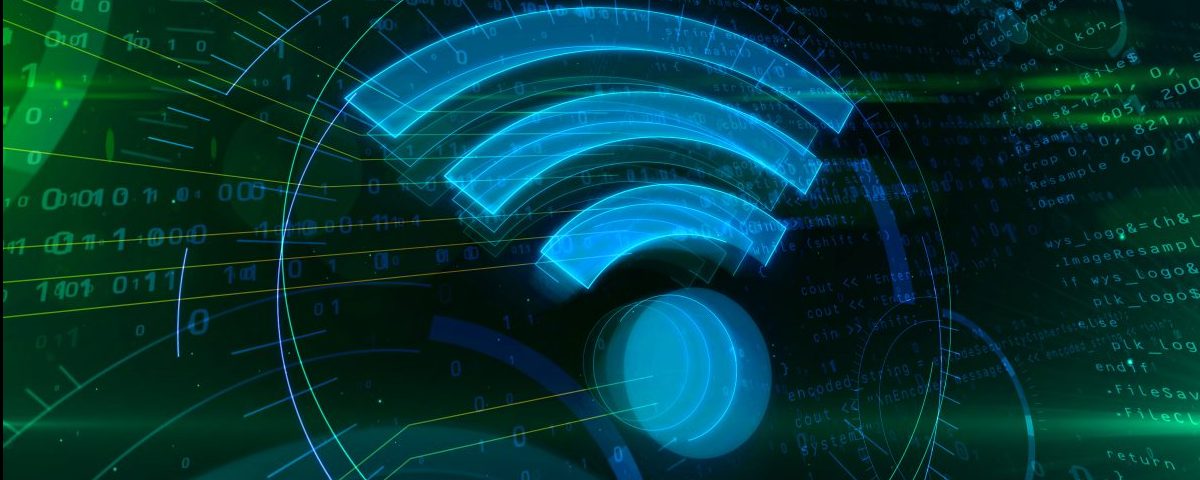 Our guest blogger this week is renowned analyst and Wi-Fi expert Adlane Fellah. In this blog he explores the use of spectrum orchestration and the solution of startup Ambeent in this special report. Enjoy.
By Adlane Fellah, Senior Analyst and CEO of Maravedis
A unique global context
One-third of the world's population is still to "shelter at home" as a result of the COVID-19 pandemic. As a result of individuals and businesses from around the world drastically adjusting their routines, the home Internet is being taxed as it never has been before.
Well before COVID-19, the home was already becoming a highly Wi-Fi-dense environment with many connected devices. While the average number of connected devices in the home is estimated to range from seven to ten, depending on the region, the trend is clearly towards an increase to twenty, thirty, or more, in the next few years, due to the proliferation of devices and IoT.
Not only is the number of connected devices in the home growing, but the proportion of high capacity devices— such as VR and 4K TVs—is also increasing, requiring high bandwidth and driving multi-AP growth. Those devices and related applications also require lower levels of latency, an increasingly important measure of QoE for home Wi-Fi.
Issues with Home Wi-Fi Performance
With more users in the home simultaneously active online, the Wi-Fi network can suffer overload and decreased performance. In its annual industry report, Maravedis conducted an extensive survey on home Wi-Fi issues. The online survey took place during the September and October 2019 timeframe and gathered 218 responses, 42% of which were from service providers worldwide.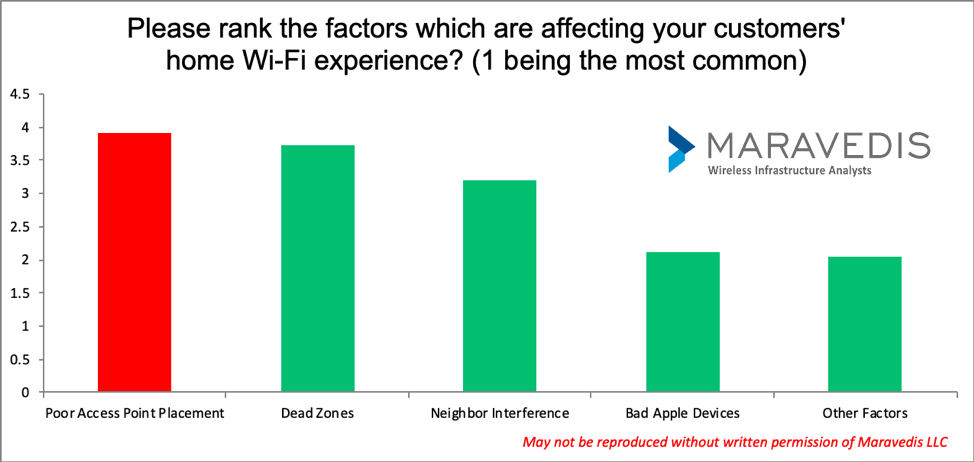 The COVID-19 impact on home Wi-Fi usage has led to a decrease in QoE. Some operators are experiencing a 40% increase in the number of call center complaints because of low internet speed. Slow Wi-Fi speed is the number one reason triggering service calls, followed closely by unstable Wi-Fi. Resolving those main pain points obviously will result in a drop in service calls.
Enjoying this story?
Leave your email here and we'll get you all the latest Wi-Fi news.
The challenge for operators is to gain sufficient visibility into the home Wi-Fi network to understand what is causing those performance leaks – whether that be issues related to interference, sticky clients, overloaded gateway, etc.
The new 1200 megahertz of spectrum in the 6 GHz band released by the FCC will certainly help alleviate many of the congestion problems and open the door to a new universe of user cases but it will not solve neighbour interference. In fact, neighbour interference may very well increase with Wi-Fi 6E as much wider channels, up to 160 MHz, will increasingly be used and overlap with each other.
Neighbour interference causes friction
Wi-Fi networks interfere with each other. Older Wi-Fi standards are even worse in this respect, so old Wi-Fi hardware is not just hurting one's network—it is also interfering with neighbours. When multiple Wi-Fi networks are close to each other, especially in the MDU environments, ideally, they should be on different channels to reduce interference.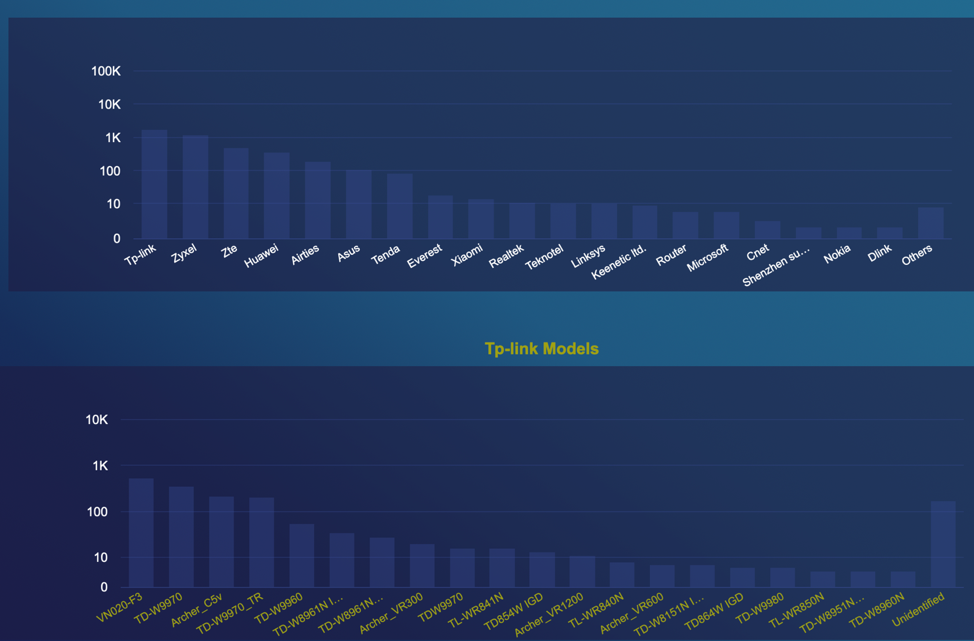 Performance of an 802.11 network degrades when some stations use a lower data rate than the others. This is common in a network environment since there is wide variety of Wi-Fi AP generations in use and adaptation mechanisms clients utilise to select a data rate.
If the link to the destination is under severe fading and interference, the adaptation mechanism reduces the rate by changing its modulation scheme. Data rate adaptation mechanisms are proprietary and may consider successfully received ACKs or signal-to-noise ratio (SNR). The reason why throughput degrades is hidden under the basic CSMA/CA channel access method.
A novel approach is required for spectrum orchestration
To reduce the number of unknown knowns – ie. things we understand but are not aware of – operators need tools to gain more visibility into their managed home Wi-Fi networks by introducing a spectrum broker, which provides the needed orchestration of bands and channels when and where needed.
So far the main approach to solving the indoor Wi-Fi performance has been driven by the integration of additional software in the middleware gateway, in hopes to address the issues of coverage and congestion. However, this approach has fallen short of operator's needs as they have to deal with a complex and diverse footprint of access points in the field. Ambeent proposes a novel device-centric way to solve the neighbour interference problem.
This approach is location and application aware and empowers users to take their Wi-Fi destiny into their own hands and frees service providers from a complex and lengthy integration process. It is a mobile-managed approach which combines the power of cloud-based computing and artificial intelligence with the simplicity and elegance of a device application.
As shown in the figure below, by having the device and thus the user scan the immediate channel conditions instead of relying on a centralised gateway, the system is much more precise and dynamic. If for example, the user is using channel 6, and walks to the kitchen, now in closer proximity to a neighbour who is also using channel 6, the algorithm will tell the device to move to another channel such as 11 as shown in the figure below.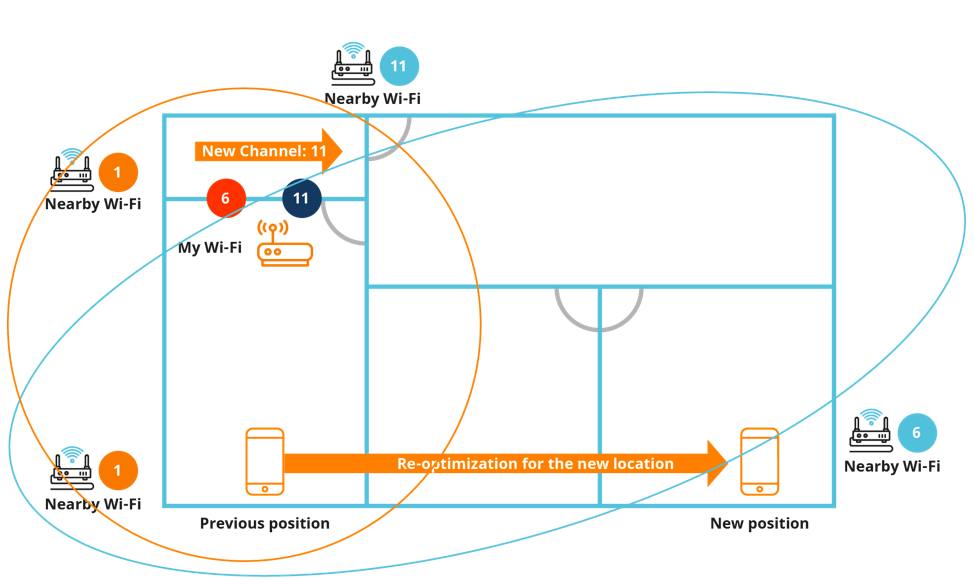 Network operators are looking for ways to become more agile and – as a function of this – are becoming virtualised. Consumers will be able to select their own 5G applications on demand. Ambeent is delivering just that with its Wi-Fi spectrum orchestration, as a service that has the potential to connect all-sizes of Wi-Fi networks run by consumer, enterprises, and telcos with zero friction.
About the author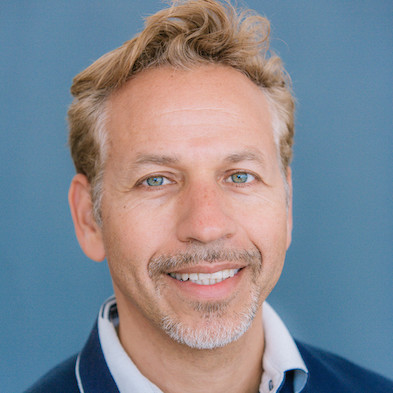 Adlane Fellah, Senior Analyst, is the CEO of Maravedis, a leading wireless analyst firm since 2002. Mr. Fellah has authored various landmark reports on 5G; Wi-Fi; LTE; IoT;  and technology trends in various industries, including retail, restaurant, and hospitality. He is regularly invited to speak at leading wireless and marketing events and consistently contributes to various influential portals and magazines, such as RCR Wireless, 4G 360, Rethink Wireless, The Mobile
Network, Telecom Reseller, just to name a few. He is also a Certified Wireless Network Administrator (CWNA) and Certified Wireless Technology Specialist (CWTS). Adlane Fellah is the author of many research reports, including the landmark report "Managed Home Wi-Fi Networks For the Smart Home 2020-2025." He also regularly serves as Glomo Awards (GSMA) and WBA Awards judge.