Guest Blog by Michael De Nil, Co-Founder & CEO, Morse Micro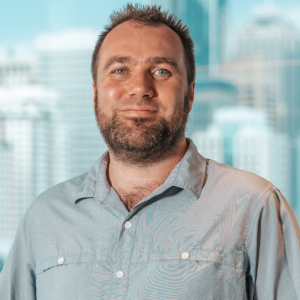 What is Wi-Fi HaLow and how can it benefit your enterprise? This week our guest blogger is CEO & co-founder of Morse Micro, Michael De Nil. Morse Micro recently secured significant funding so we expect that the mass-market introduction of Wi-Fi HaLow for the enterprise is imminent. Morse Micro is the global leader in Wi-Fi HaLow technology and a Wi-Fi NOW partner.
Connectivity is critical to virtually every aspect of our lives. From wearable devices to security systems to factory automation equipment, the ability to connect, monitor, and control the enormous variety of connected devices comprising today's enterprises is a necessity.
The total number of Internet of Things (IoT) devices is projected to surpass 30 billion by 2025 (McKinsey). Enterprises have begun to adapt to this growing imperative for connectivity. The number of businesses deploying IoT technologies has nearly doubled in less than a decade, but the pace of past evolution does not compare to what we'll see in the near future.
Wi-Fi (a set of 802.11 standards) has emerged as the most popular protocol for wireless local area networks (WLAN). Recent generations of Wi-Fi (Wi-Fi 4, 5, and 6) offer exceptional data rates over short ranges, making them well-suited for ultra-high resolution video streaming, virtual reality, and other data-intensive applications. However, those protocols were not engineered to cover many of the applications enterprises now demand for their IoT. Recently, a new long-reach, low-power Wi-Fi protocol emerged to meet the unique demands of IoT connectivity: the Wi-Fi HaLow (IEEE 802.11ah) standard.
The Wi-Fi Alliance's introduction of the Wi-Fi CERTIFIED HaLow™ program on November 2, 2021, was an industry inflection point. Morse Micro, where I serve as CEO, was among several vendors that worked closely with the Wi-Fi Alliance (the global nonprofit organization that certifies Wi-Fi products) to deliver a wireless protocol engineered specifically for the IoT.
HaLow: The next step in Wi-Fi for the IoT
Wi-Fi HaLow is a game changer for enterprise IoT applications that require a combination of long reach, low power, high data rates, high network capacity, and advanced security. Application possibilities range from factory and building automation to fleet and asset management and to smart agriculture and smart city infrastructure. Some of the key benefits of Wi-Fi HaLow for enterprise connectivity are:
Wi-Fi HaLow can reach more than 1 km, which is 10x farther than 2.4 GHz Wi-Fi or Bluetooth along with 100x the coverage of traditional Wi-Fi networks, making it perfect for warehouses, factories, retail stores and large campus environments.
Operating in the sub-1 GHz band, Wi-Fi HaLow signals can penetrate physical barriers like walls, floors and other obstructions more effectively than other higher frequency protocols such as Bluetooth, traditional Wi-Fi or Zigbee operating at 2.4 GHz. Wi-Fi HaLow reduces the operating cost and complexity of deploying end nodes such as wireless sensors and detectors that otherwise require range extenders or additional access points (APs).
As enterprise applications continue to apply artificial intelligence (AI), machine learning (ML) and big data analytics, there is a growing need to deploy more sensors, enabling more data to be collected and analyzed. Wi-Fi HaLow is able to support up to 8,191 devices with a single access point, which can help reduce operating costs as fewer APs are needed in sensor-laden networks.
Wi-Fi HaLow is more energy-efficient than previous Wi-Fi options, enabling multi-year battery lifetimes for IoT devices, support for coin cell batteries and lower energy consumption.
An inherently secure wireless protocol, Wi-Fi HaLow supports the latest Wi-Fi requirements for authentication and encryption including WPA3 and AES for over-the-air (OTA) traffic.
Unlike proprietary wireless protocols, Wi-Fi HaLow is a license-free connectivity solution based on the open IEEE 802.11 standard. This simplifies installation and reduces operating costs because there is no requirement for proprietary gateways, controllers or hubs. Additionally, because of the Wi-Fi Alliance's commitment to interoperability, there will always be multiple Wi-Fi HaLow vendors, resulting in lower costs than proprietary protocols.
Enjoying this story?
Leave your email here and we'll get you all the latest Wi-Fi news.
How to implement HaLow in your enterprise's tech strategy
Many enterprises have relied on complex mesh networks to connect and control their huge inventories of IoT devices. With its large network capacity and long reach, Wi-Fi HaLow obviates the need for difficult-to-deploy mesh networks. The standard also simplifies enterprise network deployment by reducing security network infrastructure, minimising installation and maintenance costs, and accelerating installation times.
Wi-Fi HaLow should be a key part of any conversation about addressing current IoT needs. Most companies conduct frequent information technology (IT) audits, so a simple first step would be to add IoT connectivity requirements to your next audit. Chances are, your organisation's IoT network needs are already extensive and will continue to grow in the years ahead.
As part of the IT audit, cross-reference your list of IoT requirements with Wi-Fi HaLow's unique benefits. As a protocol engineered specifically for the IoT, Wi-Fi HaLow will likely fit your enterprise connectivity needs like a custom-built solution.
As you build out and refine your IT technology roadmaps, make plans to integrate Wi-Fi HaLow technology into your network topology and discuss your HaLow certification plans with equipment vendors so that you can factor in HaLow-enabled devices and networks.
Simplifying IoT for your enterprise
The duration and cost of deploying Wi-Fi HaLow technology in your enterprise network will depend on your current network architecture and other wireless protocols. Any updates or revisions will require planning and resource allocation but expect the implementation of Wi-Fi HaLow to be relatively easy.
The creation of Wi-Fi HaLow was predicated, in part, on the goal of simplifying network management with easy-to-deploy wireless technology that eliminates the need to tear out existing wiring and run new cables to add devices or extend network coverage. Because Wi-Fi HaLow is compatible with existing Wi-Fi protocols (e.g., Wi-Fi 4, 5, and 6), it won't interfere with radio frequency (RF) performance for any enterprise already using these Wi-Fi protocols.
As your enterprise's IoT device inventory continues to grow, the need for streamlined, easy-to-deploy and secure connectivity will only rise up your priority list. Wi-Fi HaLow was designed from the ground up in anticipation of this. While tech innovation will continue to accelerate, today there isn't any wireless protocol available that can match the unique combination of power efficiency, extended range, network capacity, advanced security, Wi-Fi compatibility, and native IP support offered by Wi-Fi HaLow.
/Michael De Nil
We're delighted to announce that we will be working with Morse Micro throughout 2023 to evangelise and showcase the many benefits and use cases of Wi-Fi HaLow. Subscribe for a lot more great information!